You might be thinking, blondies? Eh. But wait! I know that blondies have a bad rep –  they tend to be overly sweet and either dry and cakey or wayy under-baked and almost too intense to eat. (AND, they're competing against brownies which isn't really fair.)
But I promise you, these Dirty Blondies are a whole different ball game. They're rich, they're moist, they're packed with two kinds of chocolate and toasted hazelnuts and they've got a nice sprinkle of crunchy sea salt on top.  In my humble, completely biased opinion, they are absolute heaven. Where to begin!?
I guess we should start with the name. The name 'Dirty Blondies' refers to the espresso powder in the batter. It's also a nod to the state of my hair color (shoutout to my fellow blondes!) in the age of Coronavirus. The hint of bitterness the coffee adds to these blondies tempers their sweetness and gives them a little grown-up edge. If you don't have espresso powder, you can use finely ground coffee, just make sure to measure carefully as ground coffee will be stronger than the espresso powder.
My second trick is using a borderline absurd number of eggs in the batter. The recipe calls for 2 large eggs and 2 egg yolks, which makes the blondies incredibly rich, tender and moist, but not dense or 'gluey' the way some blondies can be. You can use the leftover egg whites to make a meringue (LOL!)  or you could, as I do, scramble them, add a little Parmesan, and have yourself a snack.
The third trick to these blondies is the addition of both milk and semisweet chocolate. Again, it's that combination of sweet and bittersweet ingredients that's key. Milk chocolate is a lot softer than semisweet, too, so by using both, you end up with both creamy chocolate bits and firmer chunks of chocolate in the blondies.
Now, the final and possibly most important tip I can give you about making blondies – whether you are using this recipe or another:  don't over-bake them! Just don't do it! The blondies should seem a little bit under-baked when you take them out of the oven. Like cookies, they will firm up as they cool. Over-baked blondies will end up dry and cakey, so always air on the side of under-baked, and use an over thermometer to make sure your oven temp is accurate.
Now, I know it's not easy to find ingredients at the moment, and we're all trying to avoid unnecessary trips to the grocery store. (Please don't go out just for espresso powder or hazelnuts!) This recipe works well with a number of substitutions, and on its own, is an excellent base recipe for whatever "mix-ins" you feel like adding.
I love the combination of both milk and semisweet chocolates, but if you only have one or other, just use double the amount of that chocolate. And if you don't have chunks or bars of chocolate, good old chocolate chips will do the trick. Same goes for the hazelnuts- feel free to sub in almonds or walnuts or omit the nuts entirely if you prefer.
And whatever you do, stay safe and healthy – and enjoy these Dirty Blondies!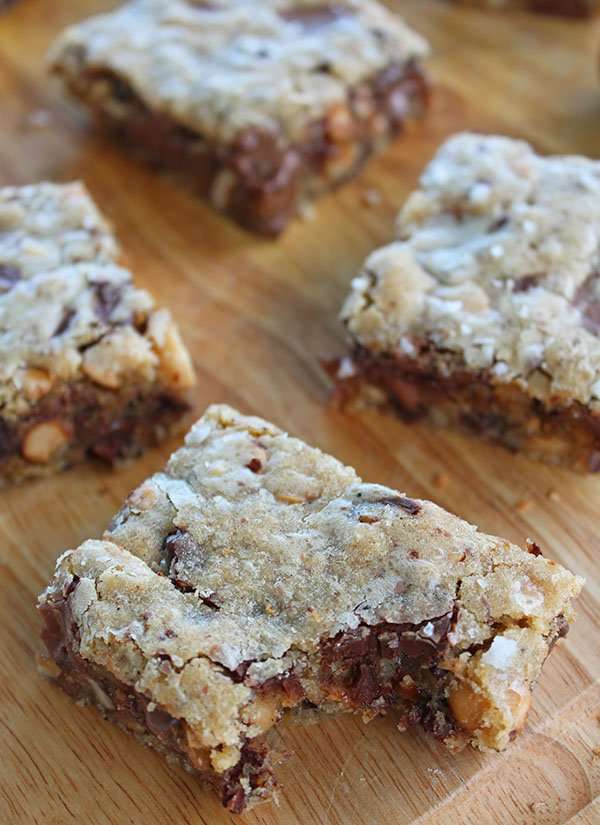 Print Recipe
Dirty Blondies (Blondies with Chocolate, Hazelnut, and Espresso)
Ingredients
2

sticks (½ pound) unsalted butter, melted and slightly cooled, plus more for greasing the pan

1½

cups

raw hazelnuts

1½

cups

light brown sugar, lightly packed

2

large eggs + 2 egg yolks

2

teaspoons

vanilla extract

½

teaspoon

instant espresso powder or finely ground coffee

2

cups

all-purpose flour, plus more for greasing the pan

1

teaspoon

baking powder

1

teaspoon

kosher salt

2

(3-ounce) bars good-quality milk chocolate, coarsely chopped

2

(3-ounce) bars semisweet chocolate, coarsely chopped

Flaky sea salt, for sprinkling
Instructions
Preheat the oven to 350 degrees. Grease a 9x13-inch baking pan with butter, line the bottom with parchment paper, then grease and flour the pan.

Place the hazelnuts on a sheet pan and roast for 10 minutes, until the nuts are well-toasted and the skins have begun to split. Cool slightly, then roll the hazelnuts between your hands to remove the skins (it's fine if they don't all come off.) Discard the skins, then roughly chop the hazelnuts and set them aside.

In a large bowl, combine the butter, brown sugar, eggs, egg yolks, vanilla, and espresso powder, and whisk until smooth.

In a small bowl, combine the flour, baking powder, and kosher salt. Gradually mix the dry ingredients into the wet ingredients and stir until just combined, making sure to scrape the bottom and sides of the bowl. Add both chocolates and the hazelnuts and mix until just combined.

Transfer the batter to the prepared pan, smooth the top with a spatula, and sprinkle with flaky sea salt. Bake for 25 to 27 minutes, or until the edges of the blondies are golden brown and the center is just barely set. (Don't over-bake!)

Cool completely in the pan before cutting the blondies into squares. Store in a sealed container at room temperature or in the refrigerator for up to 3 days.

Copyright 2020, Lidey Heuck, All Rights Reserved