It's Tuesday afternoon- do you know what you're having for dinner? How about salmon? This Maple & Ginger Glazed Salmon is one of my go-to weeknight dinner recipes. It has a short ingredient list, it takes less twenty minutes to make, and best of all, it's absolutely delish!
The maple-ginger glaze has so much flavor, thanks to fresh ginger, maple syrup, minced garlic, soy sauce and rice vinegar, and has even won over salmon skeptics. Case in point: my boyfriend Joe, who claims that no one ever really wants to eat salmon, loves this recipe.
Salmon has a reputation for being difficult to cook at home –  it sticks to the pan, it falls apart, and worst of all, there are only a few seconds between perfectly cooked and overcooked. There are few sadder foods than a piece of overcooked fish.
I wanted to figure out a way to avoid these sad-salmon pitfalls once and for all, so I did some research and cooked salmon using a bunch of different methods. This recipe uses the one I found to be the easiest, the most reliable, and the most delicious. I think you'll find that if you follow a few important rules, the technique is actually very easy to master. You got this!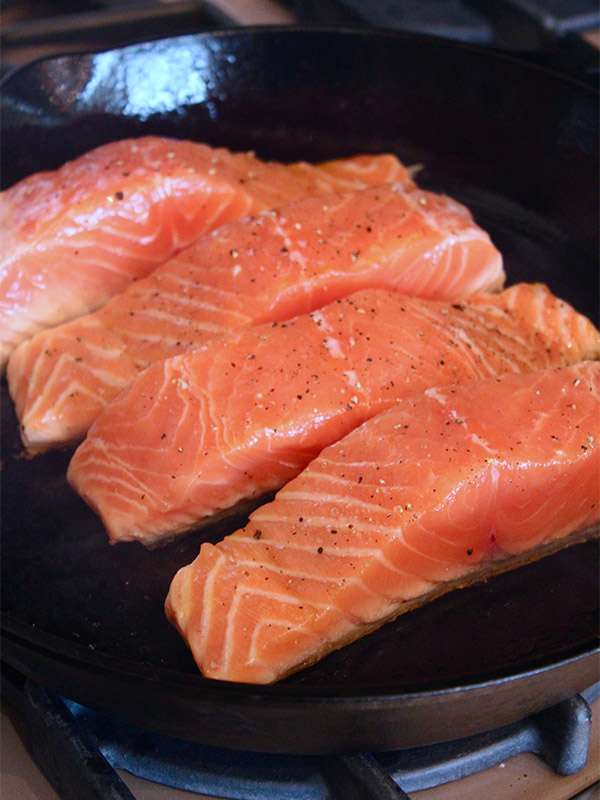 First, I always use a cast-iron skillet. It retains heat the best and helps give the salmon that perfect, restaurant-quality sear. You can also use a stainless steel saute pan, but I don't recommend a nonstick skillet. It may be tempting, but the salmon never sears as well, and also tends to move around too much.
Second, don't be tempted to check on the salmon too early and give it a nudge in the pan. The skin needs uninterrupted direct contact with the smoking hot pan in order to become crispy, and to release from the pan when it's time to flip the fish.
Finally, keep in mind that cooking time will vary depending on the thickness of your salmon fillets. If you have cooked the salmon according to the recipe and it's still rare in the center, transfer it to a plate and cover it with foil for 5 minutes. The salmon will continue to cook as it rests.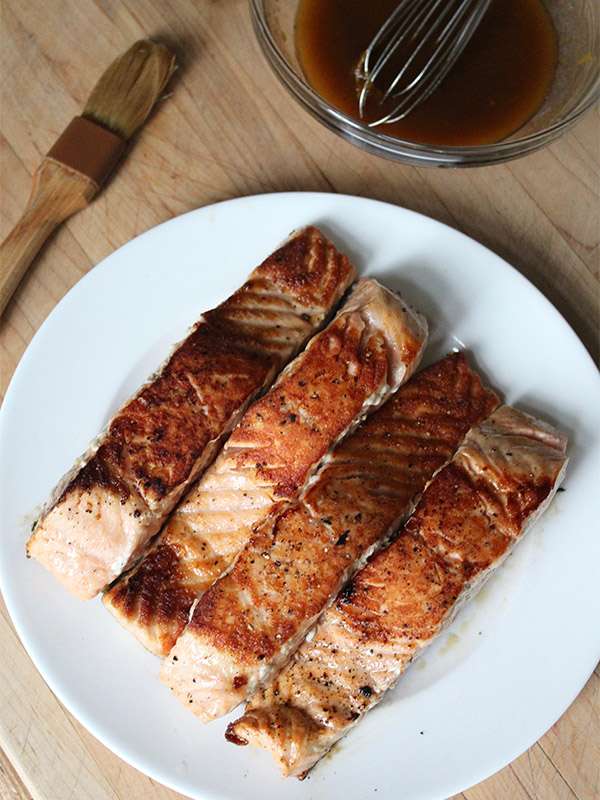 One final note, while the recipe serves 4 as written, it's very easily cut in half if you're only cooking for two. I don't love leftover fish 🙁  so I only make as much as I need that night.
You're ready to get cooking!  I hope this recipe becomes a regular in your weeknight dinner rotation – it's definitely one in mine!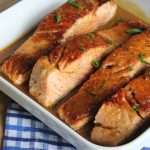 Print Recipe
Maple & Ginger Glazed Salmon
Ingredients
2

tablespoons

maple syrup

2

teaspoons

grated fresh ginger

1

teaspoon

grated fresh garlic

2

tablespoons

soy sauce

2

teaspoons

rice vinegar

Extra virgin olive oil

4

(6-ounce) center-cut salmon filets, skin-on

Kosher salt and freshly ground black pepper

Thinly sliced scallions, for serving (optional)
Instructions
In a small bowl, whisk together the maple syrup, ginger, garlic, soy sauce, vinegar and 3 tablespoons olive oil. Set aside.

Heat a large (12-inch) dry cast-iron skillet over medium-high heat for 3 minutes, until it's extremely hot (a drop of water flicked onto the pan should turn to steam almost immediately.) Meanwhile, pat the salmon fillets dry with paper towels, brush both sides with olive oil, and season all over with salt and pepper.

When the pan is ready, place the salmon fillets skin-side down in the pan and cook over medium-heat heat without moving for 4 minutes. Using a pair of tongs, wiggle the fillets to loosen the skin from the bottom of the pan, then carefully flip. Lower the heat to medium and cook for 4 to 5 more minutes, depending on the thickness of the fillets. Insert a small knife into the thickest part of the salmon to check for doneness. The salmon should be slightly opaque in the center.

Transfer to a rimmed plate or serving dish, and pour the glaze over the salmon, making sure to coat the fillets. Sprinkle with the scallions if using and serve hot.

Note: I grate the ginger and garlic on a microplane zester. If you don't have one, you can finely mince them with a knife instead.Copyright 2018, Lidey Heuck, All Rights Reserved