Today I'm skipping the bit about Coronavirus and going right into the recipe, because I'm really excited to share this one with you. We're talking crispy chicken thighs served with a simple white bean stew that celebrates the arrival of fresh spring produce – kale, asparagus, peas, and lots of fresh herbs- while still leaning on pantry staples we're likely to have on hand these days.
This dish is perfect for a breezy May night, when you feel like something cozy, but still light and bright, for dinner.  The combination of the earthy white bean and veggie stew (finished with Parmesan and a big squeeze of lemon juice) and the crispy, salty chicken thighs makes this a really satisfying dinner, with lots of great texture. And it's almost – almost! -a one-pot meal, too!
And speaking of pots, I want to mention that the stainless steel Dutch oven in these photos is from my friend Chris's cookware brand, Proclamation Goods. Based in San Francisco, Proclamation Goods cookware is made in the USA using responsibly sourced materials.  (This not a sponsored post, just want to give them a shoutout as I've really been enjoying using their modern take on the Dutch oven!)
I use some of my favorite spring vegetables here, but this recipe is meant to be adaptable, based on what you like and what you have. Feel free to substitute baby spinach, regular spinach or even Swiss chard for the kale, and if you can't find asparagus, snap peas or thin string beans would be delish in their place. You'll just want to make sure everything simmers until tender.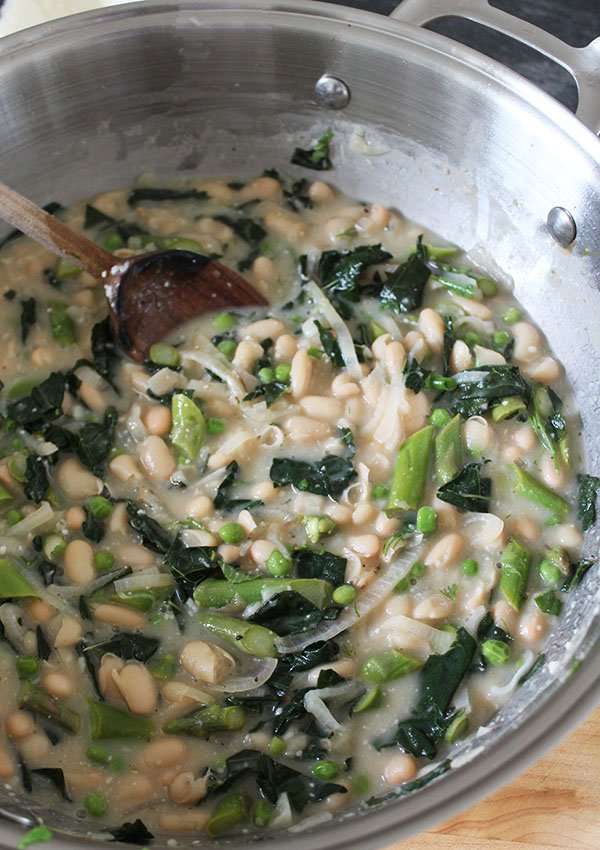 This would be a great main course for a dinner party (next spring?) because it's both an elegant dish and one that's really easy to put together. Just don't forget the garnishes at the end! I top each serving with a sprinkle of fresh herbs, lemon juice, and lemon zest, which make the whole kitchen smell like spring. Serve with some crusty bread and a dry white wine, and you might forget, at least for the moment, about everything else.
Finally, for a vegetarian version of this recipe, skip the chicken thighs, use vegetable broth instead of chicken, and use 3 tablespoons of butter in place of the olive oil. (Butter will add a little bit of richness that will be missing without the chicken thighs.)
Print Recipe
Spring White Bean Stew with Crispy Chicken Thighs
Ingredients
2

tablespoons

olive oil

2

pounds

small bone-in, skin-on chicken thighs (4 to 6 thighs)

Kosher salt and freshly ground black pepper

1

cup

thinly sliced shallots (about 3 to 4 shallots)

1

tablespoon

minced garlic (about 3 garlic cloves)

½

cup

dry white wine

3

cups

low-sodium chicken broth

3

(15-ounce) cans

cannellini beans, drained and rinsed

8

ounces

asparagus, trimmed and sliced ½-inch thick on the diagonal (about 10 to 12 spears)

1

small bunch

kale, stems discarded (6 to 8 ounces) or one (5-ounce) container baby spinach

½

cup

frozen green peas

Juice of two lemons, divided

1/3

cup

grated Parmesan or Pecorino cheese, plus more for serving

1/3

cup

chopped soft herbs, such as mint, dill, chives, or parsley, or a combination, divided

Lemon zest, for serving (optional)
Instructions
Preheat the oven to 400 degrees and line a sheet pan with aluminum foil or parchment paper.

Heat the olive oil in a Dutch oven or other heavy pot set over medium-high heat. Meanwhile, pat the chicken thighs dry and season generously with salt and pepper.

Working in batches if necessary, carefully add the chicken thighs to the pot, skin-side down, spacing them evenly. Cook without moving for 4 to 6 minutes, until the skin is golden brown, then flip and cook on the other side for 2 minutes.

Transfer the thighs to the prepared sheet pan and roast for 15 to 25 minutes, depending on the size of the thighs, until cooked through. (The meat should register 165 degrees on an internal thermometer.) Sprinkle lightly with salt and set aside to rest.

Meanwhile, make the stew. Drain all but about 3 tablespoons fat from the pan and turn the heat to medium-low. Add the shallots and cook, stirring often, for 3 to 5 minutes, until tender and translucent. (Turn the heat to low if the shallots begin browning too quickly.) Add the garlic and cook for thirty seconds, until fragrant.

Add the wine and cook, scraping any brown bits from the bottom of the pan, until about half the liquid has evaporated. Add the chicken broth, white beans, 1½ teaspoons salt, and ½ teaspoon pepper and bring to a simmer over medium heat.

Add the asparagus and simmer, partly covered, for about 5 minutes, until the asparagus is crisp-tender.

Roughly chop the kale leaves, add them to the pot, and cook, tossing often, until wilted. (No need to chop if you are using spinach.) Add the peas and cook for 2 more minutes. If the stew is too thin at this point, simmer for a few more minutes to reduce the liquid.

Off the heat, stir in the juice of one lemon, the Parmesan, and half the chopped herbs.  Season to taste with salt and pepper.

For each serving, place a chicken thigh in a shallow bowl and ladle the stew around it. Zest the remaining lemon over the dish, then finish with a squeeze of lemon juice and a sprinkle of the remaining fresh herbs.

Note: The stew will thicken as it sits. Add additional chicken broth and taste for seasonings when reheating.Copyright 2020, Lidey Heuck, All Rights Reserved