This is one of my favorite recipes to make for dinner on Sunday after a weekend of late nights. When the scaries hit, I want something warm and comforting for dinner, but after a big weekend a bowl of pasta feels like overdoing it. Spaghetti Squash Parmesan is the perfect compromise. It's hearty and satisfying, in that classic marinara-and-melted cheese kind of way,  but it's also vegetable based and healthy enough to feel like a virtuous choice going into a new week. You know, virtuous with a side of Parmesan and mozzarella.
Another reason I love this recipe is because it only has a handful of ingredients and doesn't require a lot of time in the kitchen. The squash does take some time to roast, but that forty-five minutes is the perfect time to watch an episode of My Lottery Dream Home on HGTV. That's what everyone watches on Sunday night, right?
I have to say I think the hardest part of this recipe is cutting the squash in half. If you've cooked spaghetti squash before, you know what I mean. It helps to cut the stem off the squash first, then stand the squash on the flat end and cut down vertically through the squash. But however you do it, use your sharpest knife. Dull knives are not only less sharp, but also more dangerous!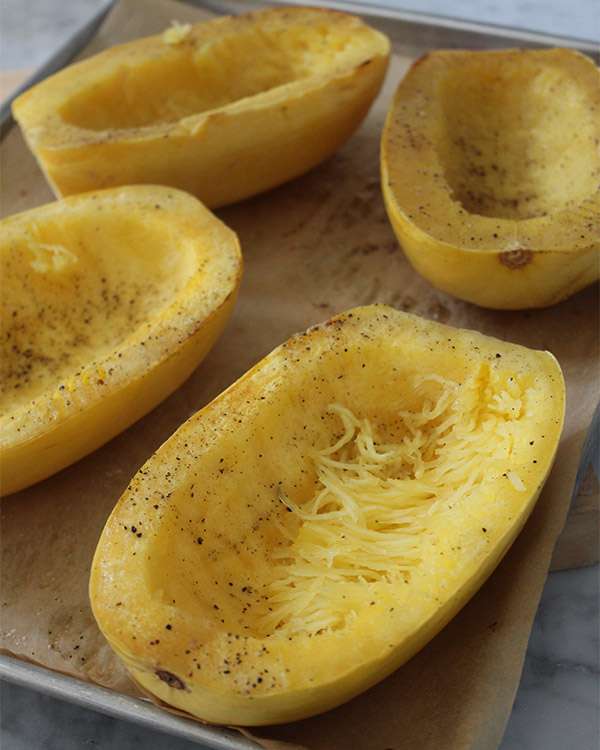 Let's talk about spaghetti squash for a minute. I know a lot of people who don't like it. They think it's stringy, soggy, flavorless, a sad excuse for pasta. I get it- it's not the sweetest, most delicious squash in the world (that title belongs to my BFF butternut squash) and you won't ever find me digging into a big plate of plain roasted spaghetti squash. But as a healthier vehicle for marinara sauce, Parmesan, mozzarella, and breadcrumbs? I'm in.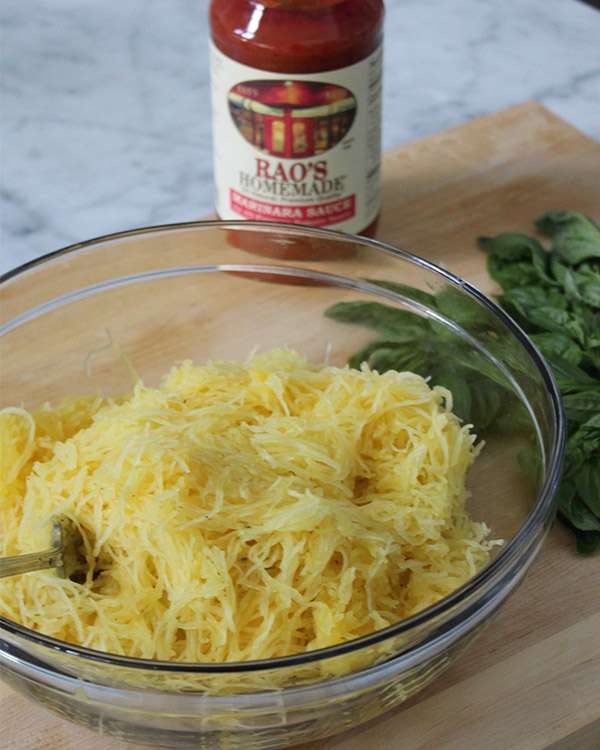 I also came across a potential pitfall that I think has been giving spaghetti squash a bad name. My mom recently asked me why her spaghetti squash is always so wet. (Gross.) Here's the thing I found while perfecting this recipe: every squash is a little different. Some have a higher water content, (and a higher likelihood of being soggy) and some don't have that issue at all.  It's hard to know what you're going to get. My solution is to put the spaghetti squash into a colander after you scrape it from the shells and drain any excess water before mixing it with the marinara sauce. I think this step alone could turn a lot of spaghetti squash skeptics into converts.
I mix the cooked squash with lots of marinara sauce, chopped fresh basil, and some Parmesan, then spoon it back into the squash shells and top it with thin slices of mozzarella cheese, breadcrumbs, and more Parmesan, for good measure. The squash go back go into the oven just until they're heated through, the mozzarella melts, and the breadcrumbs are toasty and golden brown.
And if that description hasn't convinced you, I don't know what will! I hope you love this recipe as much as I do.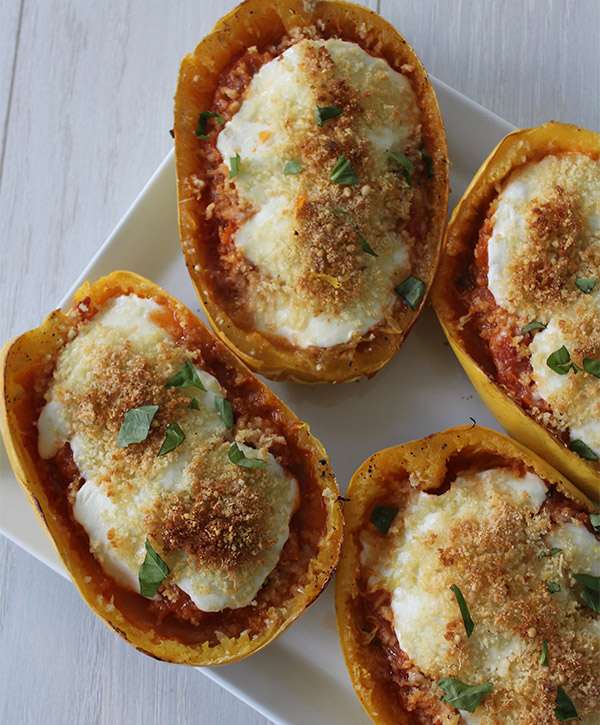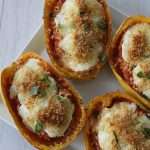 Print Recipe
Spaghetti Squash Parmesan
Ingredients
2

medium spaghetti squash, (2½-3 pounds each)

Extra-virgin olive oil

Kosher salt and freshly ground black pepper

½

cup

panko (Japanese bread flakes)

1

(24-ounce) jar marinara sauce, such as Rao's Homemade

½

cup

+ 4 tablespoons freshly grated Parmesan cheese, divided

⅓

cup

chopped fresh basil leaves, plus extra for serving

1

(8-ounce) ball fresh mozzarella cheese, thinly sliced
Instructions
Preheat the oven to 400 degrees and line a sheet pan with aluminum foil or parchment paper. Trim the stem from each squash, then carefully cut the spaghetti squash in half lengthwise and scoop out the seeds and pulp. Brush the cavities of the squash lightly with olive oil, and sprinkle with 1 teaspoon salt and ½ teaspoon pepper. Place the halves, cut sides down, on the prepared sheet pan, and roast for 35 to 40 minutes, until the squash is tender and flakes easily with a fork.

Meanwhile, in a small bowl, combine the panko, 1½ tablespoons olive oil, and ¼ teaspoon salt, and set aside.

Set the squash aside for 10 minutes, until slightly cooled. Using a fork, scrape the squash to loosen it from the skin (See Tip) and transfer to a large mixing bow. Add the marinara sauce, ½ cup of the Parmesan, the basil, 1 teaspoon salt, and ½ teaspoon pepper. Mix thoroughly, then divide the mixture between the reserved squash shells.

Top each squash half with a quarter of the mozzarella slices, followed by a quarter of the panko mixture and 1 tablespoon of Parmesan. Bake for 20 to 25 minutes, until the bread crumbs are browned and the squash is heated through. Sprinkle each squash with basil and serve hot!

Tip: If your cooked squash seems particularly wet, transfer it a colander and toss well to drain excess water before placing it in the mixing bowl.

Copyright 2019, Lidey Heuck, All Rights Reserved