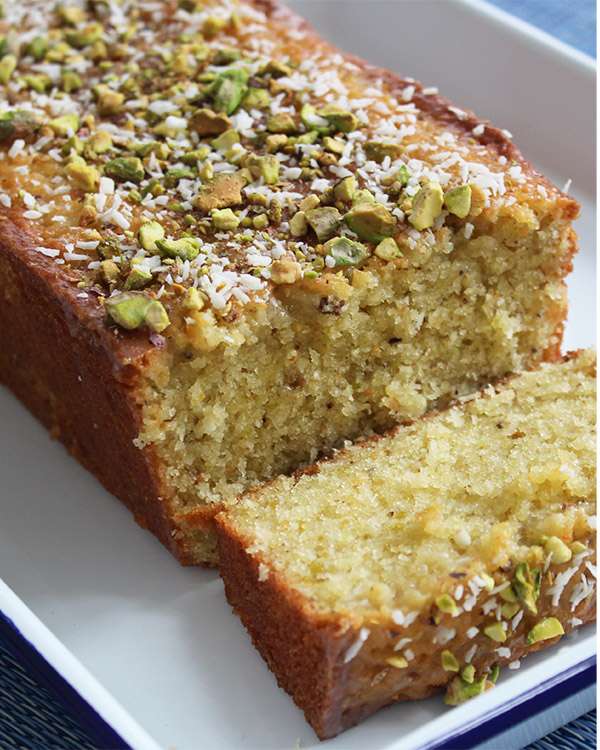 The idea for this cake came to me when I was thinking, as one does, about Easter desserts. I always associate lemon and coconut (and jelly beans) with Easter- especially big towering cakes covered in shredded coconut. Big deal cakes. I wanted to come up with a cake that incorporated my favorite Easter flavors but was a little more casual. The kind of cake you can keep on the counter and cut little pieces off throughout the day. The kind of cake you can tell yourself counts as breakfast food.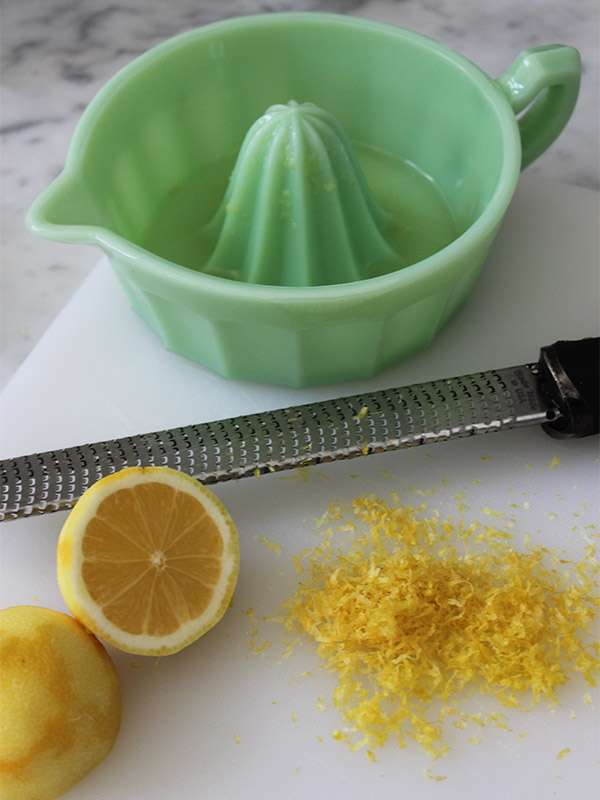 I have to say after noodling around with different ingredients and cakes (I've been eating a lot of cake this week) I'm thrilled with the final result! It's moist, dense-but-in-a-good way, and has lots of coconut and lemon flavor, thanks to lemon juice, lemon zest, coconut milk, and shredded coconut.  I also added ground pistachios to the batter and a sprinkle of chopped pistachios on the top of the cake. They add a nutty depth of flavor to the cake and a pop of color and crunch on top. If you're not a pistachio person (are you an alien?) almonds would be delicious in their place.
This is a hardy – and hearty – cake that travels and keeps really well. Wrap it well with plastic wrap and store at room temperature or in the fridge, but bring the cake to room temperature before serving for optimal flavor and texture.  Unless you're eating the cake before 10 am, in which case I give you permission to eat it right from the fridge. It is dangerously good with a cup of coffee.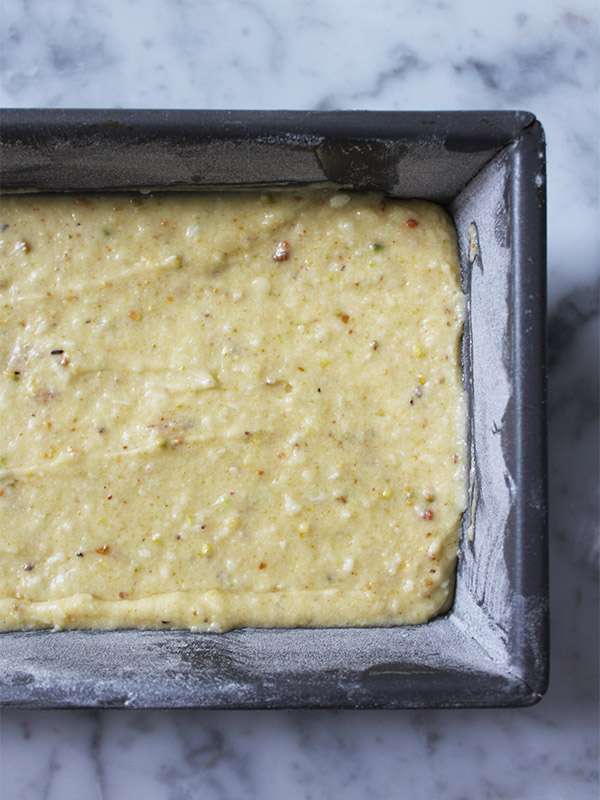 And while this is meant to be a casual cake, it would still make a great Easter dessert. Serve it with dollops of whipped cream and a pile of fresh raspberries and no one will mind that you didn't spend all weekend constructing a four-layer cake with an ornate coconut birds nest on top. Maybe next year…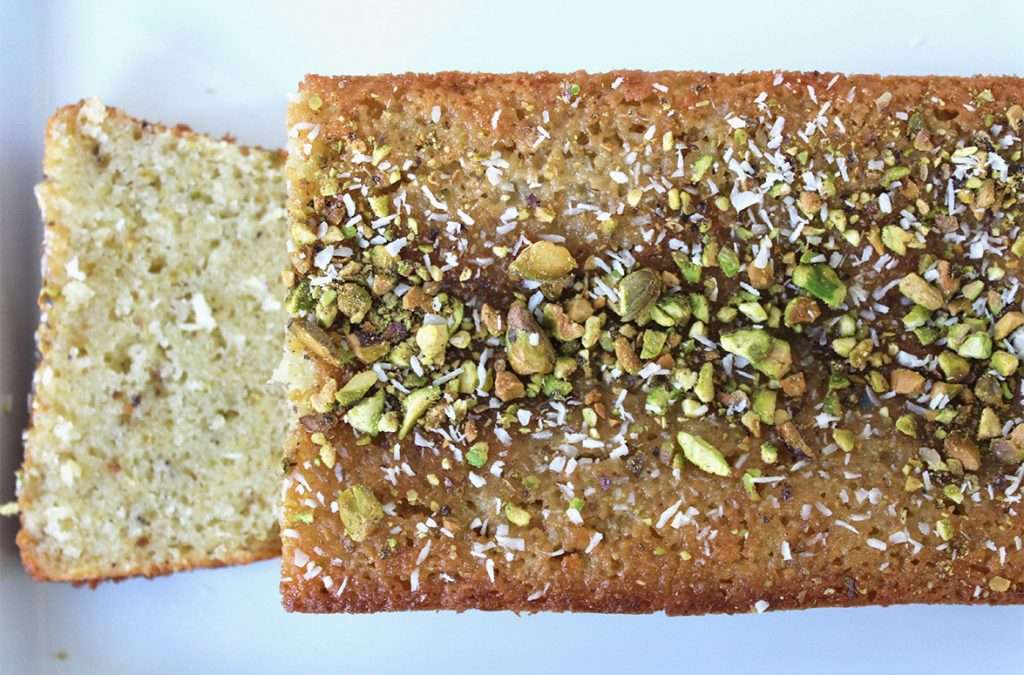 Finally, a quick note on sinking. Depending on which coconut milk you use, your cake may sink a bit in the center. ( I had this problem when using Goya and not when using Native Forest brand.)  I was worried it at first, but after doing some reading, I found an Q&A on Nigella Lawson's website that explains why sometimes, sinking can be a good thing.  While loaf cakes that rise to impressive heights may look pretty, they tend to dry out quickly – and nobody likes a dry cake. This cake stays moist and rich for days, and any slight sinkage in the center is the perfect vehicle for more pistachios and shredded coconut.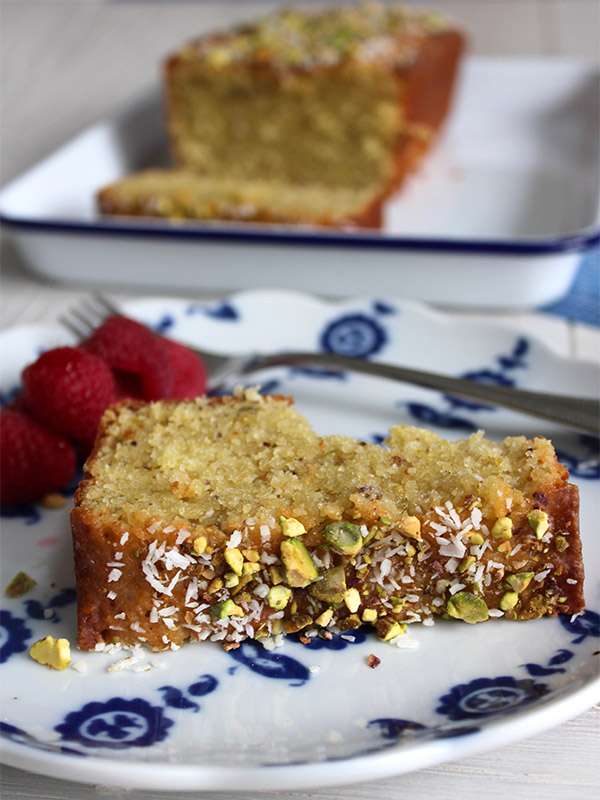 Lemon, Coconut, and Pistachio Cake
Ingredients
1 stick unsalted butter, at room temperature, plus more for greasing the pan
1¼ cups granulated sugar, divided
3 large eggs, at room temperature
1¼ cups all-purpose flour, plus more for greasing the pan
½ teaspoon baking powder
½ teaspoon kosher salt
¼ teaspoon baking soda
¼ cup + 1 tablespoon unsweetened shredded coconut, such as Bob's Red Mill, divided
1/3 cup shelled unsalted pistachios (about 3/4 cup unshelled)
½ cup + 2 tablespoons full-fat coconut milk, divided
1 tablespoon lemon zest (2 lemons)
5 tablespoons freshly squeezed lemon juice, divided
½ teaspoon vanilla extract
Directions
Preheat the oven to 350 degrees. Grease a (8½ x 4½ x 2½-inch) loaf pan, line the bottom with parchment paper, then grease the paper and flour the pan. In the bowl of an electric mixer fitted with the paddle attachment, combine the butter and 1 cup of the granulated sugar. Beat on medium speed for 3-5 minutes, until light and fluffy. With the mixer on medium speed, add the eggs, one at a time, scraping down the bowl after each addition. Beat for one more minute, until the batter is pale and thick.
Meanwhile, in a medium bowl, sift together the flour, baking powder, salt, and baking soda. Add the shredded coconut and set aside. Place the pistachios in the bowl of a food processor and process until coarsely chopped. Remove 1½ tablespoons and set aside. Continue processing until the pistachios are very finely ground. Measure to make sure you have ¼ cup, and add it to the bowl with the dry ingredients.
In another bowl, combine ½ cup of the coconut milk, the lemon zest, 3 tablespoons of the lemon juice, and the vanilla extract. Add the wet and dry mixtures alternately to the batter, beginning and ending with the dry. Do not overmix. Transfer to the prepared pan and bake for 45-50 minutes, until a cake tester comes out clean. Allow to cool in the pan for 10 minutes, then invert onto a rack set over a tray.
In a small saucepan, combine the remaining ¼ cup sugar, 2 tablespoons coconut milk, and 2 tablespoons lemon juice. Bring to a simmer, stirring to dissolve the sugar, then remove from the heat. While the cake is still warm, slowly pour the syrup over the top of the cake. Sprinkle with the reserved pistachios and shredded coconut, cool completely, and serve.
Copyright 2019, Lidey Heuck, All Rights Reserved