As long as I can remember, I have always been more excited about Christmas than about Thanksgiving. I don't know if it's the twinkly lights, all the cookies and treats that get passed around, or the fun parties and occasions to get dressed up, but it's all sounding pretty good to me right about now. You'll never hear me gripe that Christmas music comes on the radio too early, but for me, the holiday season really begins the weekend after Thanksgiving, when you're driving home after the long weekend and begin passing cars with Christmas trees strapped on top.
What does all this have to do with Brussels sprouts? Nothing, except that my love of Christmas is naturally followed by a love of dreaming up recipes for the holiday, and this is one of my new favorites.
I love the contrast between the crunchy Brussels sprouts and the crumbles of creamy blue cheese, and the dried cranberries that add a hint of sweetness to each bite. I know blue cheese is one of those divisive foods, but I use a very mild one in this recipe – you might even be able to win over some blue cheese skeptics! This is such a fresh, colorful salad, and with a bright lemon dressing it's the perfect accompaniment to a hearty holiday main course.  It's also a totally delicious and satisfying lunch on its own, or with some chicken tossed in.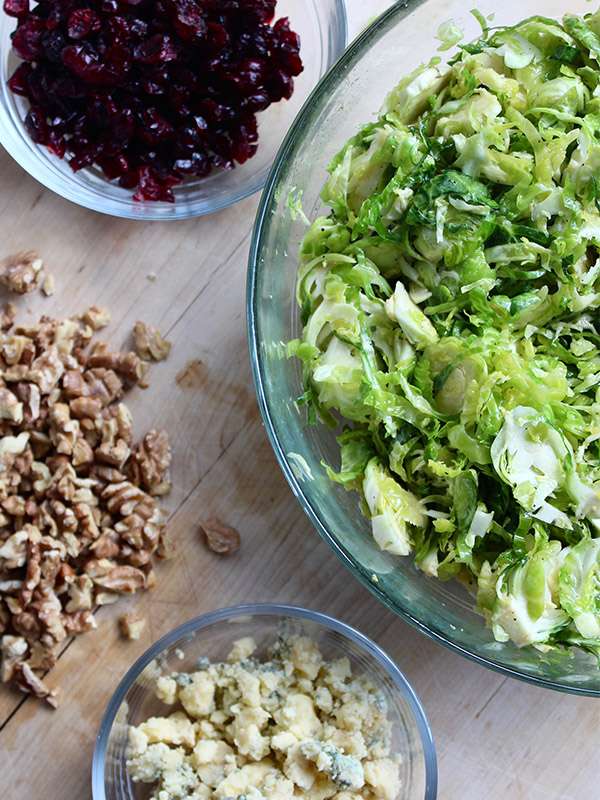 A lot of grocery stores now carry shredded Brussels sprouts which saves SO much time for this recipe. But if you can't find them, you can always shred the Brussels sprouts yourself. It isn't hard but does take a little while- the perfect thing to assign to a unsuspecting friend who offers to help with dinner. Maybe reward that friend with a big glass of wine?
Like kale salads, salads made with raw Brussels sprouts can be a little 'tough' when not dressed properly. I like to toss the Brussels sprouts with the dressing at least a half hour before serving the salad so they can marinate and soften slightly.
Print Recipe
Shredded Brussels Sprouts Salad with Walnuts, Cranberries, and Blue Cheese
Ingredients
1

pound

shredded Brussels sprouts (see note)

2

tablespoons

freshly squeezed lemon juice (1 lemon)

1

tablespoon

apple cider vinegar

1

teaspoon

honey

¾

teaspoon

kosher salt

½

teaspoon

freshly ground black pepper

⅓

cup

extra-virgin olive oil

¾

cup

dried cranberries

1

cup

walnuts

1

cup

(4 ounces) crumbly mild blue cheese, such as Bleu d'Auvergne or Danish blue
Instructions
Preheat the oven to 350 degrees. Place the walnuts on a sheet pan and bake for 10 minutes, until toasted. Cool, then coarsely chop and set aside.

In a glass measuring cup or small bowl, whisk together the lemon juice, vinegar, honey, salt and pepper. Slowly whisk in the olive oil.

Place the Brussels sprouts in a large bowl and pour the dressing over them. Add the dried cranberries, and toss well to combine. Set aside for at least fifteen minutes (or up to several hours.) Just before serving, add the walnuts and blue cheese and toss gently to combine.  Serve at room temperature.

Note: Many grocery stores carry shredded raw Brussels sprouts. If you can't find them, you can shred the Brussels sprouts yourself. Buy 1½ pounds whole Brussels sprouts, trim them and cut them in half through the stem. Remove the core, and cut each sprout crosswise into thin shreds.Copyright 2018, Lidey Heuck, All Rights Reserved