Have you ever gone into a wine store and walked the aisles aimlessly, trying to figure out what you want but afraid to ask (or not sure what to ask!)  I definitely have. It can feel uncomfortable to ask for help when you want an inexpensive bottle, and even worse when you don't know a thing about wine. But your local wine store is the best way to learn! Getting to know the employees and being honest about what you're looking for – "a dry white around $15 " for example, will help you walk out with a bottle you love, and hopefully, a little new knowledge!
Still not convinced? Welcome to Wines Under 20. I've done all the asking for you and with the help of my friends at Domaine Franey in East Hampton (and shoutout to Alex at Heights Chateau in Brooklyn Heights)  have compiled a list of crowd-pleasing, delicious wines that won't break the bank – and I've included my own notes, in real-talk, to help you decide which wine is right for you. Cheers!
White wine peeps, this one's for you. If you're like me, you've probably scanned a restaurant's wine list for whatever reasonably priced Sauvignon Blanc they have by the glass or bottle – or asked the bartender for whatever they have that's kind of like Sauvignon Blanc (or Pinot Grigio.)  But here's the thing. Not all Sauvy B's and Pinot Grigios are made alike, especially since they've become incredibly popular and are now mass-produced around the world. Often there's a more delicious and interesting alternative on the menu that you're overlooking when you go for what you know.
Just in time for Memorial Day, here's a rundown of some other crisp, dry white wines to have on your radar, with an example of each that's under $20. I spent a sunny Saturday afternoon trying and discussing these wines with a handful of willing friends. I was reminded – as I am every time I do a wine column- that the best way to find out what you like is to try new wines and see for yourself. I hope this list inspires you to do just that!
1. Grüner Vetliner
Reinhard Waldshcutz GV Grüner Vetliner  ($12) – Austria 
Grüner Vetliner ("Green" Vetliner) is a grape and wine of the same name, primarily grown and produced in Austria. It's dry and crisp, with nice minerality and lemon-lime citrus notes. There are two main styles of Grüner available. The first is especially light and bright, with more forward citrus flavor and sometimes even a bit of effervescence, while the second is a little moodier, more ripe fruit-forward and deeper in color thanks to a longer aging process. For a price point of $20 and under, stick with the first style and you'll find plenty of excellent options. Or look for a slightly more expensive bottle of the second, more complex style, when you want something special.
Grüner is my go-to party white wine: it's an inexpensive crowd pleaser that's refreshing and easy to drink but still a more interesting and less basic choice than Sauvignon Blanc.  And it doesn't hurt that Grüner is often sold in liter bottles -which gives you an extra 2 glasses per bottle. Bingo!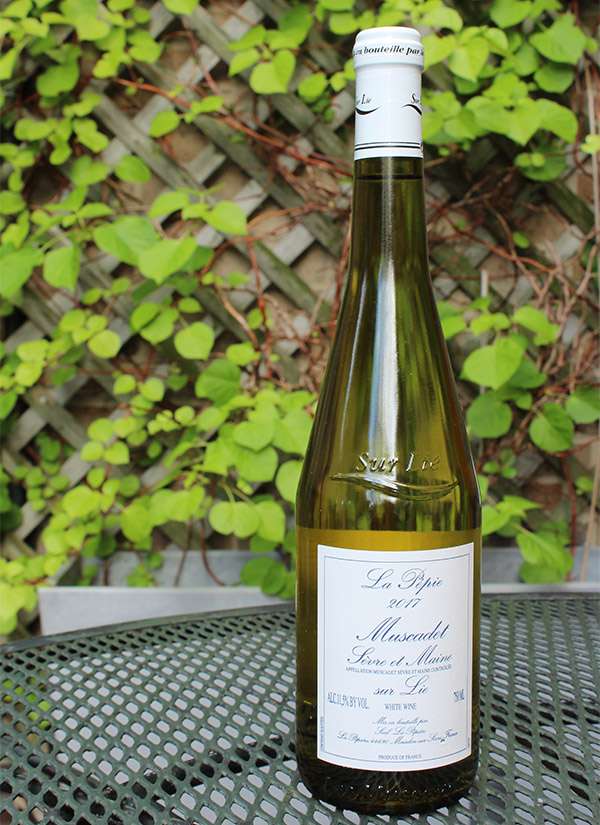 2. Muscadet
La Pepie Muscadet ($15)  – Loire Valley, France 
I have to admit I was skepitcal of Muscadet at first. The name sounds like Moscato- that bright pink wine you often see sold in giant bottles in the grocery store- but don't mix up the two. Muscadet is a very dry white wine from the Loire Valley in France.  Like Grüner it's light-bodied and has a smooth, refreshing finish and bright acidity. Muscadet that comes from vineyards closer to France's Atlantic Coast is said to have a minerality that's almost briny or saline in nature.
This was the most surprising wine we tasted, I think given our (false) pre-conceived notions. Everyone loved how crisp and clean it was. The Muscadet we tried didn't have a whole lot going on in terms of complexity, but it was incredibly refreshing and versatile. Sometimes, that's all you want out of a glass of wine! I personally think Muscadet is best enjoyed well-chilled, while sitting outside nibbling on some cheese and crackers before dinner (but mostly just the well-chilled part.)
3. Albariño
Boal de Arousa Albariño ($16) – Spain  
Albariño is a dry white that comes mostly from Spain and Portugal. Like many of the wines on this list, it's bright and airy with notes of tart citrus and hints of salty sea-breeze. Albariño is traditionally paired with seafood, and would be especially appropriate with a seafood paella or spicy grilled fish or octopus. Mmmm.
Just a note that we tried several bottles of Albarñno at different price points and found they varied wildly. The inexpensive bottle didn't have much character or depth. One of my tasters referred to it as a "banquet hall white." Yikes. But the slightly more expensive Albariño had a rounder flavor profile with notes of tart grapefruit and melon, and a crisp, smooth finish that I always look for in a dry white.  As with all these wines, ask your wine store for a recommendation so you end up with a good bottle.  For a splurge, Bodegas Albamar (around $22-$25) Albariño is excellent.
4. Dry or Off-Dry Riesling
Kung Fu Girl Riesling ($10) – Washington State, USA
"I don't like Riesling. It's too sweet." Heard that before? Said that before? Well, maybe you just haven't tried the right Riesling. To be fair, Kung Fu Girl is not as bone-dry as some of the other wines on this list- it's medium-bodied, and noticeably more fruit forward, with juicy stone fruit and ripe apple notes. That said, it's far from the super sweet Riesling you're imagining when you see it on a wine list.  Winemaker Charles Smith specifically developed this wine to pair with Asian food, and (in my experience) it is an excellent accompaniment to Thai takeout… and also pizza?
At around $10 a bottle, Kung Fu Girl is an excellent value, and fortunately, you can find it almost everywhere. For those reasons, it's one of my go-tos when traveling and shopping in an unfamiliar wine store. Another favorite Riesling of mine is Wölffer Vineyard's Grapes of Roth. Produced at the Hamptons' own Wölffer Vineyard (just fifteen minutes from LideyLikes HQ) this won't be as easy to find across the country, but keep an eye out for it – or just come visit the Hamptons!
5. Vouvray 
Domaine Vigneau-Chevreau Cuvee Silex ($20) – Loire Valley, France
Vouvray is another Loire Valley wine made from Chenin Blanc grapes. It has a delicate floral flavor and a deep golden hue. Chenin Blanc grapes are used to make a variety of wines, and Vouvray itself is produced in several different styles – including sparkling and sweeter varieties. The drier styles will often say "sec" (the French word for "dry") on the bottle, and if you don't see it, a good rule of thumb for discerning how sweet a wine will be is to look at the alcohol content. Wines with 12.5% alcohol or higher will be very dry, and wines with 11%-12.5% will be off-dry. Dip below 11% and you're getting into sweeter territory.
Of all the wines on this list, the Vouvray and Kung Fu Girl Riesling are the least dry wines, falling more into the 'off-dry' category. Vouvray has riper fruit notes and a touch of earthy honey, but the underlying sweetness is nicely balanced by the wine's acidity. While the bone-dry whites on this list are great for sipping on the porch all summer long, I think Vouvray stands up better to bolder summer flavors.
6. Pinot Gris
Montinore Estate Pinot Gris ($13) – Oregon, USA 
It's easy to confuse Pinot Gris with Pinot Grigio; after all, both wines are made from Pinot Grigio grapes. Here's the deal. Pinot Gris is the French name for the grape and the French style of wine made with it, and Pinot Grigio is the Italian name for the grape and wine. Italian Pinot Grigio has become hugely popular, and it's this style that appears on menus more commonly. Italian Pinot Grigio is more of a typical dry white – it's light and crisp, without a whole lot going on in the way of depth. Pinot Gris, the French counterpart from Alsace region of France, has a little more personality. It tends to be spicier, thicker and to age better than its Italian counterpart. If you like Pinot Grigio but find it gets a little same-old, same-old, try a Pinot Gris instead. While Pinot Gris originated in France, Oregon State has also become a well-respected region for producing it, thanks to its cool, damp climate.
This wine was a big hit in my circle of taste-tasters. They felt the Oregon Pinot Gris we tried was more complex  and meaty than the other dry whites on this list, with spicy pear, lemon undertones and a finish like "smooth wet stones," but in a good way. This is definitely a dinner table wine and would be delicious alongside a grilled or roast chicken, garlicky greens and a crusty baguette. Anyone else getting hungry?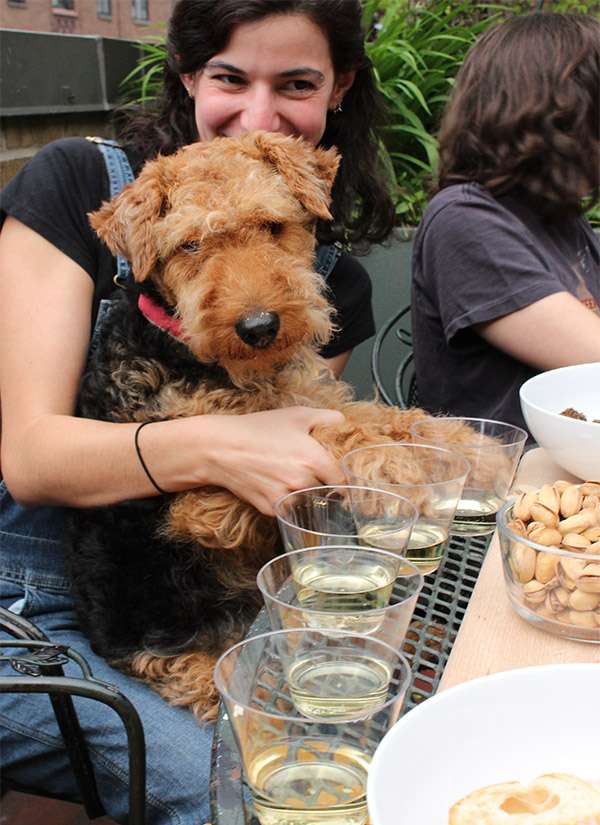 And that's all for now, white wine drinkers! I hope you found this list helpful. Keep an eye out for these wines and be sure to let me know in the comments if you find any new favorites! Also, let me know I missed any of your favorite dry whites. I tried to include a variety of wines that are widely available but there are many more out there – Vermentino, Silvaner, Aligote, Verdicchio- just to name a few more.
P.S. No Sancerre on this list? French wines are named for the region, not the grape. Sancerre is a wine made with sauvignon blanc grapes, in Sancerre, France.  In other words, Sancerre IS Sauvignon Blanc. The more you know!