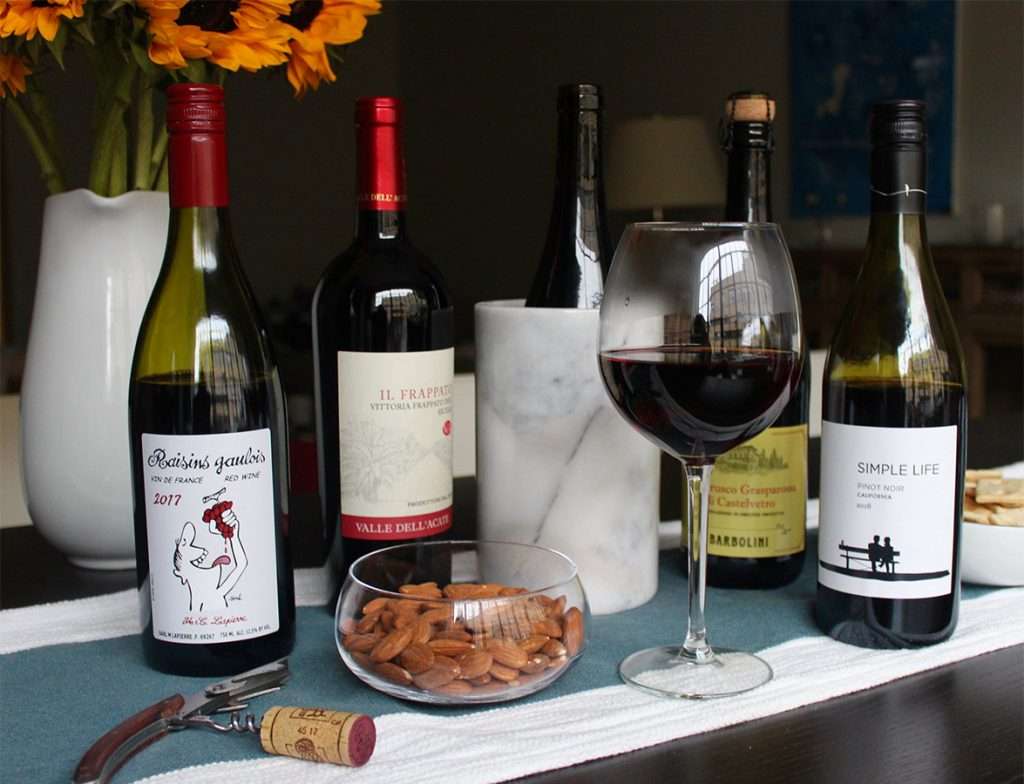 Have you ever gone into a wine store and walked the aisles aimlessly, trying to figure out what you want but afraid to ask (or not sure what to ask!)  I definitely have. It can feel embarrassing to ask for help when you want an inexpensive bottle, and even worse when you don't know a thing about wine. But your local wine store is the best way to learn! Getting to know the employees and being honest about what you're looking for – "a dry white around $15" for example, will help you walk out with a bottle you love, and hopefully, a little new knowledge!
Still not convinced? Welcome to Wines Under 20. I've done all the asking for you and with the help of my friends at Domaine Franey in East Hampton, have compiled a list of crowd-pleasing, delicious wines that won't break the bank – and I've included my own notes, in real-talk, to help you decide which wine is right for you. Cheers!
After a long summer of drinking rosé and dry white wine, I am always very ready to get back to drinking red. But in New York, warm days can stretch on through mid October, and the thought of something cool and crisp on those balmy, sweater weather days is still very appealing. That's why chilled red wines are often my go-tos in September and October.
To chill or not to chill?  The best red wines to chill are wines that are fruit-forward, not particularly complex, and light to medium-bodied. Because the complexities of wine are dulled when it's chilled, this is not the thing to do with that one really nice bottle of wine you received as a gift and are saving for the perfect occasion. BUT, the good thing is, chilling reds is a great way to turn an inexpensive bottle into something incredibly refreshing and satisfying.
I have listed 5 different kinds of red wine that are ideal for chilling, along with an example of each. Since I can't guarantee you will be able to find these particular wines in your area, the best thing to do is always to ask for recommendations at your local wine store to find something similar in each category.
A quick note on chilling: we aren't talking overnight in the fridge. Reds should only be slightly chilled. Pop the bottle in the refrigerator for thirty minutes before you plan to serve it, and it will be ready to go.
1. Beaujolais
Raisins Gaulois, Domaine Mathieu & Camille Lapierre ($16) 
Beaujolais is made from the Gamay grape and comes from the Beaujolais region in France. (Remember, French wines are named after the region, and wines from the U.S. are named after the grape!) Beaujolais wines are typically fruit forward, light to medium-bodied, and are meant to be served slightly chilled. Ask your local wine store for a Beaujolais from a small producer.
Raisins Gaulois is a typical Beaujolais, with juicy raspberry and cherry pie notes (yum!) Easy to drink and immensely likeable, this is a great wine to keep on hand for friends who drop by, or to open with dinner any night of the week. It's not the most interesting wine I've ever had, but it's straightforward, delicious, and totally satisfying in its simplicity.
2. Lambrusco
Barbolini Lambrusco Grasparossa di Castelvetro ($13) 
Lambrusco is a frizzante (semi-sparkling)  Italian wine named for the grape from which its made. Lightly sweet, crisp, and almost black-cherry red in color, Lambrusco is like champagne's laid back artsy cousin. And like champagne or prosecco, Lambrusco should always be served chilled and can take more of a chill than the other wines in this group.
Barbolini has all the typical Lambrusco characteristics- it's light, fizzy, refreshing, and fun. It's just a fun wine to drink. It's no coincidence that my crack team of testers nicknamed this the 'party wine.'  (I particularly like it with pizza.) Barbolini has rich, juicy berry notes, but is also dry and crisp and well-balanced.
3. Pinot Noir
    Simple Life Pinot Noir ($14)
Young, inexpensive pinot noirs are an ideal candidate for chilling. They are light to medium-bodied, dry, and like the other red wines mentioned here, are bright and fruit-forward. While aged -and expensive- pinot noirs have greater complexity and are best at a cool room temperature, a young pinot is light, clean, and primed for a quick chill.
The pinot noir we tried is Simple Life from California. It had more body than most of the other wines we tried, thanks to bold, ripe-fruit sweetness and nice acidity to round it out. The Simple Life pinot noir has enough gusto to stand up to hearty fall dishes. It would be fantastic served alongside a roast chicken on those first crisp nights of autumn.
4. Frappato
         Il Frappato Valle dell'Acate ($19)
Frappato is an Italian red made with the Frappato grape, most often grown in Sicily. It's light-bodied, ruby red in color, and known for forward berry and juicy grape notes, as well as an earthiness that gives it nice depth of flavor. Think of Frappato as a complex Beaujolais- it's still approachable and refreshing but has a nuance that makes it less "in your face" fruit-forward than Beaujolais.
The Valle dell'Acate Frappato we tried is a classic Frappato, light-bodied with nice minerality and 'damp earth' notes. Like the Lake Shore Dive song, it goes down smooooth. It's incredibly versatile, and while Frappato doesn't need to be chilled, a light chill makes this the perfect wine for sipping on a crisp early fall evening, hopefully with a few friends and a nice cheese board.
5. Natural Wines (especially Cabernet Franc or Gamay)
Le Bon Petit Diable, Domaine des Sablonettes ($17) 
Natural wines have that funk.  They are unfiltered and have few to no additives – and therefore are rougher and more primitive than their more refined counterparts. These wines definitely have personality, and sometimes too much personality for the average wine drinker. I think they're great chilled, because a quick chill mellows some of their funkiness without disguising their unique character.
Le Bon Petit Diable is slightly effervescent (read: fizzy), making it incredibly refreshing and crisp. On one hand, we think this wine would be excellent with red-sauce Italian food, and on the other, we think it's complex and funkadelic enough to impress that friend who knows their SHTUFF about wine. That's a pretty winning combo in my book.
As always, my goal is to provide you with real-life wine advice you can actually use, with just enough wine lingo peppered in so you can sound legit when you tell your friends what they're drinking. Here is a rundown of the 5 kinds of chilled reds we tasted, and how you may want to try them at home!
Best wine to sip at sweater-weather cocktail hour: Frappato
Best wine to pair with with hearty fall flavors: Pinot Noir
Best wine for a crowd/"the safe bet": Beaujolais
Best wine to impress your wine snob friends: Natural Gamays and Cabernet Francs
Best wine to bring to a party (or serve at your own): Lambrusco
Note: Prices may vary slightly depending on where you live. Vivino.com and WineSearcher.com are great places to check wine prices and learn about your favorite wines. If I missed one of your favorite chilled reds, I'd love to hear about it in the comments below!!