Pronounced "Mackinaw",  Mackinac Island is a little island – just over 4 square miles – between Michigan's Upper and Lower Peninsulas in Lake Huron. My family has been spending summers in the 'UP' for more than one hundred years, and we always try to make a trip to Mackinac while we are there.
Dotted with grand Victorian cottages, pristine lake beaches and fudge shops (!), Mackinac feels like a summer destination from another era, and visiting quite literally feels like stepping back in time. Here's a quick little guide to my some of my favorite spots, in case you find yourself on this beautiful island!
WHAT TO DO:
Mackinac is perfect "weekending" destination. There's enough to do to fill your days, but not much so on your to-do list that you can't take time to slow down, relax and spend the afternoon aimlessly exploring this beautiful place.
There are no cars on Mackinac, which is one its greatest charms. Instead, horse drawn carriages and bicycles are the primary modes of transport. And while a horse-drawn carriage ride is a fun novelty,  I much prefer exploring the island by bike. There's a pristine path that goes all the way around the island. It's about 8 miles in total and mostly flat, perfect for a leisurely ride. There are a bunch of places to rent bikes on the island, and some hotels provide them for hotel guests– absolutely no need to bring your own on the ferry!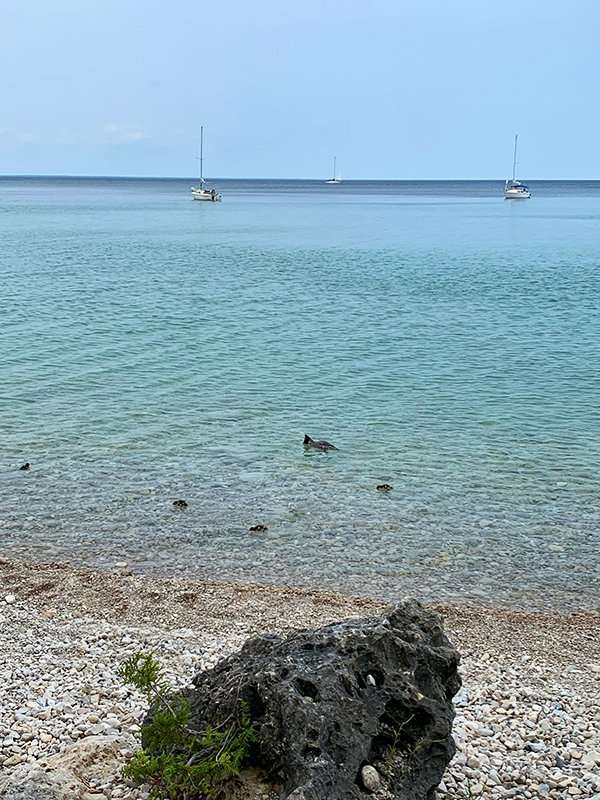 If you have the chance, I always recommend getting out on the water. You can rent kayaks and stand-up paddleboards on the island, or even charter a sailboat. (There are also a number of companies that run sunset cruises, if that's more your speed!)
OR, go for a swim! In my opinion, it's hard to beat the crystal clear waters of the Great Lakes. But be warned, that water is COLD!!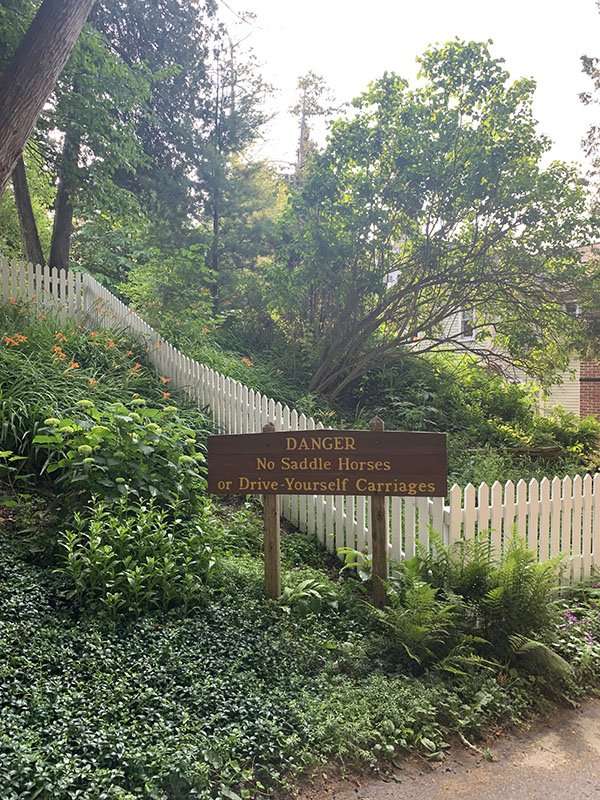 Walk through the town of Mackinac and at first glance, you'll see manicured lawns and gardens along the sidewalked streets. But look a little closer (or grab a map) to find the many hidden walking paths on the island. Ranging from easy strolls to beginner hikes, these trails will show you a side of Mackinac you won't see from the seat of a horse-drawn carriage. Especially if you're visiting in the busy, late-summer months, the walking paths can be a quiet respite from the hustle and bustle of the island hotels.  Many of these trails are also accessible on horseback! Here's a link to some stables that organize rides on the island: Cindy's Riding Stable  & Jack's Livery Stable
Fudge is king on Mackinac Island. This tiny island is home to a truly incredible number of fudge shops, many touting themselves as 'the best on the island.'  Now that you've worked up an appetite, walk through town sampling all the fudge the island has to offer. Choose a favorite and buy lots to bring home for your friends. *Fun fact, when you fly out of any of the small regional airpots in Northern Michigan, there is usually a sign that says to "please remove fudge from your carry-on." LOL.
WHERE TO STAY:
The gem of Mackinac is the historic Grand Hotel, a colorful and truly grand Victorian era resort, is a must stay. You can first glimpse the giant hotel and its 660 foot long front porch – the longest in America- as you arrive on the ferry.
The room rates are expensive, but it's easy to find deals, and a night's stay usually includes both breakfast and dinner. If even you don't stay there, the Grand Hotel is worth a visit.
If you're looking for something a little more laid back, there are a number of other hotels and B&B's in the island. I would also recommend looking into house rentals if you plan to stay for more than a few nights. The hotels do tend to be pretty busy during the summer months, and a rental house will allow you to escape the hustle and bustle and just relax at home.
WHAT TO EAT:
[See fudge.]
I'm going to come right out and say it – Mackinac is not a culinary destination. You won't find any Michelin starred restaurants or rustic, farm-to-table spots here. Mackinac just isn't about the food.
That said, there are plenty of options for a delicious and reliable meal. The Pink Pony is my favorite. Whether you go for lunch, dinner, or a late night drinks (the Pony stays open til 2 am) you'll be happy you did.  From the dancing pink ponies painted on the walls, to the bright pink cocktails, this place is just fun! And the food is reliably good, too.
Earlier I recommended looking into rental houses. One reason I am often a fan of the rental house is you can cook at home! I know that schlepping groceries is not everyone's idea of a vacation, but I like having the option to do either.  If you are renting a house, check out Doud's Grocery,  Mackinac's adorable and well-stocked market that's been open since 1884!