This recipe is a tribute to my love of trail mix, which is only rivaled by my love of oatmeal, crewneck sweatshirts, margaritas, and ice cream sundaes. I have a lot of interests, ok??
In all seriousness, I spend a LOT of time in the car, at the airport, and on the train, and trail mix is one snack that has never failed me. Infinitely transportable, and almost always available in some form, it's a snack that at the very least contains real ingredients, and at its very best is a perfect combination of sweet, salty, crunchy and chewy ingredients, many of which are relatively good for you.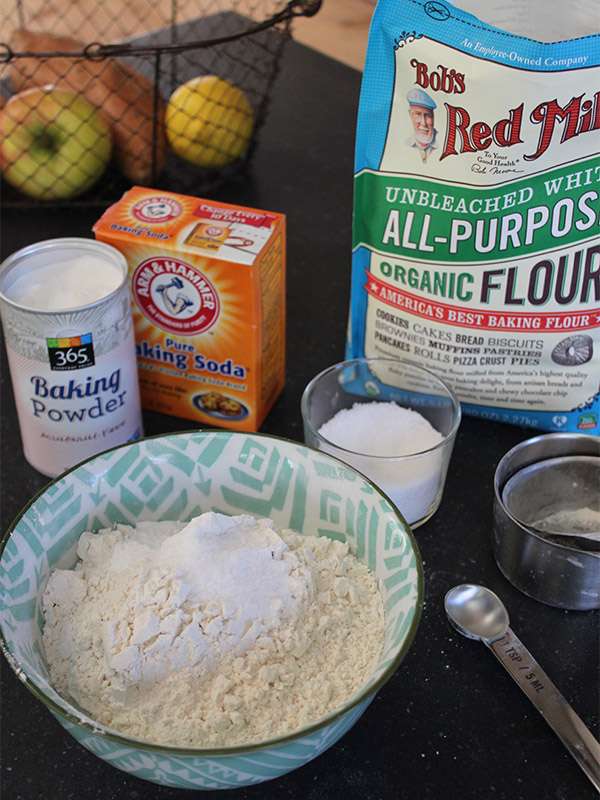 When I have time, I make my own trail mix, and one day as I was chomping away, the idea came to me to put my favorite trail mix ingredients in a cookie. I mean, what snack isn't good in cookie form?  Imagine a traditional, soft and chewy chocolate chip cookie with crunchy toasted nuts and chewy dried fruit.  These cookies contain all the best elements of trail mix, and none of the bad ones. Sorry, banana chips and dried pineapple.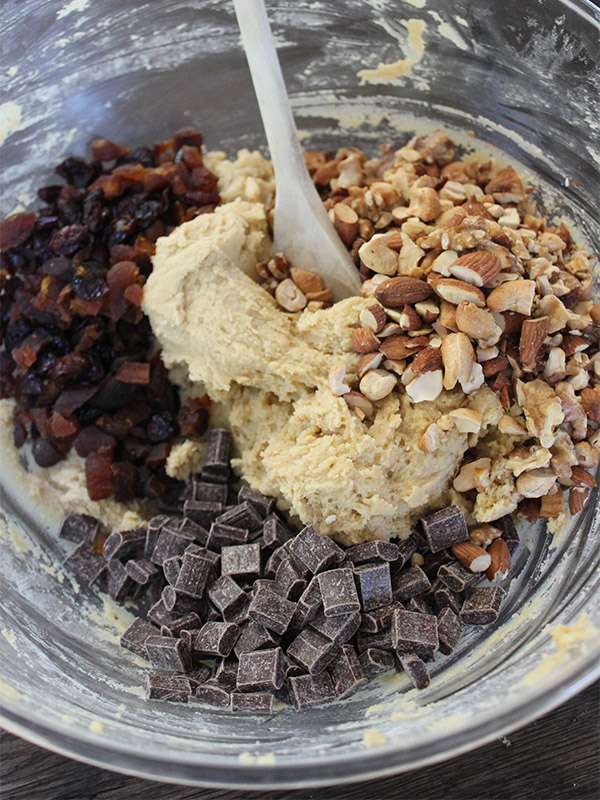 BUT, what's fun about this recipe is you can use whatever ingredients you love in trail mix. I used my favorite nuts- almonds, walnuts and cashews – but peanuts, pecans and hazelnuts would be good substitutions. Same goes for the dried fruit. The cranberries are important because they add a nice tartness, but feel free to use raisins or golden raisins instead of the apricots if you prefer, or if you have them on hand. The only ingredient I highly recommend you not substitute is the chocolate chunks. It's a known fact that the best part of trail mix is always the chocolate- and in a cookie- even more so!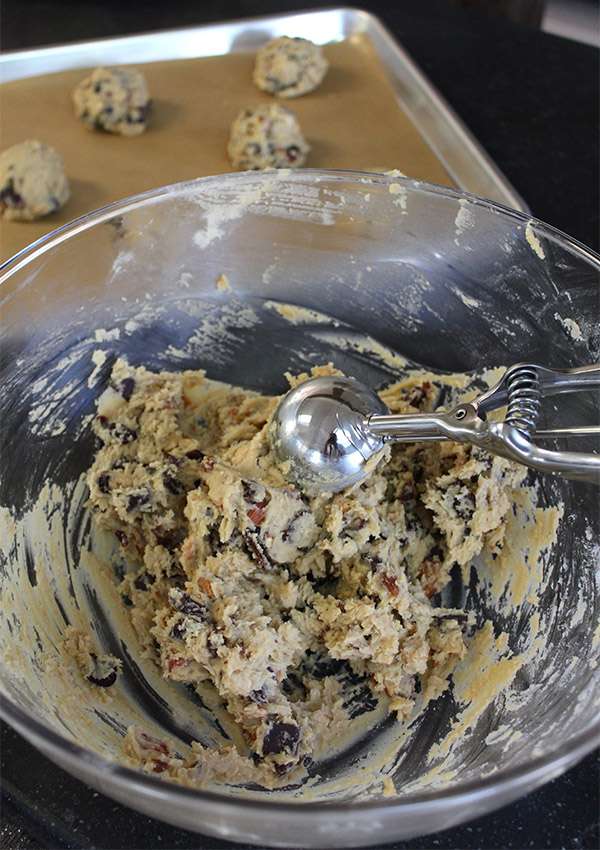 There are two important keys to this recipe. The first is to slightly under-bake the cookies.  You want that perfect combination of soft cookie, gooey chocolate, crunchy nuts, and chewy fruit in every bite. And second, a little sprinkle of salt on the cookies when they come out of the oven gives that them sweet & salty element that's crucial in a good trail mix.
I hope you love these cookies as much as I do! They're a fun spin on a traditional chocolate chip cookie and are equally good on the trail, or eaten while standing in the kitchen, asking yourself whether cookies with dried fruit and nuts qualify as breakfast food.
Print Recipe
Trail Mix Cookies
Ingredients
1/3

cup

raw almonds

1/2

cup

raw walnut halves

1/2

cup

raw cashews

2¼

cups

all-purpose flour

1

teaspoon

baking soda

1

teaspoon

kosher salt, plus extra for sprinkling

2

sticks (½ pound) unsalted butter, at room temperature

1

cup

light brown sugar, lightly packed

1/2

cup

granulated sugar

1½

teaspoons

vanilla extract

2

large eggs, at room temperature

3/4

cup

dried cranberries

1/2

cup

roughly chopped dried apricots, raisins, or golden raisins

1

cup

semisweet chocolate chunks
Instructions
Preheat the oven to 375 degrees and line two sheet pans with parchment paper. Place the almonds, walnuts, and cashews on a sheet pan and roast for 10-12 minutes, until well toasted. Cool completely, then roughly chop and set aside.

Meanwhile, combine the flour, baking soda, and salt in a small bowl and set aside.

In the bowl of an electric mixer fitted with the paddle attachment, or in a large mixing bowl if you are using a hand mixer, combine the butter, brown sugar, and granulated sugar. Beat on medium-high speed for 3 minutes, until light and fluffy. With the mixer on low, add the vanilla and the eggs, one at a time, and scrape down the sides of the bowl with a rubber spatula.

With the mixer still on low, gradually add the dry ingredients and mix until just combined. Add the cranberries, apricots, chopped nuts, and chocolate chunks to the batter and mix with a wooden spoon to combine.

Using a 2¼-inch ice cream scoop (or two spoons), form round balls of cookie dough about 2-inches in diameter. Place 9 balls of dough on each sheet pan, evenly spaced, and bake for 12 to 15 minutes, until just starting to turn golden brown and still soft to the touch. The cookies should seem under-baked; they will firm up as they cool.

Sprinkle the cookies lightly with salt, and let them cool for 5 minutes before carefully transferring them to a wire rack to finish cooling. Serve immediately, or store in a sealed container at room temperature.

Copyright 2018, Lidey Heuck, All Rights Reserved