Every year there's one song that ends up being the unofficial song of the summer. It's catchy, it's on everyone's playlists,  and no summer party is complete without it. But because this is a food blog, and not a music blog,  I want to talk instead about the salad of the summer. You know that salad you try once and then continue making again and again until Labor Day? I think I've found mine, and it's got all the makings of a classic summer hit – ripe tomatoes, sweet corn, juicy peaches, and fresh basil. And burrata. Burrata is always a hit.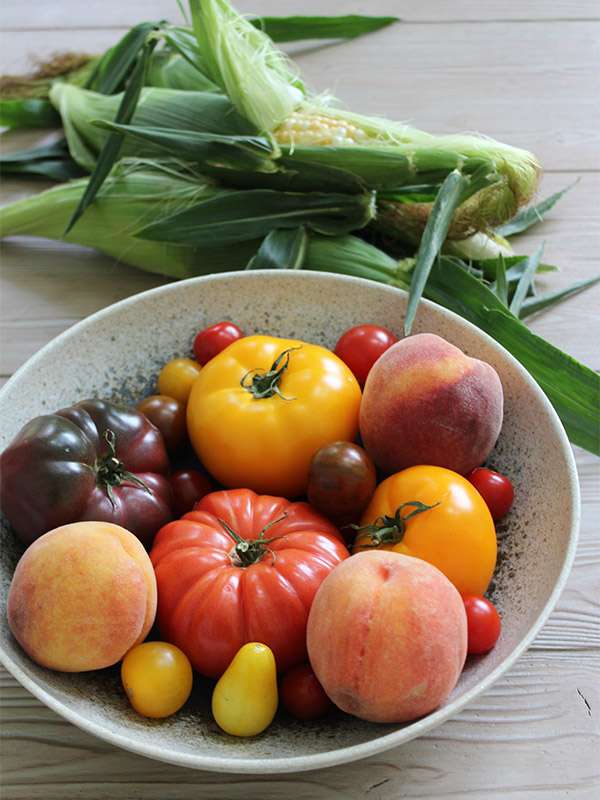 My favorite thing about this recipe – besides the fact that it includes so much great summer produce – is that it's both incredibly easy to make and incredibly beautiful. A centerpiece-worthy dish that comes together in fifteen minutes? Sign me up for that.  Making food look pretty isn't always easy, but when you start with colorful, seasonal ingredients, nature makes it easy.
The other great thing about this is salad is you can use it as a base and add your own favorite summer ingredients. It would be delish with a little melon mixed in, or maybe some thinly sliced red onion. You could add mint to the basil,  do a nice drizzle of balsamic if that's your thing, or even add a little bit of prosciutto. Anyway you spin it, I think there's a good chance it could become your salad of the summer, too!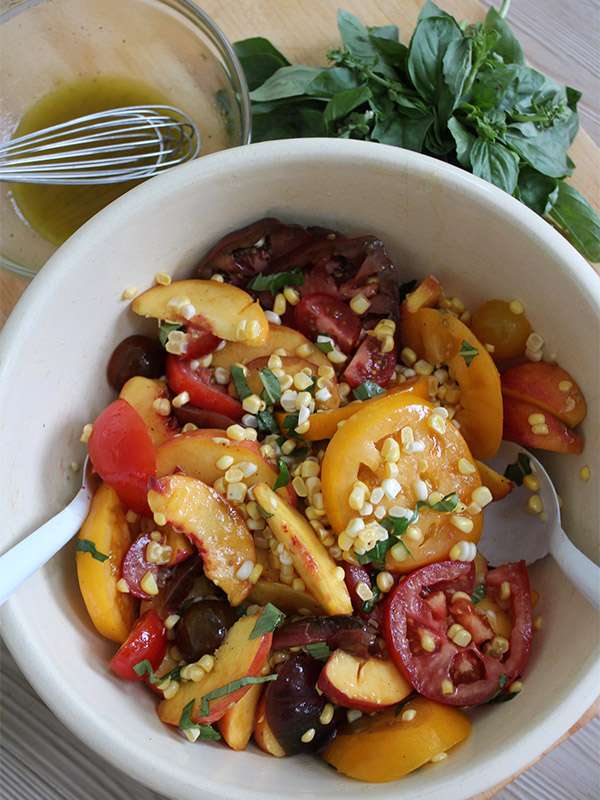 P.S. This recipe was recently featured in a story I did with this super cute home décor company, Lulu & Georgia. I shared some of my best weeknight dinner party tips, along with the story of how I came to work for Ina and how I began writing my own recipes. Check out the interview and gorgeous photos over on Lulu & Georgia.com!
Print Recipe
Tomatoes, Peaches, and Corn with Burrata
Ingredients
3

pounds

assorted ripe tomatoes, cored and cut into ¼-inch thick slices

3

ripe peaches, pitted and thinly sliced

Kernels cut from 3 large ears of corn

½

cup

julienned fresh basil, plus whole basil leaves for serving

⅓

cup

extra-virgin olive oil

3

tablespoons

white wine or Champagne vinegar

1

teaspoon

kosher salt

½

teaspoon

freshly ground black pepper

2

(8-ounce) balls fresh burrata cheese

Flaky sea salt, for serving
Instructions
Combine the tomatoes, peaches, corn, and basil in a large bowl. In a glass measuring cup, whisk together the vinegar, olive oil, salt, and pepper. Pour enough dressing over the salad to moisten and toss gently.

Spread the tomatoes, peaches, and corn in an even layer on a large serving platter. Place the balls of burrata on top and using a paring knife, carefully cut an 'X' into the top of each ball to cut it into quarters. Sprinkle the salad with basil leaves and flaky salt, drizzle with the remaining dressing, and serve.

Copyright 2019, Lidey Heuck, All Rights Reserved