I spent last weekend in Palm Springs, soaking up the sun, practicing my karaoke rendition of "Believe" by Cher, and eating my weight in avocados that hadn't traveled all the way across the country. It was hot, like, 103 degrees hot, but dry and breezy and perfect. I started to get very excited for summer back home, and all the foods, fun cocktails, and beach days that come with it. But now that I'm back in New York and the temperature is in the low fifties and the forecast is calling for nothing but rain, rain, and more rain, I'm settling for spring instead of summer.
This Spicy Sicilian Cauliflower is a recipe I make year-round, but I especially like it in the spring when the weather finally warms up and I find myself wanting lighter and brighter foods.  It's full of punchy flavors – briny capers, red pepper flakes, toasted pine nuts, golden raisins and lots of fresh parsley, with a splash of vinegar to complete the classic Southern Italian combination of savory, spicy, acidic, and sweet elements.
Let's just say, this is not your mom's roasted cauliflower (no offense, Mom!) One of my favorite things to do is take a simple roasted vegetable and spice it up with a lot of bold and fresh flavors. It takes just a little extra effort and turns a same-old vegetable into a dinner party-worthy side dish. My Hot Honey Roasted Carrots and Crunchy Thai Brussels Sprouts recipes are also good examples of this technique (if you can call it that), but this cauliflower is my current favorite.
This is a great recipe to have in your back pocket for entertaining for a few reasons. First, and most importantly, it tastes really good.  Cauliflower is being used in everything from pizza crust to rice to smoothies at the moment, and it's nice to remember that it's also absolutely delicious in its original vegetable form! Second, this is a really versatile side dish. I've served it with everything from salmon to roast chicken, steak and even grilled Italian sausages (washed down with a glass of crisp, dry white wine.)  And finally,  for the most part, everyone can eat it. It's vegan, gluten-free, dairy free, and nut-free if you omit the pine nuts. Your hard-to-cook-for-friends will thank you, and if they ask for the recipe, send them here!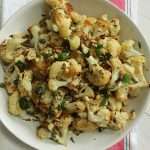 Print Recipe
Spicy Sicilian Cauliflower
Ingredients
1

large head cauliflower (2½-3 pounds)

¼

cup

extra-virgin olive oil

Kosher salt and freshly ground black pepper

2

tablespoons

capers, drained and roughly chopped

¼

cup

golden raisins

1

tablespoon

champagne or white wine vinegar

¼

cup

roughly chopped fresh parsley

2

tablespoons

toasted pine nuts

¼

teaspoon

crushed red pepper flakes
Instructions
Preheat the oven to 425 degrees.

Trim the leaves from the cauliflower, remove the core, and cut the cauliflower into medium-size florets. On a sheet pan, toss the cauliflower with the olive oil, 1 teaspoon salt, and ½ teaspoon pepper. Roast for 25 to 35 minutes, tossing once halfway through, until tender and browned.

Meanwhile, in a small bowl, combine the capers, raisins, and vinegar and set aside.

When the cauliflower is done, add the caper mixture, parsley, pine nuts, and red pepper flakes to the sheet pan. Toss well, sprinkle generously with salt, then transfer to a shallow dish or platter and serve.

Note: To toast pine nuts, place them in a small sauté pan set over medium heat for 3 to 5 minutes, tossing often, until lightly browned and toasted. Don't be tempted to look away or multitask. That's exactly when the pine nuts will decide to start burning.Copyright 2019, Lidey Heuck, All Rights Reserved