On the East Coast, August is the month when summer produce really hits its stride. Corn, tomatoes, peppers, eggplant, herbs, stone fruit – they're all at their very best.  But it's also a month when everyone would rather be hanging out by the pool, beach or backyard than be stuck in the kitchen making dinner. This might sound like an unfortunate coincidence, but happily, summer veggies at their peak require little cooking ( or in this recipe's case, none at all!)
This Spicy Corn and Cucumber Gazpacho is one of my favorite recipes to make in July and August.  It's light, bright, and so incredibly refreshing on a hot summer day. Cucumber is definitely the dominant flavor here, but the corn adds a mellow sweetness and helps thicken the soup nicely. It might sound odd to use raw corn in a soup, but I promise, it just works! The soup has a little kick thanks to the jalapeño, but it's definitely a mild heat. Feel free to add more jalapeño, or leave some of the seeds and ribs in tact, if you want to take things up a notch.
I like to toss the cucumbers with a little bit of salt before blending so they begin to release some water right away. Depending on how powerful your blender is, this step can also help to get things moving without the addition of more liquid.
The key here is to use the best ingredients you can find: English or Persian cucumbers (not the waxy ones from the grocery store!), corn from the farmer's market, bright green basil, you get the idea. Because the recipe calls for raw corn,  it's particularly important that the corn as is a fresh as possible. Other than that, it's really hard to go wrong. Everything gets pureed together, and then the soup is blended with a bit of olive oil, which adds some richness and gives the soup an incredibly smooth texture. Olive oil also contributes to this soup's bright green color.
Did I mention this recipe is naturally vegan/plant-based, gluten-free, dairy-free, nut-free… the works! As you may have noticed by now, I eat everything, but when I'm having friends over for dinner, it's nice to have some recipes up my sleeve that everyone can eat! I will also note, for anyone interested, that this soup is DELISH and very much not dairy-free finished with a drizzle of heavy cream or a dollop of creme fraîche or sour cream.
Finally, like any gazpacho, this soup gets even better as it sits, so it's a perfect recipe to make in advance, and enjoy at your leisure by the pool, beach or a shady spot in your backyard. Let me know what you think in the comments below!!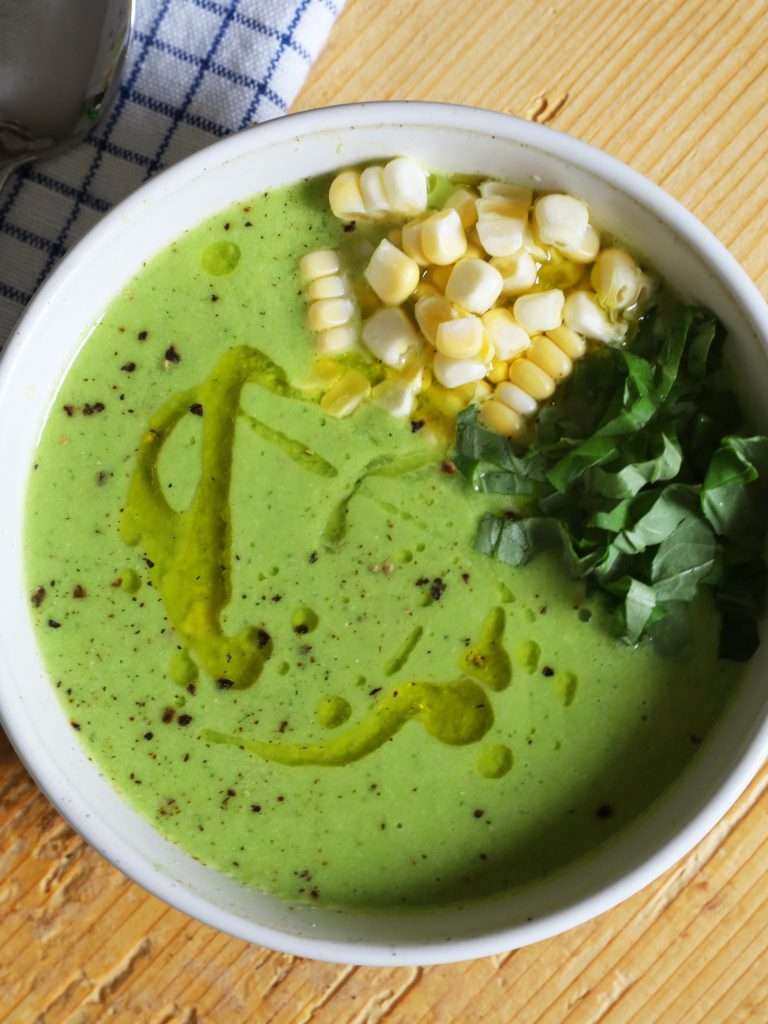 Spicy Corn and Cucumber Gazpacho
Ingredients
2

large English cucumbers, unpeeled, halved lengthwise and seeded (about 12 ounces each)

1

teaspoon

kosher salt, plus more to taste

2

large tomatillos (about 3 ounces each)

2

cups

fresh corn kernels (from 3 to 4 ears corn)

1

large jalapeño pepper, seeds and ribs removed, chopped (about 3 tablespoons)

½

cup

chopped yellow onion

1

garlic clove

3

tablespoons

freshly squeezed lime juice (2 limes)

½

cup

fresh basil leaves, packed, plus more for serving

½

cup

olive oil, plus more for serving

Freshly ground black pepper
Instructions
Roughly chop the cucumbers and place them in a large mixing bowl. Add the salt, toss, and set aside while you prepare the other vegetables, or for at least 10 minutes. Remove the husks from the tomatillos and rinse them. Trim the stems, then roughly chop the tomatillos and add them to the bowl with the cucumbers. Toss, then transfer to a blender. Add 1¾ cups of the corn kernels, reserving the rest for serving, along with the jalapeño, onion, garlic, and lime juice.

Blend on high, until smooth, 30 seconds to 1 minute. (If using a powerful blender such as Vitamix, blend on medium to maintain some texture. We want this to be a soup, not a juice!)

Add the basil, olive oil and black pepper to taste and blend on high for 10 seconds.  Pour the soup through a mesh strainer, discarding the solids, and taste for seasonings.

Chill the soup at least one hour, or overnight, and serve cold, garnished with a drizzle of oil, the reserved corn kernels, and torn fresh basil leaves.