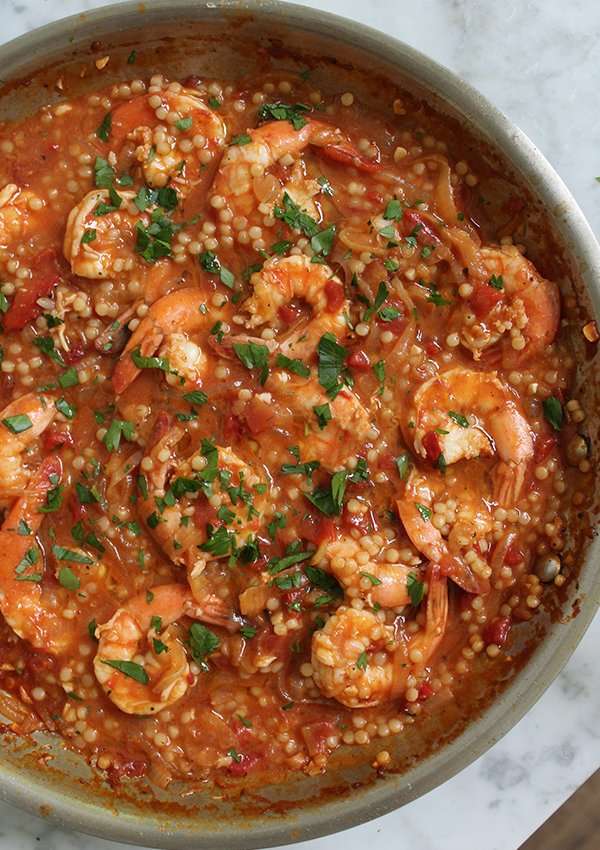 A weeknight dinner that takes 30 minutes to make and only requires one pot? It's not too good to be true, I promise! This Smoky Shrimp & Couscous is one of my favorite weeknight dinners, and it really couldn't be easier. The vegetables, aromatics, couscous, and shrimp are all added to the same pan in stages, a process I find relaxing and satisfying after a long day. The whole thing is ready within half an hour, the perfect time for a glass of white wine ( the recipe calls for 1/3 cup so you'll have plenty leftover to drink.)
This recipe is a mashup of Mediterranean influences- smoky Spanish paprika, garlic, and roasted red peppers, briny shrimp (you can tell yourself they were plucked from the sea this morning, even if they came straight from the freezer aisle)  and Israeli or "pearl" couscous, which adds great texture and really makes this a meal. Smoky, spicy, and totally comforting, this is the perfect dish when that autumn chill starts to creep in.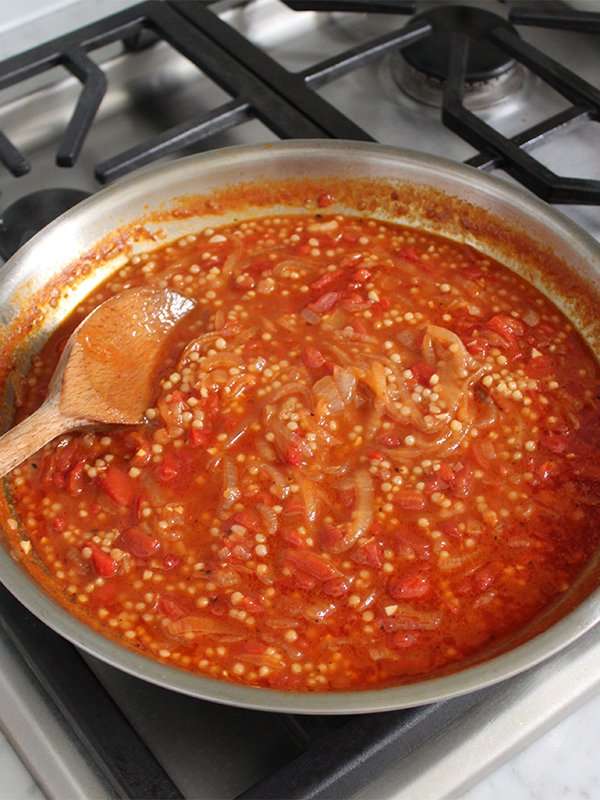 The list of ingredients isn't the shortest, but the beauty of this recipe is that nearly all of them are pantry ingredients that are great to keep on hand. I've found that having a well-stocked pantry gets me to cook more, because it saves time and (at least in my head) saves money. If I have a bunch of staples in the pantry, I only have to pick up a few ingredients to make dinner, and I don't feel like I'm spending a fortune every time I cook. If you'd be interested in a few pointers for stocking your pantry, or are curious to know what I keep on hand, let me know in the comments below!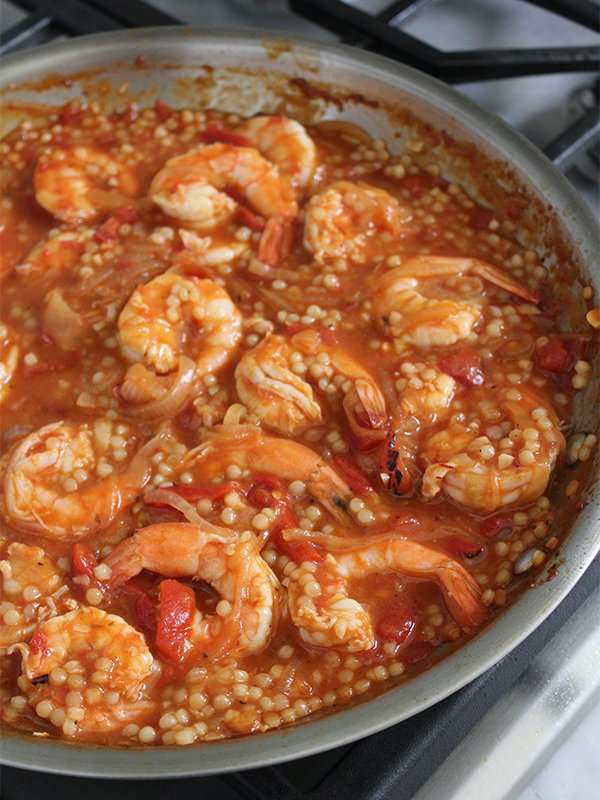 Let's talk anchovies. I am not the first to person to say this, and I will not the be the last. Anchovies are a flavor BOMB. They add salty/umami/savory depth to dishes, and in this case, are an excellent complement to the shrimp. You don't have to use them, but if you are anchovy-hesitant, this might be a great starter recipe for you. You won't know the anchovies are in there, you'll just know your dinner is delicious and the anchovies helped!
Finally, You can make this recipe gluten-free by using rice  in place of the couscous, but I would recommend cooking it separately and then adding it to the pan, because rice takes much longer to cook than couscous. Just let the liquid reduce for about 10 minutes before you add the shrimp, so you still end up with a rich, flavorful sauce.
Smoky Shrimp & Couscous
Ingredients
¼ cup extra-virgin olive oil, plus more for serving
1 medium yellow onion, very thinly sliced
3/4 cup jarred roasted red peppers, drained and roughly chopped
2 anchovy fillets, minced (optional)
1½ tablespoons minced garlic (3 large cloves)
1 teaspoon smoked Spanish paprika
Pinch ground cayenne pepper
1/3 cup dry white wine
2 cups chicken stock, preferably low-sodium
1 cup canned crushed tomatoes
Kosher salt and freshly ground black pepper
¾ cup pearl or Israeli Couscous
1 pound large (16-20 count) shrimp, peeled and deveined (tails on)
2 teaspoons sherry or red wine vinegar
chopped fresh parsley, for serving
Directions
In a large (12-inch) sauté pan, heat the olive oil over medium heat. Add the onions, and cook, tossing occasionally, until tender and lightly browned, about 8-10 minutes.
Add the roasted red peppers, anchovies, if using, garlic, paprika, and cayenne pepper, and cook for 1 more minute, until the garlic is fragrant. Careful not to let the garlic burn! Add the wine and stir, scraping up any brown bits from the pan. When the liquid in the pan has almost entirely evaporated, add the chicken stock, tomatoes, 1 teaspoon salt, and ½ teaspoon black pepper, and bring to a boil.
Add the couscous, reduce the heat, and simmer, stirring and scraping the bottom of the pan occasionally, until the couscous is al dente, about 6 minutes. Meanwhile, pat the shrimp dry with a paper towel, season with salt and pepper, and set aside.
Add the shrimp to the pan, stirring to submerge them in the sauce, and simmer for 3 minutes, until they are just cooked through. Off the heat, stir in the sherry vinegar.
Serve hot in shallow bowls. Garnish each serving with parsley and a drizzle of olive oil.
Copyright 2019, Lidey Heuck, All Rights Reserved