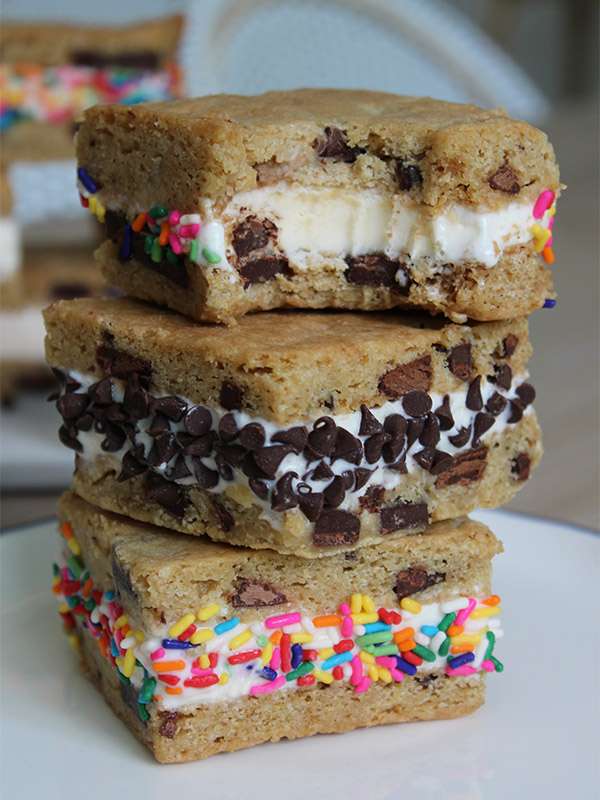 There are few foods that are more quintessentially SUMMER than a classic ice cream sandwich. Eating one always makes me feel like I'm a kid on summer vacation, and that's a feeling we could all use a little bit more of, don't you think? They are one of my favorite desserts to make when I have friends over for a dinner party in the summer, for two reasons. First, you can make them days in advance, and more importantly, everyone completely loses their minds when you bring out a platter of giant ice cream sandwiches after dinner. Try it, you'll see what I mean. I'm all for blueberry crumble or peach pie, but there is no greater crowd pleaser than ice cream sandwiches.
Now, making ice cream sandwiches is a project no matter how you spin it, but this sheet pan method takes a little bit of time and mess out of the process. Instead of having to assemble each individual sandwich, all you have to do is make one giant ice cream sandwich, pop it in the freezer, then trim the edges and cut it into individual sandwiches.  Cutting the sandwiches into squares after they've hardened in the freezer makes them look incredibly professional, with crisp, clean edges and no melty wreckage from an ice cream sandwich assembly line.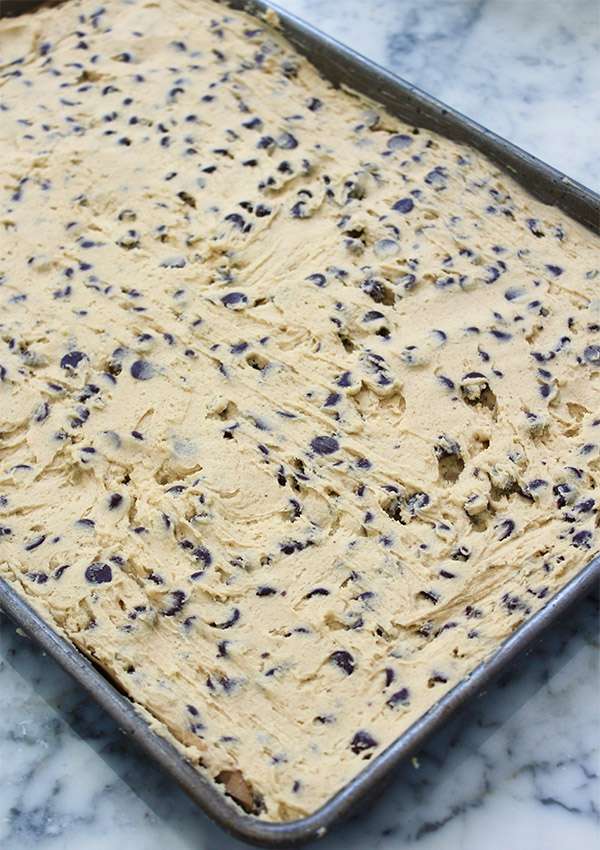 The cookie dough in this recipe is similar to a traditional Tollhouse style recipe, but with a few changes for optimal ice cream sandwich texture. I've added cornstarch, which helps the cookies stay really soft and tender, and an extra egg yolk, which makes them incredibly moist. The absolutely crucial, critical, essential, very important part (not taking any chances here) of this recipe is to not over-bake the cookie. Remember this line when you are checking on your cookie: when in doubt, take it out. The cookie will continue to firm up as it cools, and then even more when you freeze it, so you really want to make sure you take it out  of the oven when it's still slightly under-baked.  The ice cream sandwiches won't be ruined if you over-bake the cookie, but they will be harder to cut and won't have the same soft texture.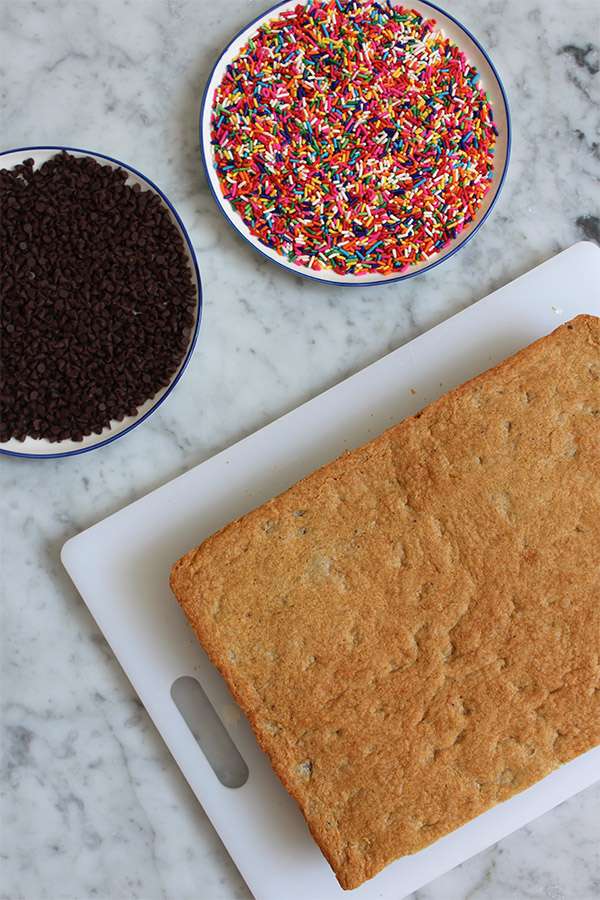 Let's talk sprinkles – one of my all-time favorite subjects. These ice cream sandwiches don't need anything, and if you're a classicist (hi Mom) you can serve these plain Jane and they will be absolutely delicious. But there's something about rainbow sprinkles I just can't resist. The colors, the crunch, the nostalgia! I also like to do some with mini chocolate chips for those who prefer a more classic Chipwich vibe. There's not a bad option all around.
Make these for the 4th of July this year and I promise, they will become an instant tradition. You might even be asked to make these ice cream sandwiches every 4th of July for the rest of your life, or possibly more often than that. In other words, make this recipe at your own risk. Happy 4th of July!!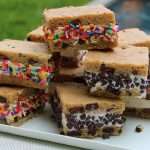 Print Recipe
Sheet Pan Chocolate Chip Cookie Ice Cream Sandwiches
Ingredients
2½

sticks (10 ounces) unsalted butter, at room temperature, plus more for greasing the pan

1

cup

light brown sugar, lightly packed

¾

cup

granulated sugar

2

large eggs + 1 large egg yolk, at room temperature

2

teaspoons

vanilla extract

2½

cups

all-purpose flour

2

teaspoons

cornstarch

1

teaspoon

baking soda

1

teaspoon

kosher salt

2

cups

semisweet chocolate chunks or chips (about 12 ounces)

1

(1.5 quart) container vanilla ice cream (see note)

Sprinkles and mini chocolate chips, for decorating
Instructions
Preheat the oven to 350 degrees. Grease an 18x13x1-inch sheet pan with butter or nonstick-spray and line with parchment paper, leaving an inch or two of overhang on two sides on the pan.

In an electric mixer fitted with the paddle attachment, beat the butter and both sugars on medium-high speed for 3 minutes, until light and fluffy. On low speed, add the eggs and egg yolk one at a time, and then the vanilla. Mix until well combined.

In a small bowl, whisk together the flour, cornstarch, baking soda, and salt. With the mixer on low, gradually add the dry ingredients and mix until just incorporated, scraping the sides of the bowl with a spatula if necessary. Add the chocolate chips and mix until just combined.

Dollop the cookie dough onto the prepared sheet pan in big spoonfuls, covering as much of the pan as possible. Holding the parchment paper with one hand, and a spatula with the other, spread the dough into an even layer that covers the entire surface of the pan.

Bake for 13 to 16 minutes, until lightly golden brown and still soft to the touch. The cookie should seem slightly under-baked. Cool completely in the pan.

Run a paring knife around the edges of the pan, then lift the parchment paper and carefully move the giant cookie onto a large cutting board. Cut the cookie in half crosswise to form two equal-sized rectangles. Chill the cookie halves until firm, at least 30 minutes.

When ready to assemble the sandwiches, remove the ice cream from the freezer and let it sit at room temperature for 10 to 15 minutes, until slightly softened.

Place one half of the cookie, bottom-side up, on a cutting board or flat platter that fits in your freezer. Working quickly, spoon large scoops of ice cream onto the cookie. Spread into an even layer, making sure the ice cream reaches the edges of the cookie. Freeze for at least 30 minutes, then place the other cookie half, right side up, on top to form a giant sandwich. Press lightly, then freeze until firm, at least 3 hours or overnight.

Using a sharp knife, carefully trim about ¼-inch from each edge of the giant cookie sandwich, then cut it into 12 individual sandwiches. Place mini chocolate chips and sprinkles on small plates and press each side of the sandwiches into so the toppings adhere. Using a pastry brush, brush the excess sprinkles or chocolate chips from the sides of the sandwiches so only the ice cream is covered.

Freeze sandwiches until firm, then serve or wrap individually with wax paper and store for up to 2 weeks in the freezer.

Note: Skip the super premium ice cream brands for this recipe. I've found it works best with grocery store brands like Turkey Hill, Breyers, or Edy's.Copyright 2019, Lidey Heuck, All Rights Reserved