Baking season is back! To celebrate I wanted to share a new cake recipe I'm really excited about. This Fig and Almond Cake is inspired by my recent trip to Ischia, a large island off the coast of Naples in Italy. The house my friends and I rented there had a huge fig tree in the yard, and as someone who lives on the East Coast, where figs are only found in plastic containers at the grocery store, this was especially thrilling. We ate lots of figs straight from the tree, and while we talked a big game about making a fig cake, our daily excursions and long lunches sort of got in the way of our baking ambitions. I miss vacation already.
Anyway, when I got home I set to work creating the fig cake of my dreams. It ended up being influenced by both Italian and French baking traditions, thanks to addition of the classic French custard, frangipane.  Did I lose you there? Let me explain. Intimidating as it may sound, frangipane is a simple mixture of egg, butter, ground almonds, and sugar that bakes into a delicious and delicate cake-meets-custard consistency.  It's different from similar-sounding marzipan, which is a thick almond paste that can be molded into different shapes, almost like a fondant frosting.
In this recipe I start with a simple cake batter flavored with vanilla and lemon zest. I spread a thin layer of cake batter in the prepared pan and then top it with the frangipane.  Finally, I spoon the remaining cake batter on top and add the fresh figs. The result is a buttery cake with a delicious stripe of rich almond flavor running through the middle, with beautifully caramelized figs on top.
Almond and figs pair so nicely, and the addition of frangipane elevates this recipe from a simple snack cake to one fit for a special occasion. Please don't be deterred by the extra process of making frangipane – it really couldn't be easier ( the hardest part is remembering to bring your butter and egg to room temperature!) and is so worth effort for the bakery-like results.
Speaking of figs (and particularly, the figs one finds at the grocery store), I wanted to share a tip I use in this recipe to get the most out of figs that are underripe or otherwise not at their best. I first tried adding plain cut figs to the cake before baking, but I found that if they weren't really ripe and juicy to begin with, not much changed after a trip to the oven. Then I tried tossing the figs with a little bit of sugar and letting them sit, as I do with strawberries for strawberry shortcake, before arranging them on the cake. The difference was incredible! That little bit of sugar helped the figs caramelize as they baked and really brought our their sweetness. Bingo!
Finally, this cake is great on its own, but I do like to serve it with lightly sweetened whipped cream. My little whipped cream trick, which is inspired by a dessert I had at Chez Ma Tante in Greenpoint, Brooklyn, is to add a little bit of sour cream to the heavy cream before whipping.  The sour cream (or creme fraîche, which they may have used) adds a hint of tartness to the cream, which makes it a perfect foil for the rich cake.
This cake is best the day it's made, but can be stored in the fridge, well-wrapped, overnight. Just make sure to bring it to room temperature before serving.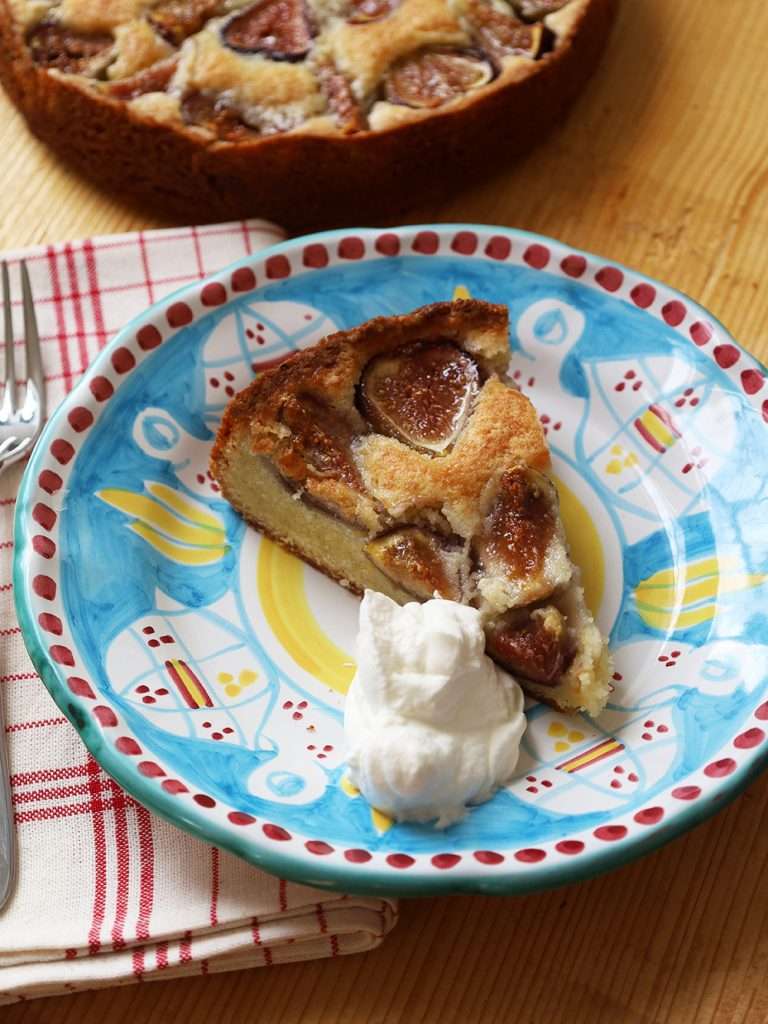 Print Recipe
Fig and Almond Cake
Ingredients
for the cake:
8

tablespoons

(1 stick) butter, at room temperature, plus more for greasing the pan

1

cup

all-purpose flour, plus more for greasing the pan

12

fresh figs, stems trimmed

¾

cup

plus 1 tablespoon granulated sugar, divided

1

large egg, at room temperature

1

teaspoon

vanilla extract

½

teaspoon

almond extract

1

teaspoon

freshly grated lemon zest

¼

cup

sour cream

1

teaspoon

baking powder

¾

teaspoon

kosher salt
for the frangipane:
6

tablespoons

(¾ stick) unsalted butter, at room temperature

1

large egg, at room temperature

¾

cup

almond flour

⅓

cup

granulated sugar

1

tablespoon

all-purpose flour

1

teaspoon

almond extract

¼

teaspoon

kosher salt
Instructions
Preheat the oven to 350 degrees. Butter and flour the bottom and sides of a 9-inch springform pan, and line the bottom of the pan with parchment paper. Cut the figs in half (or in quarters if large) through the stem. Place them in a small bowl, add 1 tablespoon of the sugar, and toss. Set aside.

Make the frangipane: Combine the butter, egg, almond flour, sugar, all-purpose flour, almond extract and salt in a medium bowl. Using a wooden spoon, stir until the mixture is combined and forms a smooth, paste-like batter. Set aside.

Make the cake batter: Place the butter and remaining ¾ cup sugar in the bowl of a stand mixer. Mix on medium speed for 3 minutes, until light and fluffy. Add the egg, lemon zest, vanilla extract, and almond extract and mix on medium-low speed until combined, scraping down the sides of the bowl with a spatula as necessary. Add the sour cream and mix until just combined.

In a small bowl, whisk together the flour, baking powder, and salt. With the mixer on low, gradually add the dry to ingredients to the wet ingredients and mix until just combined.

Spoon about half the cake batter into the prepared pan and spread it into an even layer. Place small spoonfuls of the frangipane on top, covering as much of the cake as possible, then gently spread the frangipane with a spatula to cover the entire surface of the cake.  Finally, place spoonfuls of the remaining cake batter on top of the frangipane and gently spread into an even layer.

Arrange the figs, cut sides up, on the cake in concentric circles. Place the cake on a sheet pan and bake for 60 to 65 minutes, or until the center of the cake is just set. Cool for 20 minutes in the pan, then transfer to a cake plate and serve warm or at room temperature, with whipped cream if desired (recipe follows.)

Copyright 2021, Lidey Heuck, All Rights Reserved.
Homemade Whipped Cream
Ingredients
1

cup

cold heavy cream

2

tablespoons

sour cream

2 to 4

teaspoons

granulated sugar, to taste
Instructions
Combine the heavy cream, sour cream, and sugar in the bowl of a stand mixer. Beat on high speed until the cream forms soft peaks, 2 to 3 minutes. (Do not over-beat.)

Copyright 2021, Lidey Heuck, All Rights Reserved.