This spin on traditional Middle Eastern hummus is inspired by Romesco, a smoky Spanish sauce made from pureed roasted red peppers, tomatoes, garlic, almonds, bread crumbs, and plenty of olive oil. Variations abound but the classic version is a pungent blend of savory, smoky and sweet elements. It's great with everything from grilled steak to roast chicken to shrimp, white fish, and salmon and grilled vegetables. And yes….. it even makes an incredible hummus!
While Romesco is typically thickened with stale bread, in a pinch I decided to try adding a can of chickpeas instead, and the result was thick and creamy and crazy good as a dip. Romesco hummus was (accidentally) born that day and I've been making it ever since. It comes together in ten minutes, and with the exception of garlic and fresh parsley, the hummus is made from all pantry ingredients.
The recipe is very straightforward – add ingredients to the food processor – turn on machine, and go- but there is one step I thought was worth mentioning. Typically Romesco has some tomato element – whether thats crushed can tomatoes or peeled and seeded fresh tomatoes. In this recipe I opted for tomato paste, which packs the most tomato punch.  If you've ever tasted tomato paste straight from the can, you know it has an intense, concentrated flavor. It reminds me of really strong ketchup, and not in a good way. But usually tomato paste gets cooked into sauces, and it becomes mild and diluted in the process. I wanted the tomato flavor to be present here – just not harsh- so I decided to cook the tomato paste in a little bit of olive oil before adding it to the food processor. The tomato paste caramelizes a bit as it cooks, and flavors the oil it cooks in, adding a rich tomato flavor that really complements the smokiness of the hummus.
I hope you love this hummus and find lots of great ways to use it this summer. (Dinner parties are back baby!!) It's a recipe I turn to again and again for a laid back appetizer, a snack, or a great condiment of sorts, to add to grain bowls, leftover chicken, as a spread on sandwiches – you name it!  Let me know what you think in the comments below!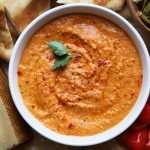 Print Recipe
Romesco Hummus
Ingredients
2

tablespoons

tomato paste

4

tablespoons

olive oil, divided

½

cup

raw almonds

1

(12-ounce)

jar roasted red peppers, liquid reserved (about 1½ cups peppers)

1

(15-ounce) can

chickpeas, rinsed and drained

2

garlic cloves

2

tablespoons

chopped fresh parsley, plus more for serving

2

tablespoons

sherry vinegar

¼

teaspoon

smoked Spanish paprika, plus more for serving

1

teaspoon

kosher salt, plus more to taste

Ground black pepper, to taste

Crudités and toasted pita, for serving
Instructions
Heat the tomato paste and 1 tablespoon of the olive oil in a small skillet set over medium heat. Cook, breaking up the tomato paste with a wooden spoon and scraping the bottom of the skillet, until the oil is bright orange and the tomato paste has darkened in color, 2 to 3 minutes.  Set aside to cool slightly.

Place the almonds in the bowl of a food processor or powerful blender, such as a Vitamix. Process until finely chopped. (If your blender requires a bit of liquid to get going, add a tablespoon or two of water or liquid from the jar of peppers.)

Add the roasted red peppers to the food processor or blender, reserving the liquid left behind in the jar, along with the chickpeas, garlic, parsley, vinegar, paprika, salt, and 3 tablespoons of liquid from the jar of peppers. (Use less if you've already added some.) Using a rubber spatula, scrape the tomato paste and oil mixture into the food processor.  Process or blend on high, adding more liquid from the jar of peppers (or water) if the hummus is too thick, until smooth and creamy.  With the machine running, slowly add the remaining 3 tablespoons olive oil and process just until the oil is incorporated.

Taste for seasonings and add salt and black pepper to taste. Spoon the hummus into a serving bowl, garnish with a swirl of olive oil, a pinch of paprika and a sprig of parsley, and serve with crudité and toasted pita bread for dipping. The hummus will keep for up to 3 days in the refrigerator; store in a sealed container.