Exploring Puglia, the region in the heel of Italy's "boot", is a little like unpacking a secret treasure. Places like Tuscany, Rome, Venice, and the Amalfi Coast get so much attention that some of Italy's other (and equally dreamy) regions remain a little more mysterious. Puglia is known for its dramatic, rocky shorelines and beautiful beaches, ancient, white-washed towns perched at the top of hills overlooking the ocean, and acres and acres of farmland filling the spaces between. The local cuisine is simple and earthy, highlighting the freshness of local produce, dairy and seafood.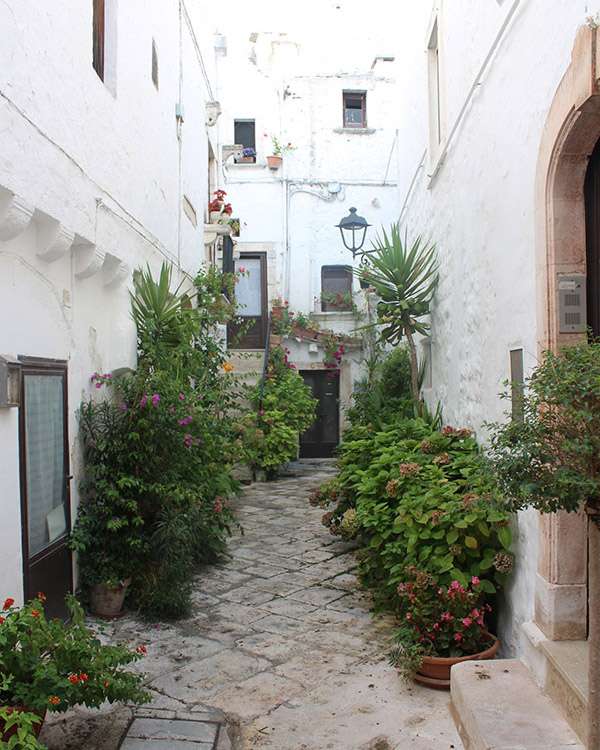 Puglia is sprawling, and there are way more nooks, crannies, towns and beaches than we could hit in a week, but I hope this little guide provides a place to start if you're planning a visit. And while we certainly gathered recommendations before our trip to Puglia this fall (thanks especially to Katie Parla), Joe and I agreed that there's a lot of fun in exploring a place without too much of an agenda. With that in mind, maybe more important than any of the specific places I mention here is my recommendation that you make some hotel reservations, rent a car, and drive all around the region to take in as much as you can.
Masseria Le Carrube, Ostuni
1. Stay at Masseria Le Carrube when you arrive in Italy and shake off the flight with a glass wine by the pool, followed by the tasting menu at Carrube's  vegetarian restaurant. The dishes are fresh and inventive, and so comforting after a long flight.  I'm still dreaming about the pecorino and mint croquettes…
Ostuni: Puglia's "White City"
2. Wind your way up the cobbled streets of Ostuni, known as Puglia's "white city," and end up Osteria dell Tempo Perso for dinner. Try any of their grilled seafood, along with their decadent specials- we had pasta with fresh burrata and shaved black truffles. When in Puglia, right? After dinner, stroll back down to the bottom of town, stopping at Riccardo Cafe for a nightcap (preferably consumed while sitting on the bean bags on the steps outside the bar.)
3. Take a mini road trip along the coastline of Puglia's Salento Peninsula (the very bottom of the "heel.") The rocky coast of southern Puglia is dotted with sun-kissed seaside towns an beaches, some of which feel a bit touristy but are breathtakingly beautiful none the less. Start at Porto Selvaggio nature reserve for a hike along the ocean cliffs, then drive South to Gallipolli, Leuca, and Otranto, stopping to stroll, snack and sip along the way. Make sure to try 'pasticiotto' – Salento's famous pastry.  It's a rich, shortbread-like cake with filled with pastry cream, and trust me, you will dream of it long after you leave Puglia.
Masseria Trapana, farmhouse hotel in Lecce.
4. Stay at Masseria Trapana outside of Lecce. Down a long, dusty drive awaits an oasis so lush you may never want to leave. From the colorful, Moroccan-inspired decor, to the groves of olive, pomegranate, lemon and lime trees,  to a croquet course complete with an assortment of hats to sport while playing, owner Rob and designer Giuseppe have transformed this 16th century fortress into the ultimate vacation hideaway. I wasn't kidding when I said you won't want to leave, but do, and venture to Lecce, the largest city in Salento, known for its stunning baroque archeticture. Then hurry back to Trapana in time for golden hour cocktails and dinner with fellow guests in the hotel courtyard.
Polignano a Mare, Italy
5. Swim in the turquoise waters of Polignano a Mare, then climb to the top of the cliffs above for the most breathtaking views of town and the beach below. (Read: photo-op!!) Finally, reward yourself for all that exercise with granita from The Super Mago del Gelo Mario Campanella. I recommend getting almond and coffee and swirling them together.
Hotel Don Ferrante in Monopoli
6. Spend your last few nights in Puglia at Hotel Don Ferrante in the charming town of Monopoli, and if the Don Ferrante suite is available, go for it. You'll have your own balcony overlooking the Adriatic, and with the doors open you can lie in bed in and watch the sun rise over Puglia. Have breakfast on the balcony and spend the afternoon sunbathing on the giant rocks below the hotel. Then, wander through town until you find the perfect spot for your last supper. I recommend Lido Bianco, which is right on the water and a short walk from the hotel.