I love going to the farmers market, but I can't count the number of times I've walked past all the beautiful fruit and vegetables and then stopped and thought, "but what am I actually going to cook?" Instead of standing in front of a crate of eggplants and Googling easy eggplant recipes – or just buying a muffin and a few peaches and calling it a day- I wanted to come up with a great summer dish that would make use of those abundant peak-of-summer vegetables.
This recipe combines eggplant and sweet cherry tomatoes in a pasta that's light, simple, and really flavorful. Instead of the classic summer go-tos, basil, mozzarella and balsamic, I used Sicilian flavors and ingredients- hot red pepper flakes, garlic, anchovy and golden raisins- and came up with a sauce that's spicy, savory and just a little bit sweet. I like to think of it as a quick version of tomato-eggplant caponata, tossed with pasta.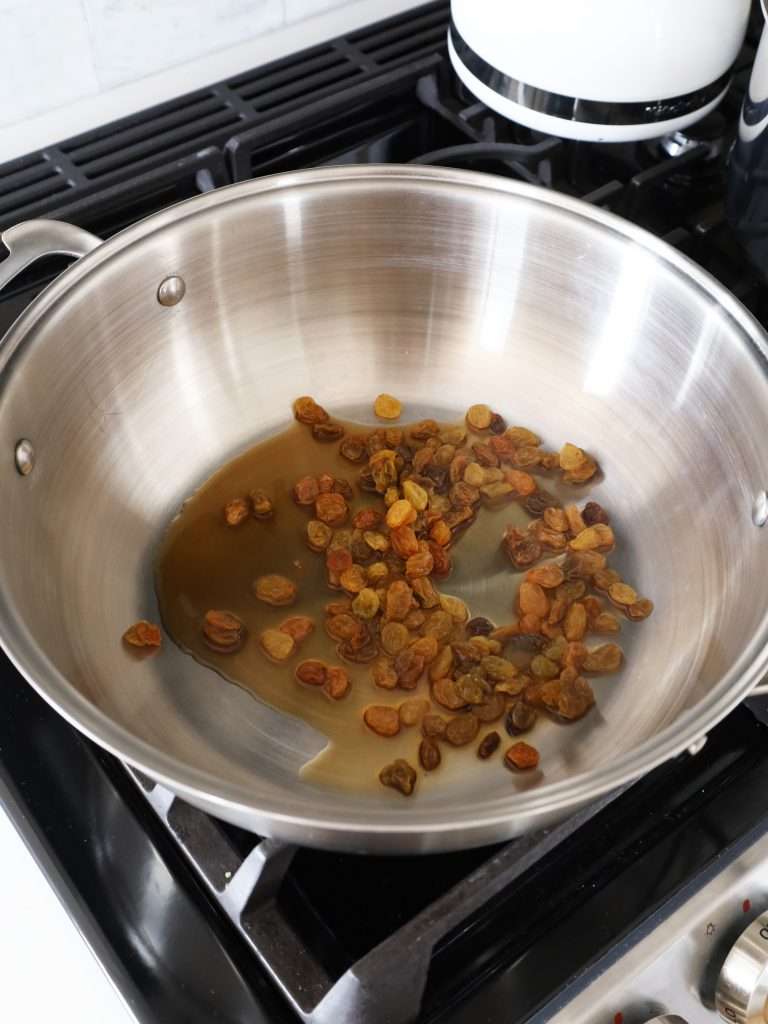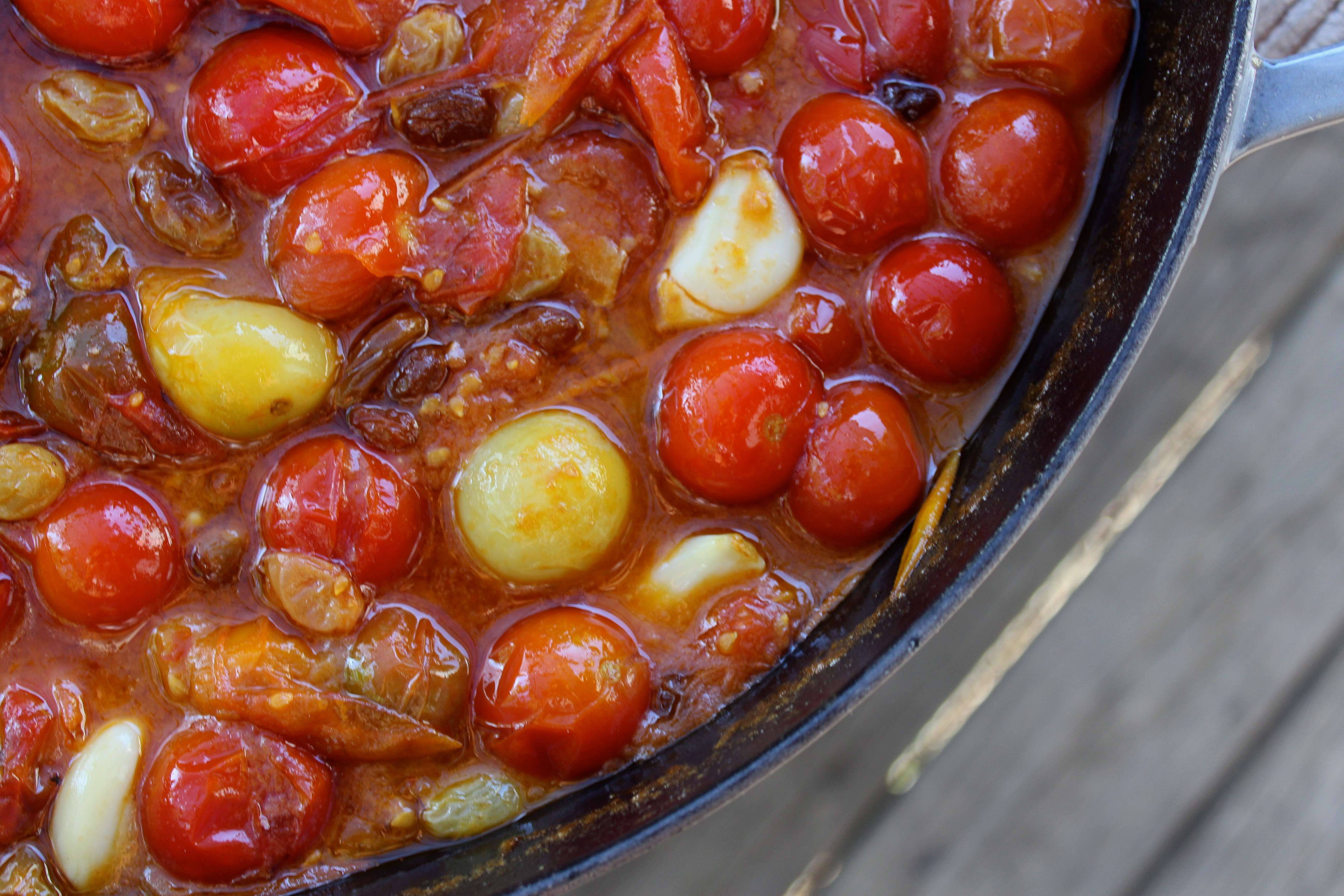 This pasta is great for potlucks and summer dinners because it's delicious both warm and at room temperature. If you're planning ahead, you could even make the sauce in advance, and then cook the pasta and toss everything together at the last minute. And if you sub capers for the anchovy paste, the pasta will not only be vegetarian, but vegan, too. (woooo!) That said, if you aren't vegetarian, I highly recommend including the anchovy. It's subtle, but adds great depth of flavor to the sauce.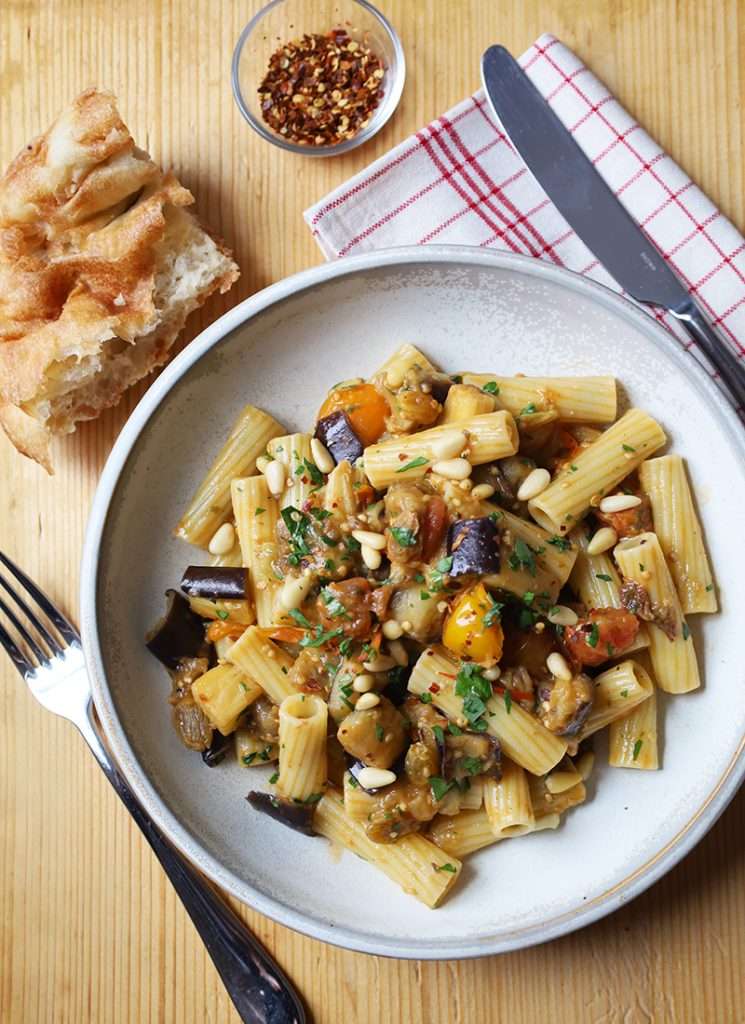 July 2021 update: Just a note that I've made a few updates and changes to this recipe to make it easier and more straightforward! I hope you love it!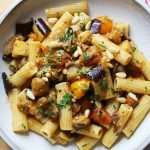 Print Recipe
Pasta with Spicy Eggplant and Tomato Caponata
Ingredients
1½

pounds

eggplant (1 large or 2 small eggplants)

⅓

cup plus 3 tablespoons

olive oil, divided

Kosher salt and freshly ground black pepper

½

cup

golden raisins

¼

cup

sherry or red wine vinegar

4

cups

cherry tomatoes (2 pints)

4

small garlic cloves, smashed and peeled

2

anchovy fillets

(see note)

½

teaspoon

crushed red pepper flakes, plus more for serving

1

pound

rigatoni, penne, or ziti

⅓

cup

chopped flat-leaf parsley, plus more for serving

⅓

cup

pine nuts
Instructions
Preheat the oven to 400 degrees. Dice the eggplant into ¾-inch pieces and place on a sheet pan. Drizzle with 3 tablespoons olive oil, sprinkle with ½ teaspoon salt and ¼ teaspoon pepper, and toss. Roast for 30 to 35 minutes, tossing occasionally, until very tender. Set aside.

Meanwhile, bring a large pot of salted water to a boil, and begin the sauce. In a very large sauté pan or a Dutch oven, combine the raisins and vinegar and cook over low heat, stirring occasionally, until the vinegar has almost completely evaporated. Transfer to a small bowl and set aside.

In the same pan, heat the olive oil, tomatoes, garlic, anchovies, red pepper flakes, and 1½ teaspoons salt over medium heat. Bring to a simmer, then turn the heat to medium-low and cook for 10 to 15 minutes, stirring occasionally, until the tomatoes have burst and are starting to break down.

Add the eggplant and the raisins, along with any vinegar left behind in the bowl, and cook for 5 more minutes, stirring occasionally. Off the heat, stir in the parsley and pine nuts.

While the sauce cooks, add the pasta to the boiling water and cook until al dente. Drain the pasta and add it to the sauce (or transfer everything to the pasta pot if you need more room.) Toss well and serve hot, with more red pepper flakes and a sprinkle of parsley if desired.

Note: To make this recipe vegetarian, substitute 1 tablespoon drained and roughly chopped capers.