As someone who cooks for a living and usually ends up with something in the fridge at the end of the day, I'm not big into meal-planning. Except when it comes to breakfast. I am a true believer in the importance of eating a good breakfast every morning, and while my ideal start to the day involves a bowl of homemade steel-cut oats, I don't always have time to stand over a pot of oatmeal on weekday mornings.
So, in the spirit of getting back into routines and busy, crazy life after the holidays, I developed this recipe for baked oatmeal cups as a ready-made, portable version of my favorite breakfast.  I make a batch of these on Sunday afternoon when I have an hour to spare (which is more than enough time!) and then keep them in a container in the fridge all week long.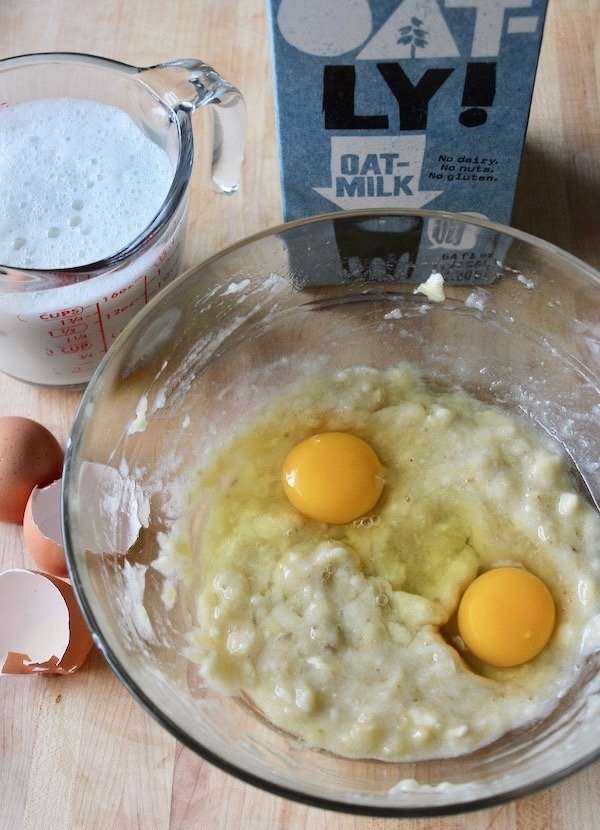 Each little cup is a nutritional powerhouse – with fiber from the oats, protein from the eggs and milk, good fat and nutty flavor from the almond butter, and of course, a little natural sweetness from the bananas and dates. I like to think of these as a mashup of muffins and baked oatmeal- a healthy breakfast disguised as a breakfast treat!
What I love about these cups is that they're incredibly versatile. I've given you a basic formula here – the oats, milk, eggs, and baking powder being the most important –  but you can substitute other dried fruits or add nuts and more seeds for a little more crunch. You can substitute peanut butter for the almond butter, too, though I find almond butter's more subtle flavor works really well here.
This recipe can very easily be made gluten-free and dairy-free if you use a nut milk and gluten-free oats. (For the record, oats are naturally gluten-free, but many are processed on the same equipment as products containing flour. Oats labeled gluten-free are processed separately.)
I have to admit I've been a hesitant adopter of plant-based milk alternatives – they just didn't do it for me. But when I tried oat milk, I started to come around.  It's creamy, thick, and you truly won't notice the difference in the recipe. This is NOT a sponsored post, but the Oatly brand I used is my favorite. You can find it at Whole Foods.
Finally, for the non-breakfast lovers, I will note that these make a great healthy snack, too. In fact, I'm eating one right now. Happy New Year and happy cooking!
Print Recipe
Oatmeal and Date Breakfast Cups
Ingredients
2

cups

old-fashioned rolled oats

1½

teaspoons

baking powder

1

teaspoon

ground cinnamon

1

teaspoon

kosher salt

1½

cups

milk (dairy, almond, or oat)

2

ripe bananas

2

large eggs

1

teaspoon

vanilla extract

⅓

cup

almond butter, at room temperature

¾

cup

pitted dates, finely chopped

¼

cup

hulled pumpkin seeds, plus more for sprinkling
Instructions
Preheat the oven to 350 degrees. Generously grease a standard muffin tin or line with paper liners.

In a large bowl, whisk together the oats, baking powder, cinnamon, and salt. Place the bananas in a separate, smaller bowl and mash with a fork until smooth. Add the eggs to the bananas and beat until incorporated, then stir in the milk and vanilla.

Pour the wet ingredients into the dry ingredients and stir until well combined. Whisk in the almond butter, then add the dates and pumpkin seeds and mix well.

Let the batter rest for 15 minutes, until slightly thickened. Spoon the batter into the muffin cups, filling them to the top, and sprinkle a few pumpkin seeds on each cups. Bake for about 25 to 30 minutes, until the cups have risen slightly and are firm to the touch.

Cool in the pan for 15 minutes, then carefully remove and cool completely.

The cups will keep for up to a week stored in a sealed container in the refrigerator.

Note: This recipe was updated in November 2021.Copyright 2020, Lidey Heuck, All Rights Reserved