I will never turn down a Negroni. I love the combination of bitter Campari and sweet vermouth. I love the color. I love the little hint of citrus the orange rind gives the drink.  I  also have a bad habit of finishing whatever drink is in my hand in about ten minutes, which can become a problem when that drink- in this case the Negroni- is pure alcohol.
Having recently had five at a friend's birthday, where they were "on tap," I can tell you that there is such a thing as too many Negronis, and that number is definitely fewer than five.
This Negroni Spritz is my compromise. Made with the cocktail's traditional ingredients – gin, Campari and sweet vermouth in equal parts- it's toned down with a generous pour of soda and freshly squeezed blood orange juice. (Regular oranges would be fine, too.) The drinks still have that bitter and sweet Negroni balance, but are a lighter and more refreshing twist on the classic. And though I still might not recommend having five, I think you could get away with having at least two or three, hangover-free.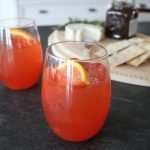 Print Recipe
Negroni Spritz
Ingredients
1

cup

freshly squeezed orange, blood orange, or cara cara orange juice (3 to 4 oranges)

½

cup

Campari

½

cup

gin

½

cup

sweet vermouth

1 ½

cups

club soda

thin slices of orange, for serving
Instructions
Combine the orange juice, Campari, gin, and vermouth in a large glass measuring cup or pitcher and mix well. Stir in the club soda. Fill four glasses with ice and divide the drink mixture among them. Garnish with a slice of orange and serve.