Over the 4th of July this year I was in Italy – Sicily to be exact. I can't wait to share some photos and stories from the trip in another post, but first, I have to admit something. I really missed not being home for the 4th! Specifically, I missed the food. I know how this sounds, and I wouldn't trade that week in Sicily for anything, but in the midst of all the pasta and pizza, I found myself longing for the familiar smell of a charcoal grill going and everyone crowding around a big buffet of classic American summer dishes.
What does all this have to do with Mustard & Herb Roasted Fingerlings? Well, this recipe was particularly on my mind because it's my favorite way to cook potatoes for a barbecue or summer dinner party, and I realized that as often as I make these, I hadn't put the recipe online yet. So here they are- before any more precious summer weekends go by!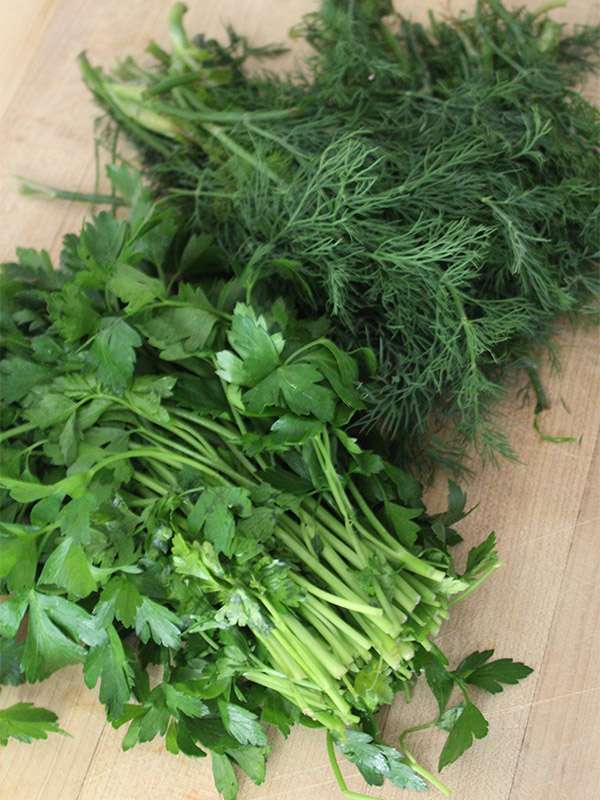 The recipe is so simple, and it goes well with almost any grilled meat or fish. But most importantly, people go crazy for these potatoes. The crispy exterior and creamy inside of roasted fingerlings is heaven on its own, but toss the hot potatoes with fresh dill, parsley, and a little bit of vinegar and you may never eat potatoes any other way again. Seriously.
Besides being a crowd pleaser, these potatoes are a perfect dinner party or cookout dish for a few reasons. Like the carrots I posted recently, they are equally delicious served hot, warm or at room temperature, so you can make them in advance without having to time them with the steak, chicken, etc. Second, while the recipe only serves four as written, it's really easy to double- all you need is an extra sheet pan. And finally, I love this recipe because except for one friend I have who hates dill (not naming names, Julie) everyone can eat it. It's vegan, gluten-free, and dairy free, and the cook's favorite, stress-free! Make 'em this weekend and let me know what you think!!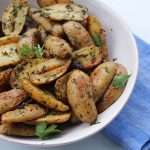 Print Recipe
Mustard and Herb Roasted Fingerling Potatoes
Ingredients
2

pounds

fingerling potatoes

Extra-virgin olive oil

Kosher salt and freshly ground black pepper

2

teaspoons

whole-grain mustard

2

tablespoons

minced fresh dill

2

tablespoons

minced fresh parsley

1

tablespoon

white wine or champagne vinegar
Instructions
Preheat the oven to 400 degrees. Cut the potatoes in half lengthwise and place them on a sheet pan. Add 2 tablespoons olive oil, 1 teaspoon salt, 1/4 teaspoon pepper, and the mustard and toss well.

Roast for 30 to 40 minutes, tossing two or three times throughout, until the potatoes are tender and browned all over. Transfer to a medium bowl.

In a small bowl, whisk together the dill, parsley, vinegar, 1 tablespoon olive oil, and ½ teaspoon salt. Pour the dressing over the hot potatoes, toss, and serve hot, warm, or at room temperature.

Copyright 2018, Lidey Heuck, All Rights Reserved