After the teaser last week, this Marinated Cherry Tomato Salad is the first recipe I'm sharing from my dinner at Amber Waves. It was the simplest dish on the menu, but that's why I love it so much! When tomatoes are at their peak in August and September, they are so sweet and juicy on their own I like to do very little to them.  A little mozzarella, a drizzle of balsamic, or in this case, a simple red wine vinaigrette with garlic and shallots that really makes the tomatoes shine. And, because it's summer, a little fresh basil on top.
This recipe is as easy as they come. Find a friend to cut the tomatoes in half while you chop the garlic and shallots, and the whole thing will be done in ten minutes. Then move on to the rest of dinner while the salad marinates (no one will notice if a few tomatoes go missing in the process!!)  Once you have this recipe in your back pocket, I have a feeling you'll end up making it as often as I do- at least once a week during tomato season. It has only a few ingredients, is super quick to make, and is easily doubled for a crowd- my kind of summer recipe.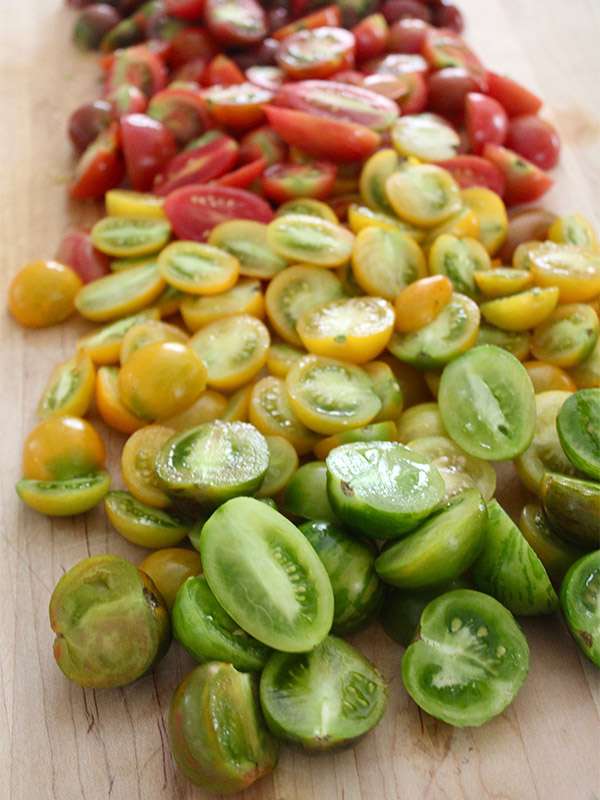 And while this salad is a perfect late summer side dish on its own, it's also great as an appetizer- served on bruschetta or spooned around a big ball of burrata. Did anyone else just get hungry?
Finally, I'm aware that in the Hamptons we are very lucky to have farm stands that sell just-picked cherry tomatoes in all sizes and colors. With that in mind, I made this salad with tomatoes from the grocery store, and I have to say it was still was absolutely delicious. The red wine vinaigrette draws out all the sweetness from the tomatoes and makes even the most bland tomato taste like the just-picked ones.
So, wherever you are, go out, find some tomatoes, and enjoy these precious final weeks of summer!!
xo Lidey
Print Recipe
Marinated Cherry Tomato Salad
Ingredients
1

tablespoon

minced garlic (about 3 cloves)

1/3

cup

minced shallots (about 2 shallots)

2

tablespoons

red wine vinegar

4

tablespoons

extra virgin olive oil

Kosher salt and freshly ground black pepper.

4

pints

cherry tomatoes, halved through the stem

1/3

cup

roughly torn fresh basil leaves, plus whole leaves for serving
Instructions
In a large bowl, whisk together the garlic, shallots, vinegar, olive oil, 1 teaspoon salt, and ½ teaspoon pepper. Add the tomatoes, toss to coat them in the dressing, and cover. Set aside at room temperature for at least 30 minutes, or up to 2 hours, to let the tomatoes marinate.

Just before serving, add the torn basil to the tomatoes and toss gently. Garnish with basil leaves, sprinkle with salt, and serve at room temperature.

Copyright © 2018 Lidey Heuck, All rights reserved