Big things have been happening around here this summer! Two weeks ago I hosted my first ever LideyLikes dinner event at Amber Waves Farm in Amagansett, New York.  If you've been following the blog, you've probably heard me talk about Amber Waves. I first met Katie Baldwin and Amanda Merrow, the farmers at Amber Waves, when I moved to the Hamptons five years ago, and being part of the farm community has become such a big part of my life here. I was so excited to plan a dinner in the field with their incredible produce, and to bring people together around the table for a night of good food, lots of wine, and laughter.
Here are some photos from that magical evening!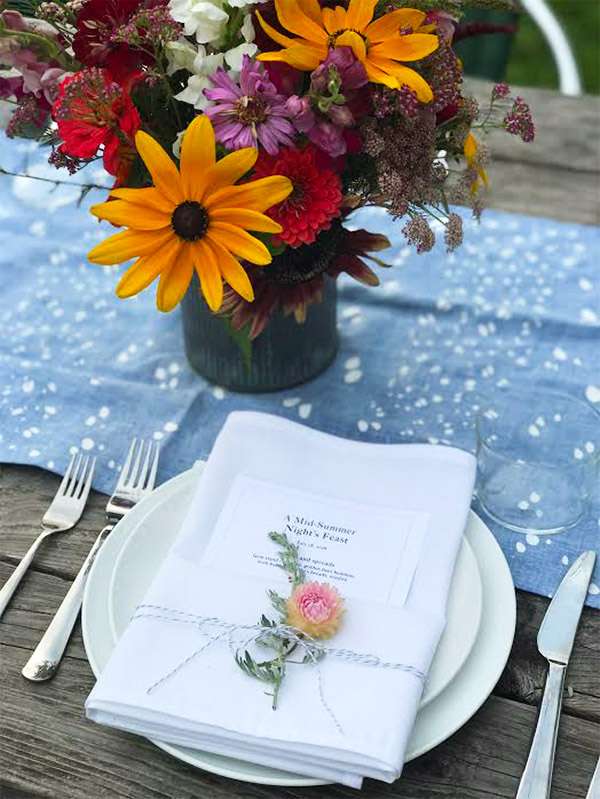 The menu was inspired by what was in season at the farm and together, the dishes featured nineteen different fruits and vegetables grown at Amber Waves. And while the veggies were the star of the meal, I really wanted showcase some other Hamptons favorites, too.  We served local wine from the Hamptons' own Channing Daughters Vineyard, breads from Carissa's The Bakery in East Hampton, and hometown favorite Joe and Liza's strawberry ice cream. And though they aren't exactly "local," I have to mention that the rib-eye steaks came from Back Paddock Farm in Ghent, New York.
I was fortunate to have two incredibly talented friends help me create the perfect table setting. My friend Roxanne Stewart made the most beautiful flower arrangements – all from flowers she picked at the farm!! She also used twine and dried farm flowers to create adorable little bundles for the menus. Aren't they cute?!
My friend Martha Oakes is an artist and textile designer based in Sonoma, California and Martha's Vineyard. I absolutely love Martha's work and convinced her to come down and collaborate with me on the dinner. She brought table runners in her Harvest Print linen fabric and a collection of her art for a pop up gallery at the farm. I also featured one of her prints on the back of the menus.
Thanks to Katie and Amanda and the whole gang at Amber Waves Farm, and to my neighbor and queen of baked goods Denise Cara for all your help in the kitchen!! Can't wait to do it all again!!