I think it goes without saying that the 4th of July will look a little different for most of us this year, but even if we can't have the same kind of picnics and parties we usually do, we can still eat the same delicious food! For me, meals are such a big part of what makes holidays feel like holidays, and while that certainly rings true for Thanksgiving and Chistmas, I think it goes for July 4th, too. To keep the holiday spirit alive, I plan on making all my summery favorites this weekend, starting with this Lemony Pesto Pasta Salad with Avocado and Arugula!
A quick aside.. When  I first started my blog, I couldn't help but feel overwhelmed by the sheer number of recipes that exist in cookbooks and online. Googling pesto pasta, for example, will give you thousands of results. What could I possibly add to this seemingly infinite library of recipes?
Over time, I've learned I would rather have one or two really good recipes I can trust than thousands I'm not quite sure about. And second, while I do love coming up with inventive ways to use ingredients, a lot of us are just looking for great recipes for the dishes we  already love! A recipe doesn't have to be the most creative, out-there thing you've ever seen to have value. It can just be a really delicious and dependable recipe that you turn to again and again.  All of this is to say, I hope that's the way you'll feel about this pasta salad! It's a recipe I keep in my back pocket for all kinds of summer occasions, and it hasn't let me down yet!
This is a fairly classic pesto pasta, with a few tweaks that I think really bring it to life.  First, I add lemon juice and fresh mint to the pesto itself. Not traditional to Genovese pesto, but I love the acidity the lemon adds (it also keeps everything bright green!) and the earthy flavor of fresh mint.
The creamy avocado is a nice balance to the sharp, garlicky pesto and adds great texture, and the arugula? I first added it for a pop of rich, dark green in the pasta (and because I'm always adding greens to everything) but I also like that it makes this dish feel more definitively in the 'pasta salad' category. If you aren't big on arugula, you can leave it out! On that note, feel free to add cherry tomatoes if you want!  I didn't include them in the recipe because in the summer I usually have some kind of tomato salad on the menu, and I wanted this to be a distinctly 'green' side dish. That said, cherry tomatoes would be very welcome here.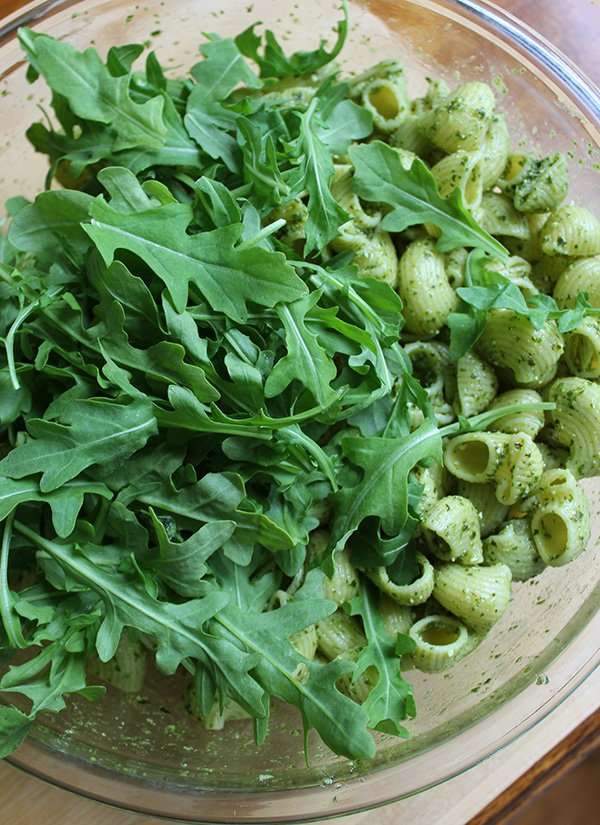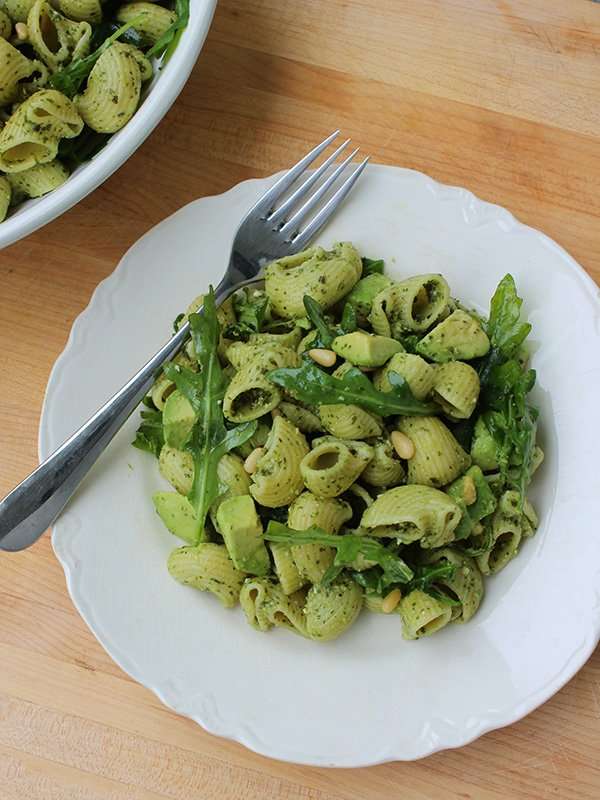 Print Recipe
Lemony Pesto Pasta Salad with Avocado and Arugula
Servings:
8
as a side dish
Ingredients
Kosher salt

1

pound

cut pasta, such as penne or fusilli

5

tablespoons

pine nuts, divided

1

tablespoon

coarsely chopped garlic (about 2 cloves)    

2

cups

fresh basil leaves, packed

½

cup

fresh mint leaves, packed  

4

tablespoons

freshly squeezed lemon juice, divided (2 lemons)

½

cup

olive oil, plus more for drizzling

½

cup

freshly grated Parmesan cheese (see note)

2

cups

baby arugula, packed

2

firm-ripe avocados
Instructions
Bring a large pot of salted water to a boil over high heat. Add the pasta and cook according to the directions on the package, then drain and place in a large bowl. Drizzle the pasta lightly with olive oil, toss, and allow it to cool slightly while you make the pesto.

In the bowl of a food processor, combine 3 tablespoons of the pine nuts and the garlic and process until finely minced.  

Add the basil, mint, 3 tablespoons of the lemon juice and ½ teaspoon salt and pulse until the herbs are coarsely chopped.  With the processor running, slowly pour in the olive oil and process until smooth. Add the Parmesan and pulse until just combined.

Add the pesto to the cooked pasta and toss well to coat. Add the arugula and the remaining 2 tablespoons pine nuts and toss again.

Dice the avocados into bite-size pieces and place them in a small bowl. Add the remaining 1 tablespoon lemon juice and toss. Add the avocado the pasta and toss gently to combine.

Taste for seasonings and serve at room temperature.

Note: The sharp, nutty flavor of freshly grated Parmesan is essential here- avoid the pre-grated stuff if you can!For the brightest green pesto, this pasta is best served the day it's made. If possible, wait to add the avocado until shortly before serving.  Copyright 2020, Lidey Heuck, All Rights Reserved