Do you like Caesar salads? Do you like corn on the cob? Do you enjoy the taste of raw kale masked by a delicious, creamy dressing? If so, this salad is for you. Side salads on summer buffets are usually an afterthought- after all, how can a bowl of lettuce hold a candle to baked beans, buttery corn on the cob and big stacks of tomatoes and mozzarella? But this salad earns its spot on the table.
The kale is cut into thin ribbons so it's easy to eat and the dressing gets well distributed. Tangled throughout the salad are crunchy corn kernels and chunks of cornbread that soak up all that Caesar dressing as they sit, making this a great recipe to put together in advance.  There's just something about the lemony  dressing and toasted cornbread  that makes this difficult to stop eating, which is not something I usually say about kale salads.
Caesar dressing is traditionally made with Parmesan cheese, but I used Pecorino in this recipe because I think the sharper, saltier flavor goes really well with the slightly sweet cornbread and roasted corn. If you're worried about using raw eggs, you can substitute mayo or Greek yogurt. And if you don't like anchovies, you could leave them out, but I wouldn't recommend it (unless you want to make the dish vegetarian.) A very experienced cook recently told me, "Never underestimate the power of an anchovy." You won't know it's there but it gives the dressing its fundamental Caesar-ness.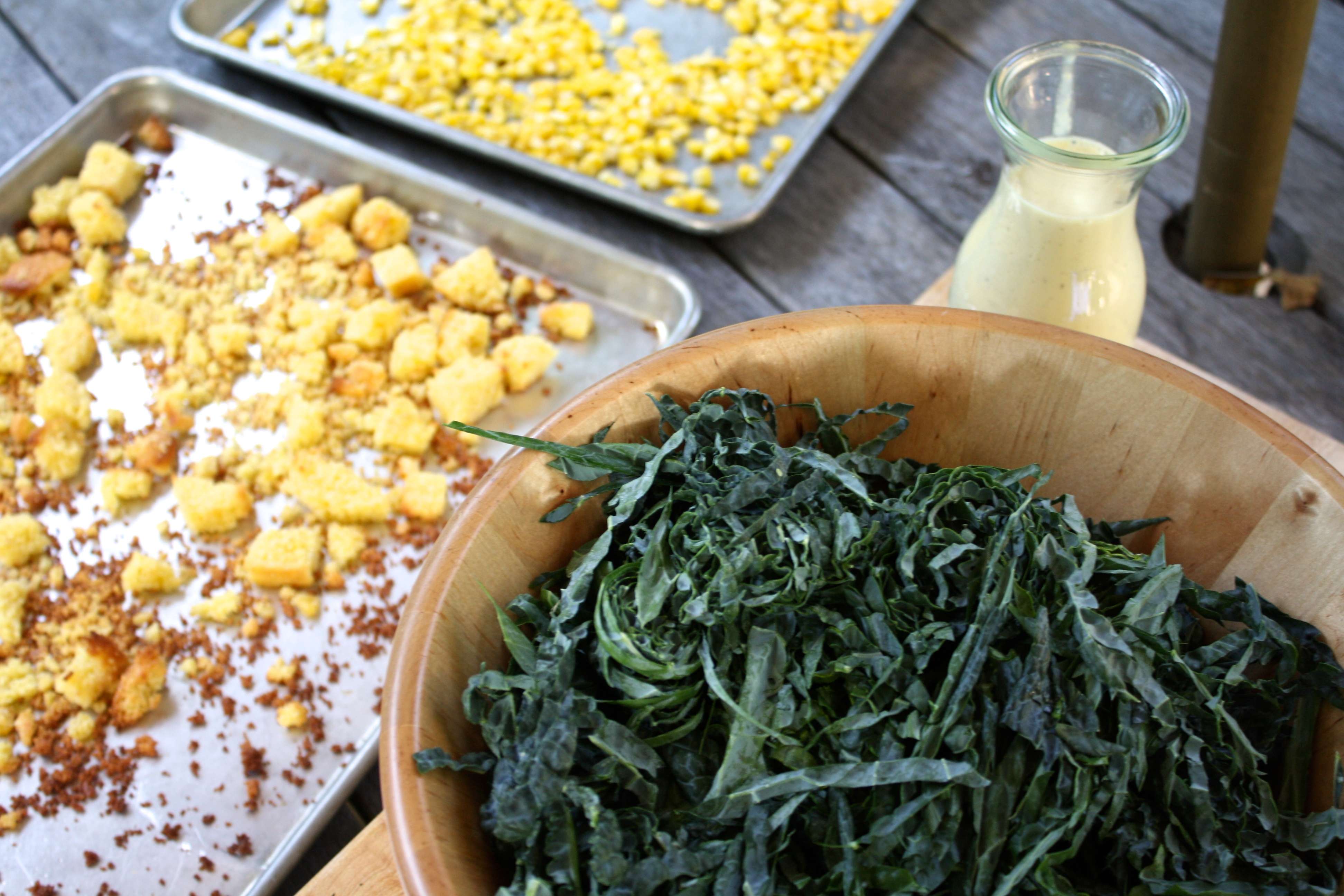 This salad is a serious crowd pleaser and an ideal dish for a big summer dinner. The recipe serves 6-8 generously, but you could cut in half if you're cooking for a smaller group.
Print Recipe
Kale Caesar Salad with Roasted Summer Corn and Cornbread Croutons
Ingredients
3

cups

diced cornbread or corn muffins

kernels cut from 4 large ears of fresh corn

1

tablespoon

extra virgin olive oil

3

bunches Tuscan kale

Caesar Dressing

recipe follows

½

cup

grated Pecorino Romano cheese

kosher salt and freshly ground black pepper
Instructions
Preheat the oven to 400 degrees and arrange two evenly spaced oven racks.

Spread the cornbread and the corn onto two separate sheet pans. Drizzle the corn with the olive oil and toss to combine. Sprinkle each sheet pan lightly with salt and pepper. Roast for 15 minutes, tossing the cornbread and corn halfway through. Set aside to cool.

Meanwhile, chiffonade the kale: cut along each side of the rib to remove the leaves on each side. You should end up with two long strips from each rib. Roll the leaves lengthwise into "cigars" and slice them thinly crosswise to cut the kale into ribbons. Wash the kale and dry it using a salad spinner.

To assemble the salad, pour the dressing over the kale and toss well. Add the corn and croutons, and the Pecorino, and toss again. Serve immediately or refrigerate for up to several hours.
Print Recipe
Caesar Dressing
Ingredients
1/3

cup

freshly squeezed lemon juice

1

tablespoon

Dijon mustard

such as Grey Poupon

1

large or 2 small garlic cloves

roughly chopped

1

anchovy

roughly chopped (optional)

1

large egg yolk

at room temperature (optional)*

½

teaspoon

kosher salt

½

teaspoon

freshly ground black pepper

½

cup

extra virgin olive oil

1/3

cup

grated Pecorino Romano cheese

lightly packed
Instructions
In the bowl of a food processor, combine the lemon juice, mustard, garlic, anchovy, egg yolk, salt and pepper. Pulse until combined. With the processor running, add the olive oil in a slow stream. Add the Pecorino, and pulse until just combined. Refrigerate in a sealed container until ready to use.

*If you are not using the egg yolk, substitute 1 1/2 tablespoons mayonnaise or full fat Greek yogurt.