We're all trying to eat a little healthier in January, but you know what, it's hard! It's freezing in East Hampton and after a long day, all I want is a big glass of red wine and a bowl of pasta. Or maybe some kind of braised meat. Or maybe pasta with a braised meat sauce? See what I mean?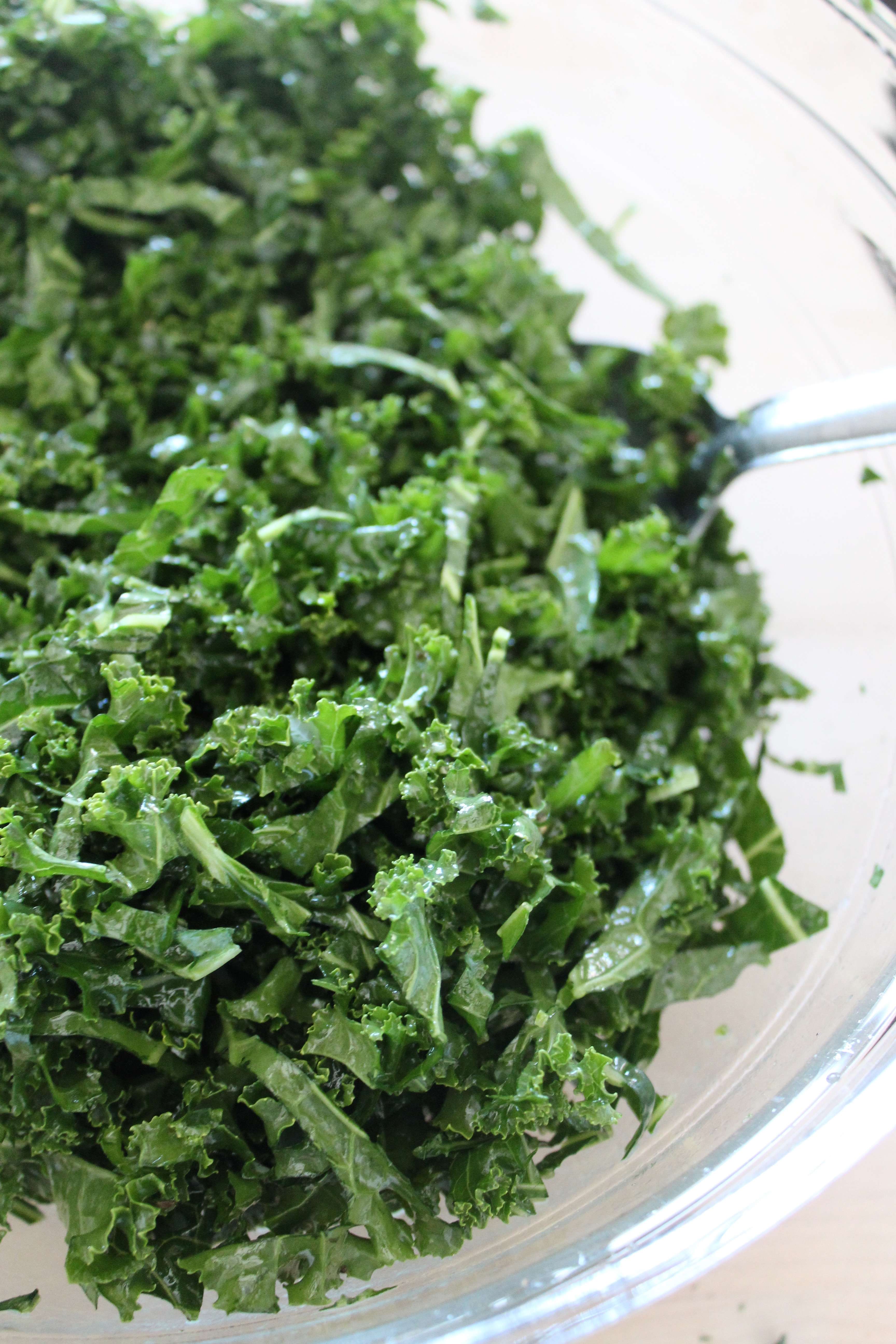 But vegetables don't have to be a punishment. This Kale and Apple Slaw is one of my favorite winter salads because while it's full of produce and relatively healthy (Parmesan is healthy, right?? ), it's also totally satisfying. The slaw has lots of different textures and flavors that make it much more interesting and delicious than your average bowl of kale. With the crunchy, sweet apple,  sharp onion, toasted pecans and salty Parmesan, each bite is like a little meal in itself.
If you're looking for diet food, you might want to keep looking. But if you're looking for a tasty salad that won't leave you feeling hungry and a little sadder than you were before you ate it, you've come to the right place.
This slaw is great either on its own for lunch or as a side to hearty winter main courses. I especially love it with roast chicken or turkey chili. The recipe makes a LOT of salad, but leftovers keep well if you aren't feeding a crowd. (The pecans and apples will get a little bit soggy if the salad sits overnight, but not enough to keep me from eating this salad straight from the tupperware for lunch the next day.)
Print Recipe
Kale and Apple Slaw
Ingredients
1

cup

pecans

¾

cup

very thinly sliced red onion (about ¼ onion)

1

bunch curly kale (about 12 ounces)

2

tablespoons

freshly squeezed lemon juice (1 large lemon)

4

tablespoons

olive oil

¾

teaspoon

kosher salt

¼

teaspoon

freshly ground black pepper

1

crisp sweet apple, such as Fuji, cut into matchsticks

1

cup

shaved Parmesan cheese (2 ounces), see note
Instructions
Preheat the oven to 350 degrees. Place the pecans on a sheet pan and roast for 10 minutes.  Cool, then roughly chop the pecans and set aside.

Meanwhile, place the onions in a strainer and rinse under warm water for thirty seconds to remove some of their "bite." Drain and set aside.

Wash the kale leaves and pat them dry with a paper towel. Lay the leaves flat on a cutting board and cut down both sides of the center ribs. Discard the ribs, and using a sharp knife, cut the leaves crosswise into thin strips, as you would for coleslaw. Place the chopped kale in a large bowl and add the drained red onions.

In a small, glass measuring cup, combine the lemon juice, olive oil, salt and pepper.  Whisk until smooth. Pour the dressing over the kale and onions, and toss well. Set aside to marinate for at least 15 minutes.

Add the pecans, onions, and apple to the kale and toss well. Add the Parmesan, toss gently, and serve.

Note: Use a vegetable peeler to make big shavings of Parmesan.Copyright 2018, Lidey Heuck, All Rights Reserved (updated 2023).