Do you ever end up making the same simple weeknight dishes over and over again until you're totally sick of them? For me, this happens most often with roasted vegetables, which I love but can get a little repetitive. To keep things interesting, I love taking a tried-and-true, simple side dish and adding a few ingredients to make it new and exciting again.  The trick is to keep the additions super easy, so you're only adding flavor – not work – to your weeknight meals.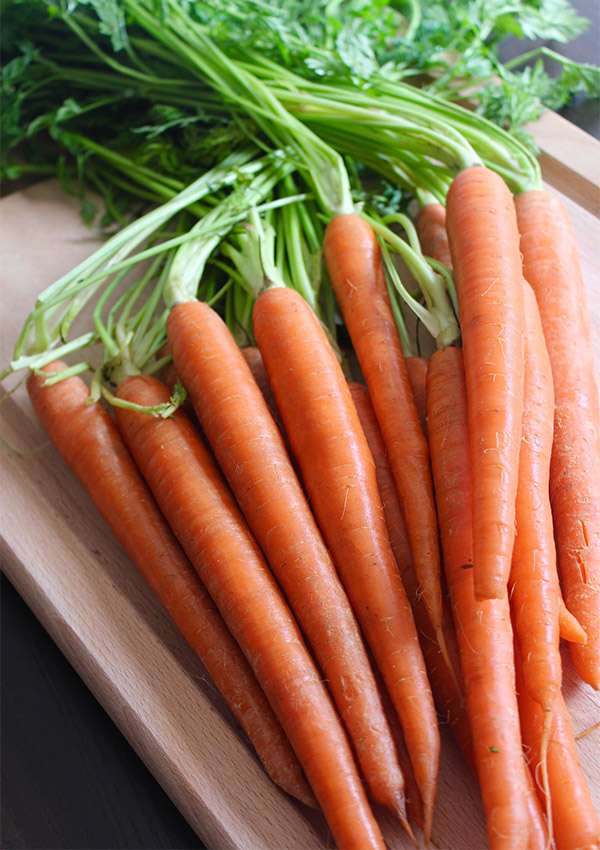 These Hot Honey Roasted Carrots with Goat Cheese are a perfect example. I take plain roasted carrots, add a little bit of honey and red pepper flakes to them as they roast, and then top them with crumbled goat cheese and pumpkin seeds. The recipe is so easy but makes for such a beautiful presentation, and a side that's so much more interesting than your average bowl of roasted vegetables.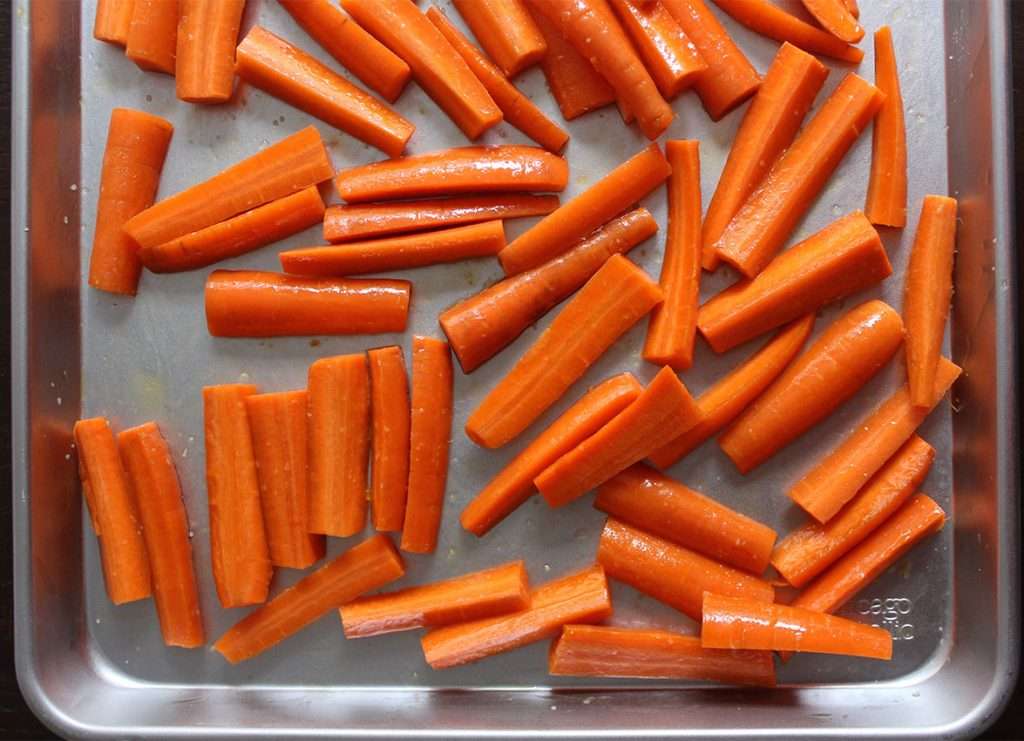 I learned from Ina that carrots with their tops still attached are so much fresher and more flavorful than the pre-bagged kind. If you can find them, great, but if not, don't stress. This recipe is supposed to be easy, not require a trip to three grocery stores! And whether you peel the carrots or just give them a quick scrub before roasting is totally up to you. Scrubbing saves some time, but if you don't have a vegetable scrubber, put some music on and peel away.
"Hot" – or spicy- honey is my secret weapon in this recipe. You can buy hot honey already made, but since it can be hard to find, I create the same effect by tossing the carrots with plain honey and crushed red pepper flakes. One less ingredient to buy, and you can adjust the amount of heat to your liking. If you want seriously spicy carrots, add another shake or two of red pepper flakes. Want just a little heat? Cut the amount in the half. Either way, the spicy / sweet combo in in the carrots is totally addicting, and the sugar in the honey will help the carrots develop really great caramelization while they roast.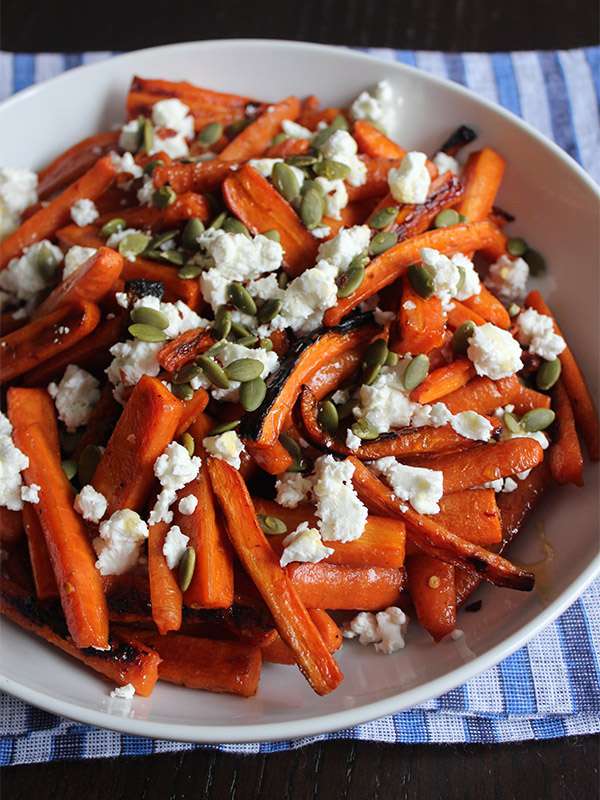 Finally, while some vegetables are best straight from the oven and go limp as they sit, these carrots are great hot, warm, or at room temperature. In fact, I actually prefer them to be warm rather than hot- so the heat from the carrots doesn't melt the goat cheese. That said, a little melted cheese never hurt anyone, so if you're in a hurry to get dinner on the table, just sprinkle on the goat cheese and pepitas and get eating!!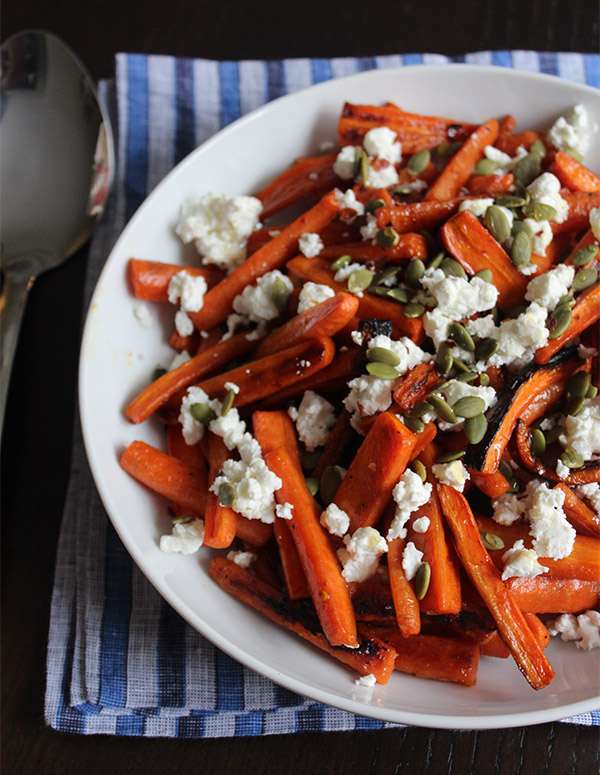 Hot Honey Roasted Carrots with Goat Cheese
Ingredients
2½ pounds carrots, trimmed and scrubbed
3 tablespoons extra-virgin olive oil
2 tablespoons liquid honey, plus more for serving
½ teaspoon crushed red pepper flakes
kosher salt
2 ounces plain, creamy goat cheese, crumbled
3 tablespoons raw pepitas (hulled pumpkin seeds)
Directions
Preheat the oven to 425 degrees.
Cut the carrots into pieces that are about 2-3-inches by ½-inch thick. Every carrot is different, so don't worry if your measurements aren't exact. Place in a large mixing bowl and toss well with the olive oil and 1 teaspoon salt.
Roast for 20 minutes, tossing once, until the carrots are almost tender and are beginning to brown. Add 1 tablespoon honey and ¼ teaspoon red pepper flakes to toss, and roast for 10 to 15 minutes, until the edges are caramelized. Toss and set aside for 10 minutes to cool slightly.
To serve, place the carrots in a shallow serving dish. Top with the crumbled goat cheese, pumpkin seeds, a drizzle of honey and a sprinkling of salt. Serve warm or at room temperature.