If you've never made your own granola – the time has come! Homemade granola is two of my favorite things – easy to make and incredibly satisfying – I think because it's infinitely better than most you can buy.   It's also healthier than store-bought granola and endlessly customizable. What more can I say!?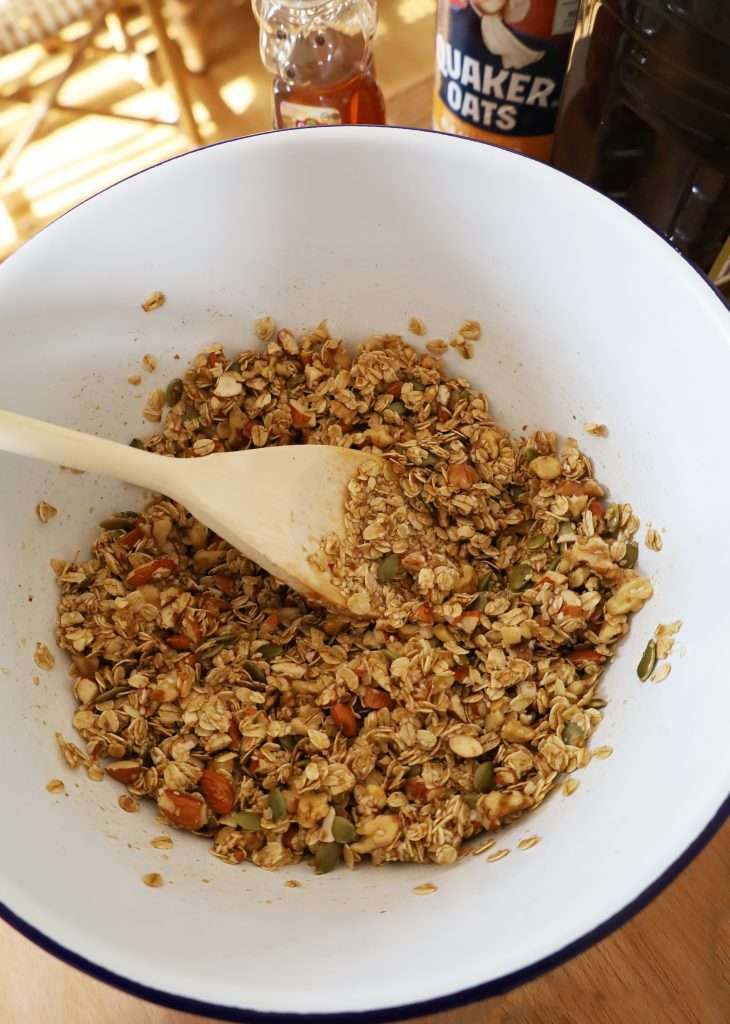 This Honey and Olive Oil Granola is my go-to recipe.  It's got lots of the good stuff – chopped nuts and seeds and dried fruit and a generous drizzle of honey.
I like to use olive oil, instead of vegetable or canola oil,  for my granola for a few reasons. First, I always have it on hand and within easy reach. Second, it adds a really nice savory note to the granola and balances out the sweetness. And finally, using olive oil makes the granola a little bit better for you, especially when you eat handfuls and handfuls of it.
I call for my favorite "mix-ins" in this recipe: almonds, walnuts, pumpkin seeds, sesame seeds, dates, apricots and golden raisins. But feel free to make substitutions according to your preference and any food allergies. The general ratio I stick to is 2½ cups oats, 2 cups nuts, and 1 cup dried fruit.  And, no matter what ingredients I'm using, I also add a generous sprinkle of salt to the granola when it comes out of the oven.  The salt is KEY in bringing out all the different flavors, and in making you come back for more, and more, and more.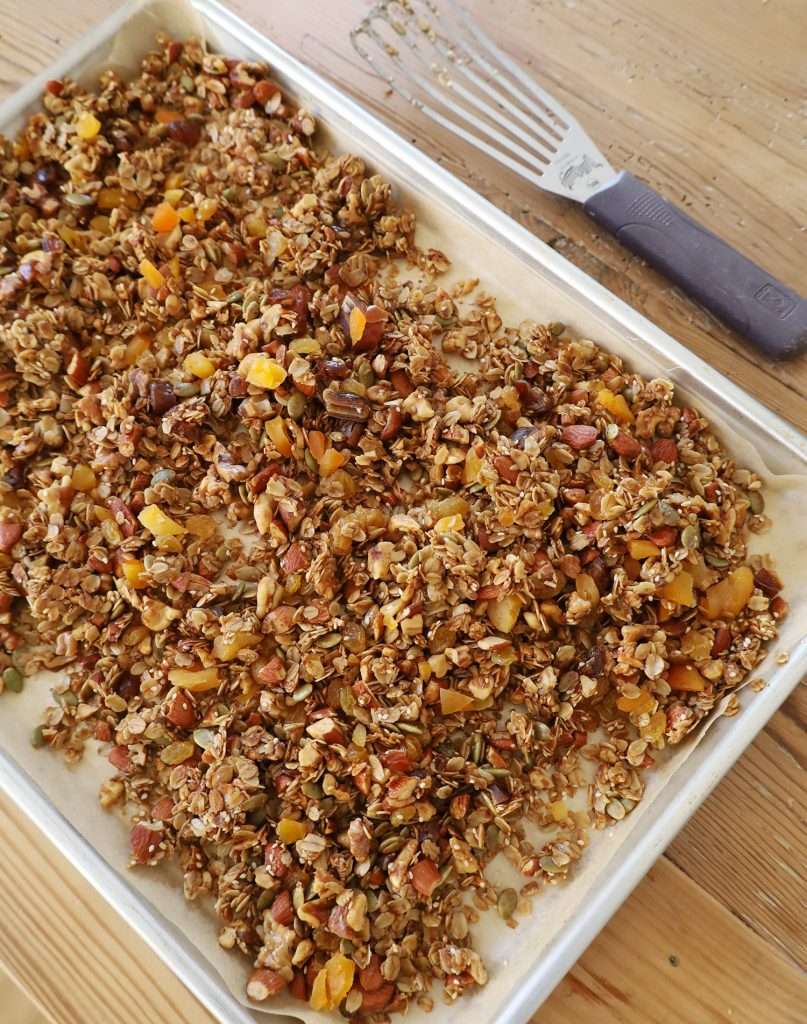 One challenge with homemade granola is getting it to form nice big clusters. My little trick is to press the granola into a compact layer when it comes out of the oven, and then let it sit in the pan until it's completely cool.  The granola sticks to itself as it cools and forms nice clusters when you break it apart – just be gentle when transferring it to a jar or container.
I hope you enjoy this recipe – it's one I love to make for friends, especially since one batch goes a long way! And if you try any fun combinations of nuts and dried fruits, let me know in the comments below!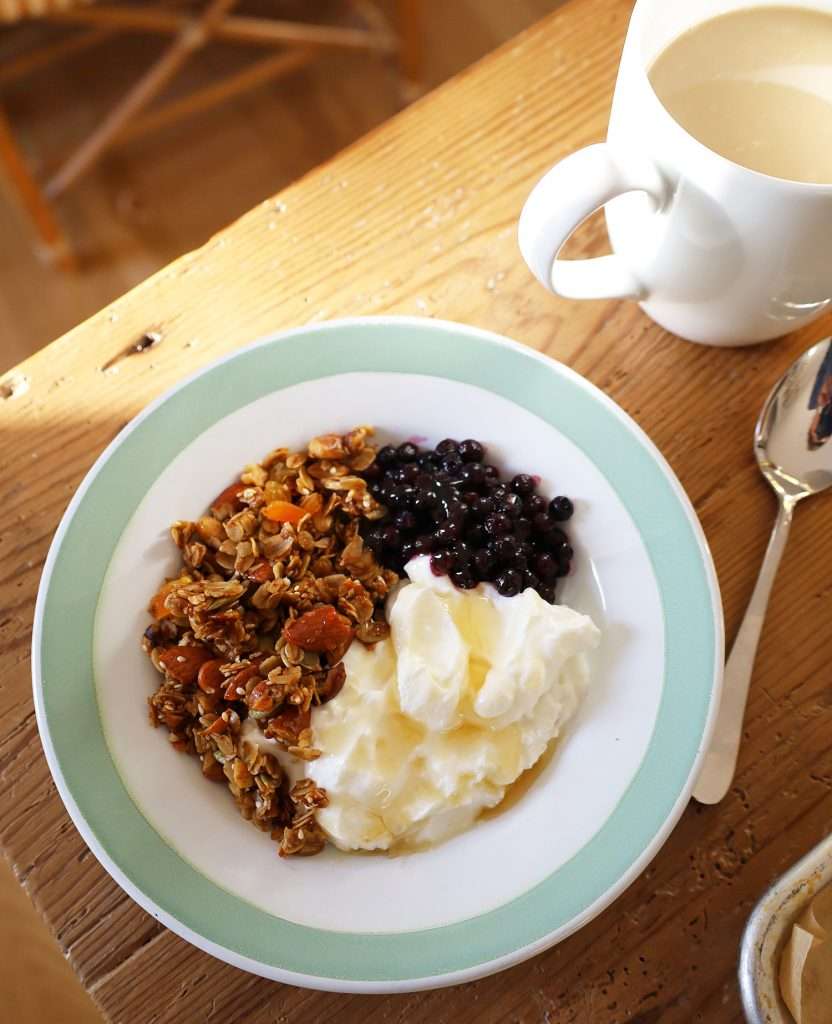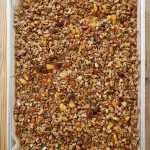 Print Recipe
Honey and Olive Oil Granola
Ingredients
2½

cups

cups old-fashioned rolled oats

1

cup

almonds, chopped

1

cup

walnuts, chopped

⅓

cup

pepitas (hulled pumpkin seeds)

3

tablespoons

sesame seeds

1

teaspoon

kosher salt, plus more for sprinkling

⅓

cup

olive oil

⅓

cup

honey

1

cup

small-diced mixed dried fruit, such as apricots, raisins, pitted dates, and cranberries
Instructions
Preheat the oven to 300 degrees and line a sheet pan with parchment paper.

In a large mixing bowl, combine the oats, almonds, walnuts, pepitas, sesame seeds, and salt. Add the olive oil and mix until the ingredients are well-coated, then add the honey and mix again.

Bake for 50 minutes, tossing once halfway through, until the oats are golden brown.

Add the dried fruit, toss, and spread the granola into an even layer, packing it down with spatula or wooden spoon. Sprinkle lightly with salt and set aside until completely cool.

Break the granola into pieces, then transfer to an airtight container, being careful not to break up the clumps. Granola will keep for up to a week, stored in a sealed container, at room temperature.

Copyright 2022, Lidey Heuck, All Rights Reserved.