I have to start by saying that of as last Saturday, this is no ordinary pie, but an award-winning pie. Specifically, it won "Most Beautiful Pie" at what is universally considered to be the Oscars of pie-baking: my friend Louisa's second-annual pie competition.
Let's back up. The pie competition is a new tradition among my friends, but it has already become one of my favorites- I love the planning that goes into it, the brainstorming of crazy pie ideas and then finally, seeing what everyone comes up with. Did I mention we just stand around eating pie all night? That's pretty great, too. Both years there have been a lot of inventive and delicious pies, and after coming in second in the 'Best Savory Pie' category last year, I was thirsty for a victory and determined to come up with a real showstopper this time around.
So, I turned to one of the most beloved flavor duos out there, good ole' pb&j. Who didn't love creamy (or crunchy!) peanut butter with a thin (or thick!) layer of jelly on white bread as a kid? However picky you were about your pb&j's in elementary school, I think everyone can agree that the combination is as much a crowd-pleaser now as it was in fifth grade.
For my "grown-up" pb&j pie, I started with a graham cracker crust with a generous pinch of salt, and then I used natural peanut butter for the filling, which made it creamy and nutty but not too sweet. I topped the filling with a layer of tart raspberry jam, and then a nice thick layer of chocolate ganache. While definitely not traditional, the dark chocolate is pretty outrageous with both the raspberry jam and the peanut butter. And we were going for victory here!!
Finally, the raspberries on top make the pie look very grown-up and sophisticated – and probably had a lot to do with it winning the Most Beautiful award. Oh, and lest you think this pie only looks the part, I should mention that it was also a runner-up for Best Sweet Pie. Not just a pretty face- I mean-pie…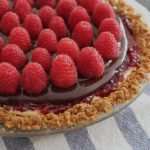 Print Recipe
Grown-Up PB&J Pie
Ingredients
1½

cups

graham cracker crumbs (10 to 12 crackers)

6

tablespoons

unsalted butter, melted

¼

cup

granulated sugar

¼

teaspoon

kosher salt

¾

cup

natural peanut butter

6

ounces

cream cheese, at room temperature

½

cup

confectioners' sugar

1½

teaspoons

pure vanilla extract

1

cup

cold heavy cream, divided

1

cup

raspberry jam, at room temperature

4

ounces

dark or bittersweet chocolate, coarsely chopped

2

half-pints fresh raspberries, for decoration
Instructions
Preheat the oven to 350 degrees.

For the crust, combine the graham cracker crumbs, granulated sugar, butter, and ¼ teaspoon salt in a 9-inch pie pan. Using your hands, combine until the crumbs are moistened. Press into the bottom and up the sides of the pan, making sure the crust is an even thickness throughout. (I use a measuring cup to gently press the crust, including the corners.) Bake for 10 minutes and allow to cool completely.

For the peanut butter filling, beat the peanut butter, cream cheese, confectioners' sugar, and vanilla on medium-high speed with a hand mixer for 3 minutes. In a separate bowl, whip ¾ cup of the heavy cream with a whisk or hand mixer until it forms soft peaks. Gently fold the cream into the peanut butter mixture with a rubber spatula.

Pour the peanut butter filling into the cooled crust. Spread the raspberry jam evenly on the top of the filling, leaving a narrow border of peanut butter around the perimeter visible. Place the pie in the freezer for 15 minutes while you make the chocolate ganache layer.

Place the chocolate and the remaining ¼ cup heavy cream into a heatproof bowl set over a pan of simmering water. Cook over medium-low heat, stirring occasionally, just until smooth. Pour the chocolate ganache onto the center of the pie and using a rubber spatula, carefully spread it to cover the jam, leaving a narrow border of peanut butter and raspberry jam visible.

Arrange the raspberries on the ganache in concentric circles. Chill the pie for at least 2 hours and serve cold.

Copyright 2017, Lidey Heuck, All Rights Reserved