Eggs are the popular kid, and oatmeal will always be my soulmate, but in my humble opinion, pancakes are the true queen of breakfast food. They're usually reserved for vacation, holidays, or Sunday mornings – when no one's rushed, when there's time to sit and linger over coffee, and when the only tension is over who gets the last piece of bacon.  These are mornings when there might even be time for a leisurely post-breakfast snooze, which I sometimes feel like I need after a big plate of pancakes.
I wanted to come up with a recipe that was a little bit lighter and brighter than a traditional stack- one that would be perfect for holidays and slow Sunday mornings but virtuous enough for regular mornings, too.  These Greek Yogurt Pancakes are now the one pancake recipe I use, with tweaks according to my mood and the season.
I should clarify that these are not "diet" pancakes, because this is not that kind of blog. That said, these pancakes are considerably lighter and more nutritious than their cousins over at IHOP. The Greek yogurt makes the pancakes incredibly moist and gives them a little protein boost (so you can convince yourself pancakes are an acceptable post-workout food). I also swap some of the all-purpose flour for almond flour, which not only makes the pancakes a lighter in texture but also gives them a delicious nutty flavor. Finally, I flavor the batter with vanilla and cinnamon. Your kitchen will smell heavenly and the aroma will waft gently into the rooms of any late risers.
Now, I love pancakes with fruit, and I've always thought the more the merrier when it comes to pancake fillings. But adding too much fresh fruit makes the batter wet, and in turn, makes it incredibly difficult to cook the pancakes all the way through while still achieving that perfect golden brown exterior. The solution: serve the fruit on top of the pancakes instead of mixing it into the batter. Not only does this little change make the cooking easier, but it also makes for a very pretty stack of pancakes. In the summer, I like to use blueberries and peaches, but a simple mix of berries is my go-to year round.
And finally, a note on frying pans. I tested this recipe in a cast-iron pan, a stainless steel sauté pan, and a non-stick skillet. While all three work, I found that the non-stick skillet produced the best, most perfectly golden pancakes.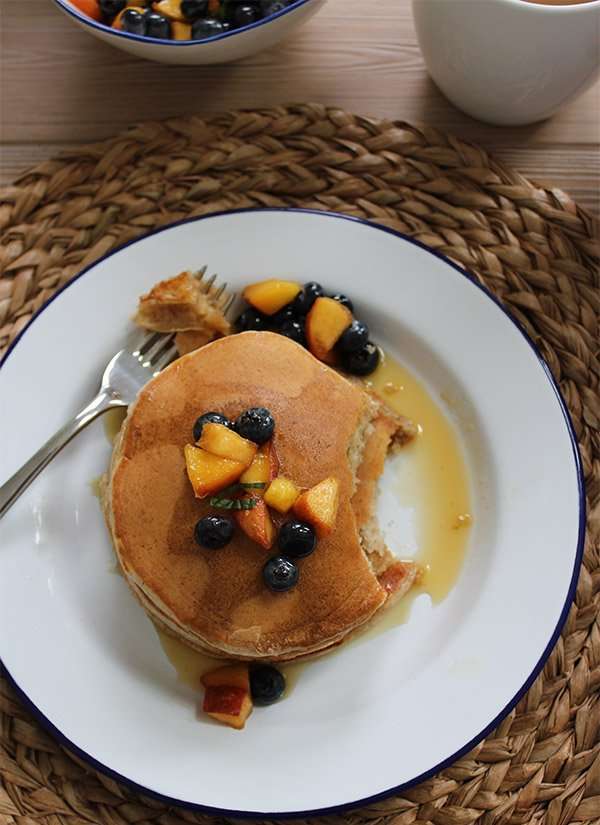 Greek Yogurt Pancakes
Servings: 4 (makes 10-12 pancakes)
Ingredients
1 cup blueberries
1 large, ripe peach, pitted and 1/2-inch diced
2 tablespoons + 2 teaspoons sugar, divided
1 tablespoon julienned fresh mint, optional
1½ cups all-purpose flour
½ cup almond flour
2 teaspoons baking powder
1 teaspoon ground cinnamon
3/4 teaspoon kosher salt
½ teaspoon baking soda
2 large eggs, lightly beaten
1 cup plain Greek yogurt
3/4 cup whole or 2% milk
1 teaspoon vanilla extract
unsalted butter, for frying
maple syrup, for serving
Directions
First, macerate the fruit: in a small bowl, combine the blueberries, peaches, 2 teaspoons of the sugar, and the mint, if using. Toss and set aside while you make the pancakes, tossing occasionally.
Turn the oven to 200 degrees and place an ovenproof dish or platter in the oven.
In a large bowl, whisk together the all-purpose flour, almond flour, baking powder, cinnamon, salt, and baking soda. In a separate, medium bowl, combine the eggs, yogurt, milk, remaining 2 tablespoons sugar, and vanilla, and whisk until smooth.
Add the wet ingredients to the dry ingredients, and mix until just combined (there may still be small lumps in the batter.)
In a large (12-inch) non-stick skillet, heat 1/2 tablespoon butter over medium-low heat.  Scoop a heaping 1/3 cup pancake batter onto one side of the skillet and spread lightly into an even circle with the bottom of the measuring cup. Scoop another 1/3 cup of batter onto the other side of the pan to form another pancake. Cook for about 2 minutes, until bubbles form on the pancakes and the bottoms are golden brown, lowering the heat if the pancakes brown too quickly (see note). Flip the pancakes and cook for another minute. Transfer them to the platter in the oven, and scoop out two more pancakes. Repeat this process with the remaining batter, adding more butter to the pan as needed.
Serve the pancakes warm, with the macerated fruit and maple syrup.
Note: In my experience, making pancakes involves a bit of trial and error. I usually adjust the heat between low and medium-low as I cook, making sure the pancakes don't brown too quickly.
Copyright 2019, Lidey Heuck, All Rights Reserved