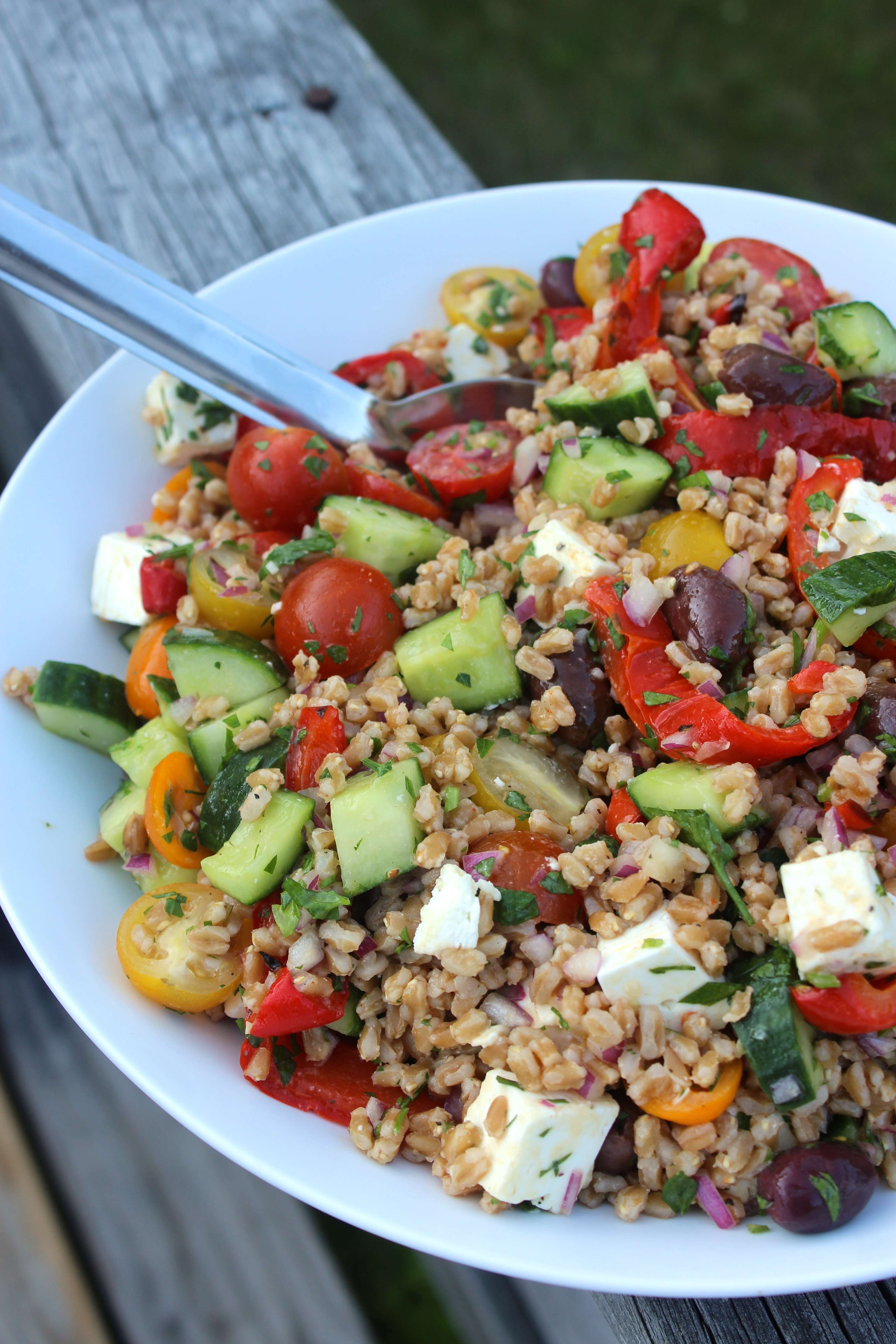 I'm so excited to be working with my friends at Amber Waves Farm in Amagansett, New York this summer.  The farm grows organic vegetables, fruit, flowers, and wheat and over the last few years I have loved experimenting with the different fruits and veggies that show up in the CSA box each week. This year, Amber Waves opened a beautiful new farm store, and to celebrate, I'll be sharing recipes inspired by what's in season and available at the farm all summer long. Wherever you live, I hope you'll find inspiration to cook seasonally, eat locally, and explore delicious new ways eat your way through the summer!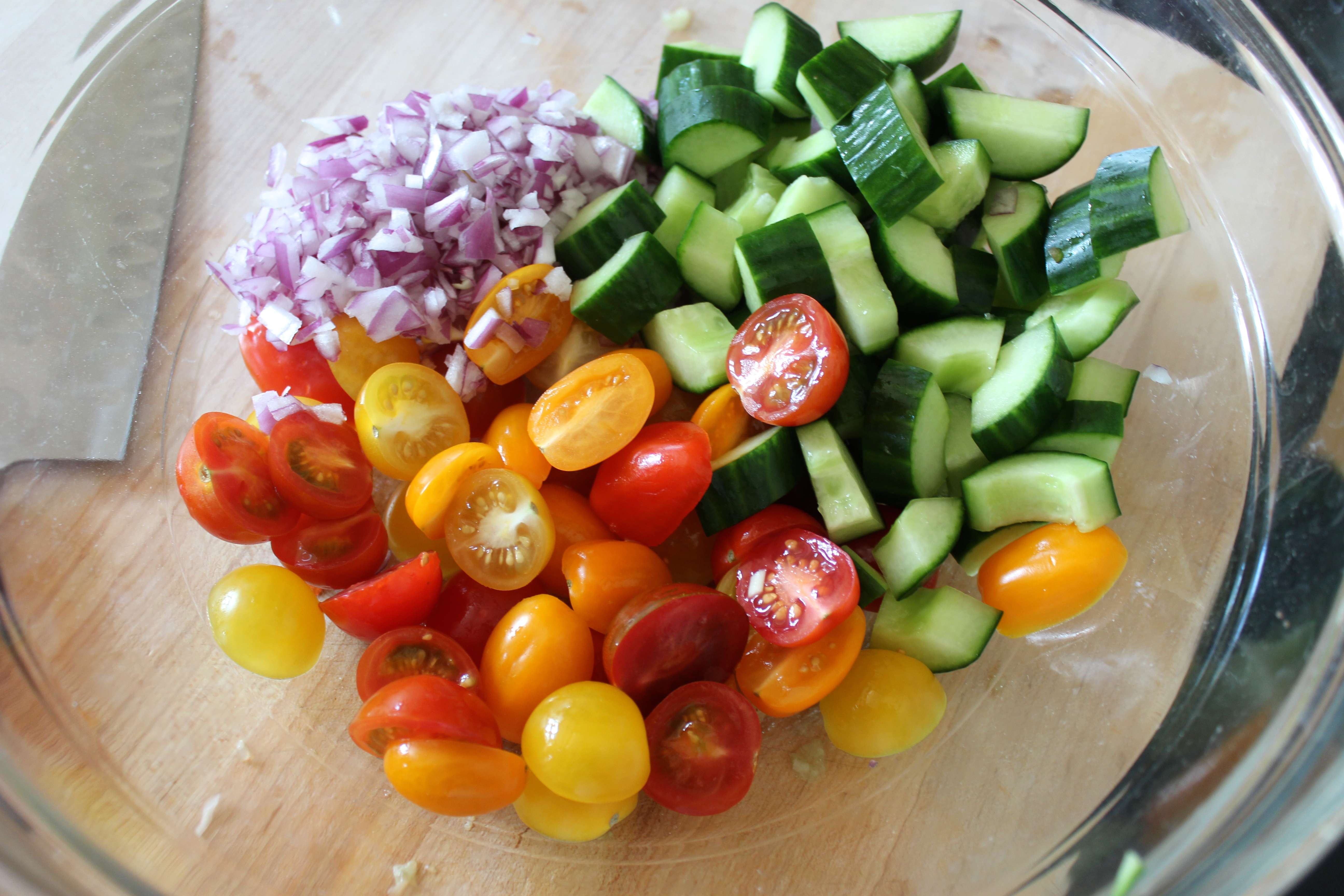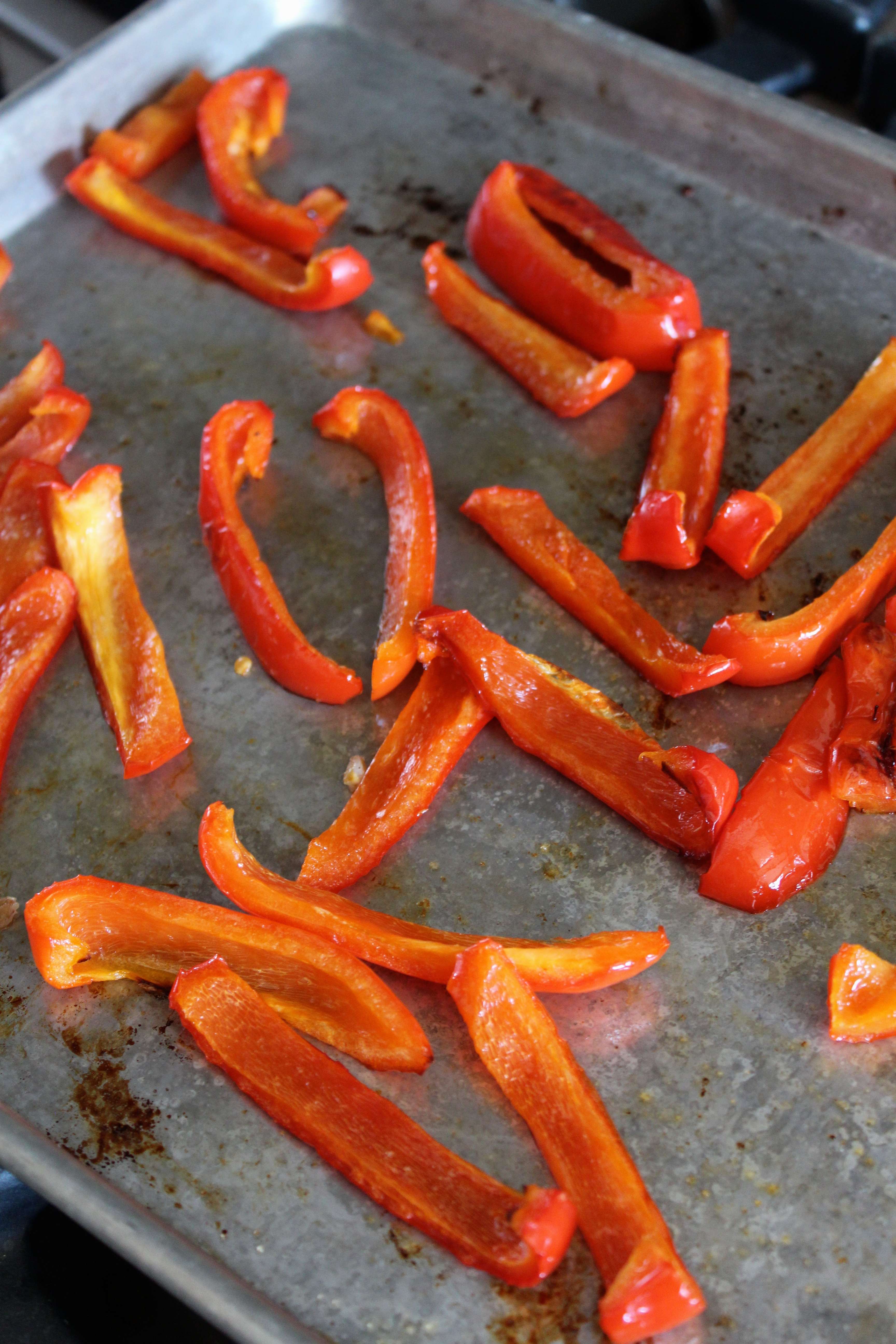 This week I'm excited to share my recipe for Greek Grain Salad- an easy, crowd-pleasing side for all your summer P's (parties, picnics and potlucks!)  Big grain salads are one of my go-tos for cooking for groups, and this one in particular makes great use of summer vegetables – Amber Waves grows peppers, cucumbers, cherry tomatoes, parsley and even onions and garlic.
This salad has all the flavors and satisfying crunch of a classic Greek salad, with farro instead of lettuce. Farro is my favorite grain – it's deliciously nutty and chewy and only takes a half hour to cook, or 10 minutes if you can find the pearled kind. In this case, farro not only makes the salad a more substantial side for a party but also makes it a better dish to prepare in advance, and a better one to bring to the beach!  Speaking of the beach, it might just be time for a dip…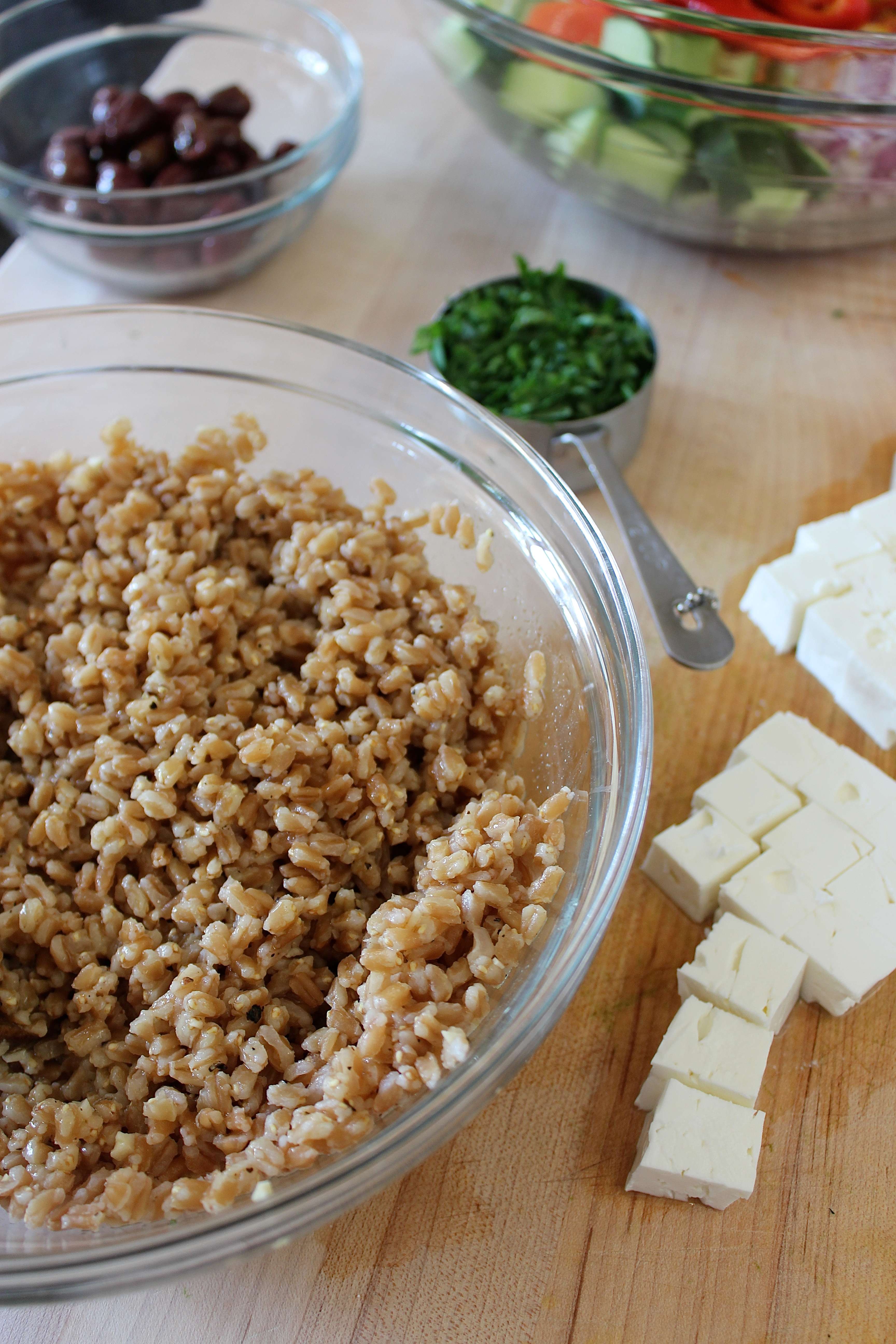 Greek Grain Salad
Ingredients
1½ cups farro, rinsed and drained
2 red bell peppers, cut into ½-inch wide strips
2 tablespoons freshly squeezed lemon juice
2 tablespoons red wine vinegar
1½ teaspoons minced fresh garlic (1 large clove)
1 large English cucumber, seeded and cut into ½-inch dice
1 pint cherry tomatoes, sliced in half lengthwise
¾ cup minced red onion
½ cup chopped fresh parsley
½ cup pitted Kalamata olives
8 ounces feta cheese, ½-inch diced
extra virgin olive oil
kosher salt and freshly ground black pepper
Directions
Preaheat the oven to 425 degrees.
Combine the farro with 4 cups of water in a medium saucepan. Bring to a boil, then lower the heat and simmer for 25-30 minutes, until the farro is just cooked. Drain and pour into a large bowl. Whisk together the lemon juice, vinegar, garlic, 3 tablespoons olive oil, 1 1/2 teaspoons salt and 1/2 teaspoon pepper. Pour over the hot farro and stir well.
Meanwhile, place the red pepper slices on a half sheet pan and toss with 2 teaspoons olive oil and ¼ teaspoon salt. Roast for 20 minutes, turning once halfway through. Set the peppers aside to cool slightly.
Add the cucumber, tomatoes, red onion, roasted peppers, parsley and olives to the bowl with the farro. Stir until combined, then gently fold in the feta. Serve at room temperature.