Experimenting with new recipes for chocolate chip cookies feels a little like reinventing the wheel—the formula is tried and true, beloved, and many would argue it needs no tampering. But I've learned from Ina that taking a familiar recipe and making it on an entirely different scale can turn a dish that's expected into one that's a refreshing twist on the original. With that idea in mind, I made a rich chocolate chunk cookie dough and baked it into one giant cookie-for-a-crowd. Add a few heaping scoops of vanilla ice cream, and the humble cookie is transformed into a delicious, totally over-the-top dessert.
Because the batter is baked in a cast iron skillet instead of scooped into individual cookies, the perimeter of the cookie comes out crispy and golden brown while the center remains soft and ever-so-slightly under-baked.
The other secret to this recipe is sugar's best friend: salt. I sprinkle coarse sea salt onto the bottom of the pan before spooning in the cookie batter, and then sprinkle another big pinch over the top before baking. This ensures that every bite has a perfect little marriage of sweet and salty. Finally, I chop up semi-sweet chocolate bars into big chunks instead of using pre-packaged chips. You might as well pull out all the stops if you're making a cookie the size of a Frisbee.
My favorite way to serve this recipe is to put the pan directly on the table (on a hot pad!), scoop lots of ice cream on top, and let everyone dig in. The more elegant option would probably be to serve scoops or slices of the cookie in individual bowls, but where's the fun in that?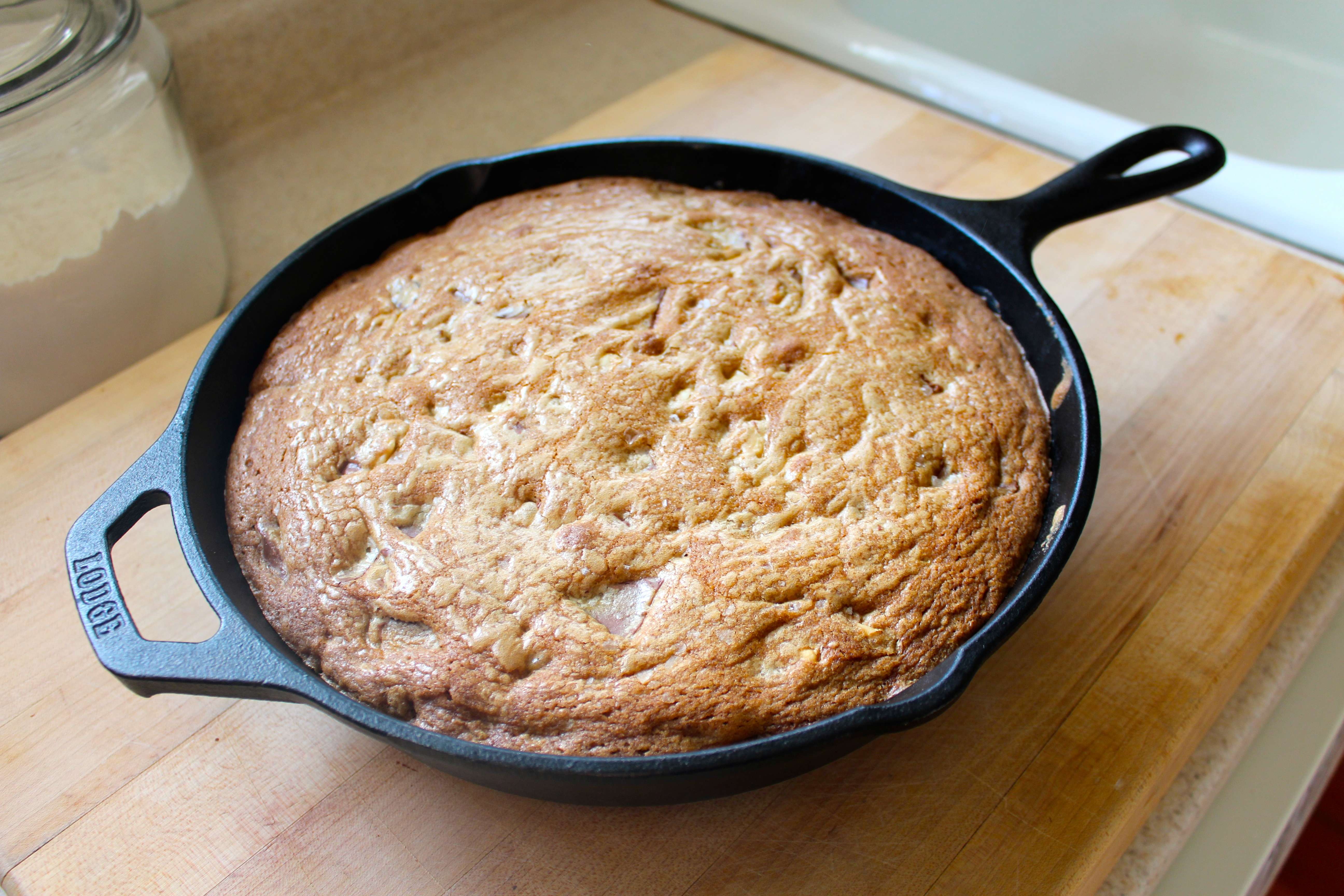 I made this cookie for a Super Bowl party at a friend's house a few years ago, and it has been a tradition ever since. Depending on the number of spoons in the game, there can be some teamwork involved in finishing the entire cookie, but I've never seen a group too small to get the job done eventually.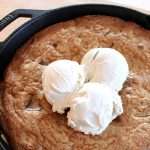 Print Recipe
Giant Chocolate Chunk Skillet Cookie
Ingredients
2

sticks

(½ pound) unsalted butter, at room temperature

1

cup

light brown sugar, lightly packed

½

cup

granulated sugar

2

large eggs

1

teaspoon

vanilla extract

2

cups

all-purpose flour

1

teaspoon

baking soda

1

teaspoon

kosher salt

8

ounces

semisweet chocolate, coarsely chopped

2/3

cup

chopped walnuts (optional)

Flaky sea salt

Vanilla ice cream,  for serving
Instructions
Preheat oven to 375° F.

In an electric mixer fitted with the paddle attachment, beat the butter, brown sugar, and granulated sugar on medium-high speed for 3 minutes, until light and fluffy. Scrape down the bowl with a rubber spatula. On low speed, add the eggs one at a time, and then the vanilla. Mix until well combined.

Combine the flour, baking soda, and kosher salt in a small bowl, and with the mixer on low, add it to the butter mixture and mix until just incorporated. Using a wooden spoon, gently fold in the chocolate chunks and walnuts.

Sprinkle a large pinch of sea salt over the bottom the bottom of an un-greased 10-inch cast iron skillet. Spoon the cookie batter on top and smooth the surface with a rubber spatula. Sprinkle with another big pinch of sea salt and bake for 30 minutes, until baked through at the edges but still soft in the center. (This will leave the very center of the cookie slightly under-baked. If you prefer a crisper cookie, cook for an additional 5 minutes.)

Serve warm, topped with vanilla ice cream.

Note: If serving directly from the oven, use a dish towel or oven mitt to cover the handle of the skillet.Copyright 2015, Lidey Heuck, All Rights Reserved