This one's for my Mom, who loves bacon and eggs with toast more than anyone I know. In fact she even claims it has healing powers. Nervous about getting on a plane? Have a breakfast sandwich. One too many drinks last night? The bread and grease from the bacon will settle your stomach. I am not fully on board with this theory, but she swears by it.
And while she has strict preferences– the toast should be golden brown, the bacon should be very crispy, the eggs should never be "wet" — I still think my Mom would approve of my spin on her favorite breakfast.
A cross between a soufflé, a frittata, and a bread pudding, this English Muffin Breakfast Bake combines everyday breakfast ingredients to make a brunch masterpiece. (Think eggs, toasted bread, maple-roasted bacon and lots of cheddar cheese.) It's a little more time consuming than your average egg sandwich, but SO worth it. And I also confirmed, as my Mom claims, that it does wonders after a long night out.
Besides being delicious and totally over the top, this is also a very practical recipe. The ingredients are all things you can find at any grocery store- a dozen eggs, a pack of English muffins, a pound of bacon, a quart of milk, etc. – and the recipe doesn't require any special equipment. It's what I call a great "vacation" recipe- something you can make without your usual kitchen setup (and definitely something to make when you are happily eating lots of  "vacation food.")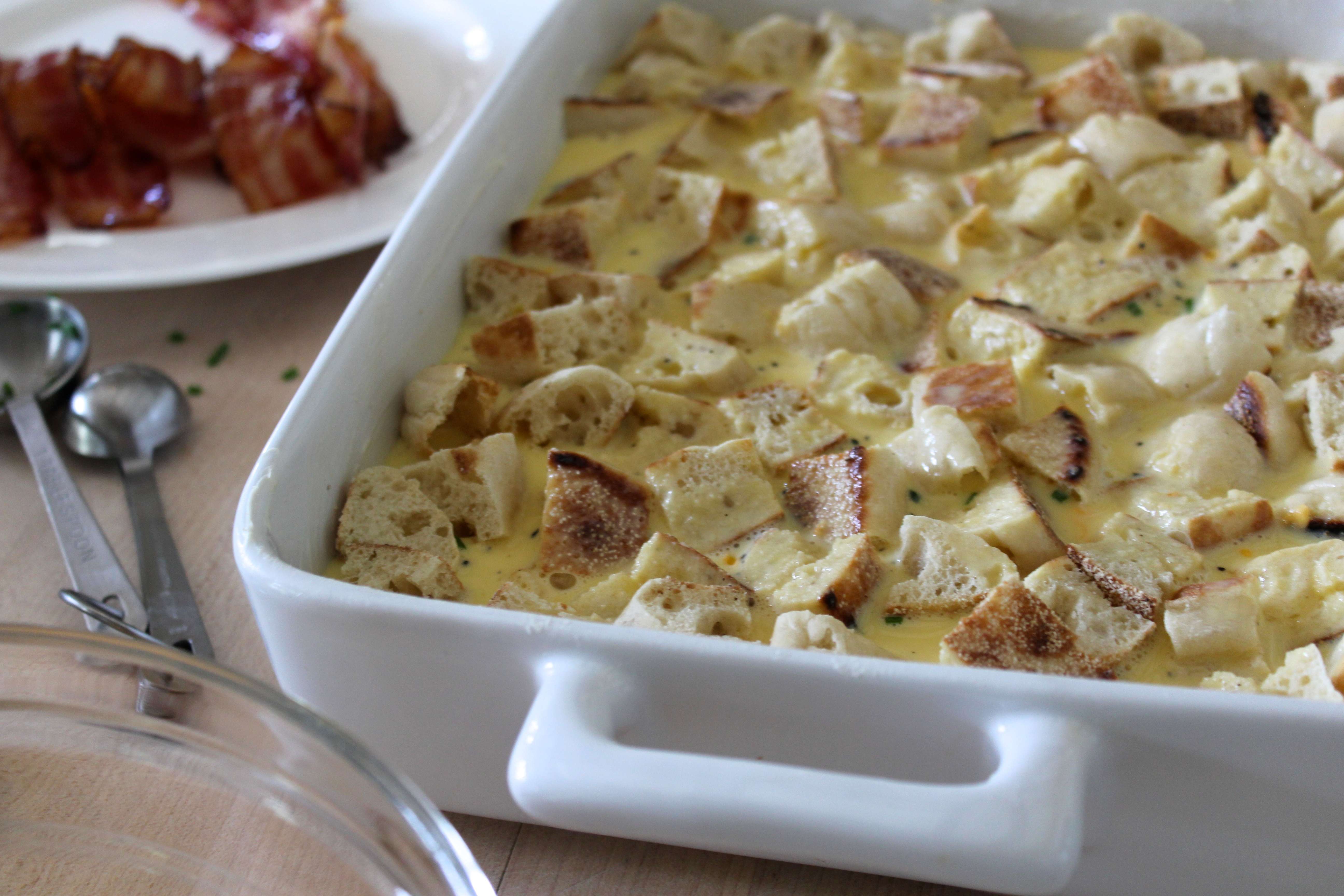 If you want to double the recipe for a large group, I would recommend making two separate batches (in two baking dishes) rather than using one larger dish or pan. And if you plan on needing a bacon and eggs elixir the morning after, you can assemble this the night before and bake it off in the morning. OR, make it for your Mom this weekend! If she's anything like mine, she will be very happy you did.
English Muffin Breakfast Bake
Ingredients
1 tablespoon unsalted butter, at room temperature
12 slices good-quality, lean bacon
2 tablespoons maple syrup
6 English muffins, such as Thomas's
12 large eggs
2 ½ cups whole milk
1 teaspoon kosher salt
¾ teaspoon freshly ground black pepper
3 tablespoons minced fresh chives
6 ounces sharp cheddar cheese, grated (2 cups, lightly packed)
Directions
Arrange two racks evenly spaced in the oven. Preheat the oven to 400 degrees and generously grease the bottom and sides a 9 x 13 x 2-inch baking dish with the butter.
Place an ovenproof baking rack on a sheet pan and place the strips of bacon in a single layer on the rack. (If you don't have a rack, just place the bacon directly on a sheet pan.) Bake for 15-20 minutes, until the bacon has begun to brown. Remove the pan and carefully brush the strips of bacon with maple syrup. Return the pan to the oven and bake for another 5 minutes, until golden brown. Remove the bacon and allow to drain on a plate lined with a paper towel. When cool enough to handle, roughly chop the bacon and set aside.
As the bacon cooks, cut the English muffins into 1-inch cubes. (Do not halve them horizontally as you would normally for the toaster.) Spread the cubes on a sheet pan and bake on the other oven rack for 15 minutes, until toasted and lightly browned.
Meanwhile, whisk together the eggs, milk, salt and pepper in large bowl.
To assemble, sprinkle half of the bacon, 1 tablespoon of the chives, and 1 cup of the cheese (in that order) onto the bottom of the baking dish. Add the English muffin cubes on top in one even layer. Carefully pour the egg mixture into the pan, pressing down lightly to make sure all the muffin cubes are moistened. Top with remaining bacon, cheese and chives. Wrap well and refrigerate for at least one hour, or overnight.
Before baking, lower the oven (or set the oven) to 350 degrees. If the dish has been in the refrigerator overnight, let it come to room temperature for 15 minutes before baking. Bake for 50-60 minutes, until puffed and cooked through. Allow to cool for 10 minutes before serving.