I'm so excited to be working with my friends at Amber Waves Farm in Amagansett, New York this summer.  The farm grows organic vegetables, fruit, flowers, and wheat and over the last few years I have loved experimenting with the different fruits and veggies that show up in the CSA box each week. This year, Amber Waves opened a beautiful new farm store, and to celebrate, I'll be sharing recipes inspired by what's in season and available at the farm all summer long. Wherever you live, I hope you'll find inspiration to cook seasonally, eat locally, and explore delicious new ways eat your way through the summer!
I've found that one of the easiest ways to add vegetables to my cooking routine is to incorporate them into dishes I already love. Eggplant is the perfect example. I don't buy eggplant often, and when I do, it's usually to throw on the grill with other summer vegetables. It's good, it's fine, but let's face it, unless the recipe involves tomato sauce, bread crumbs and Parmesan cheese, people don't usually rave about eggplant.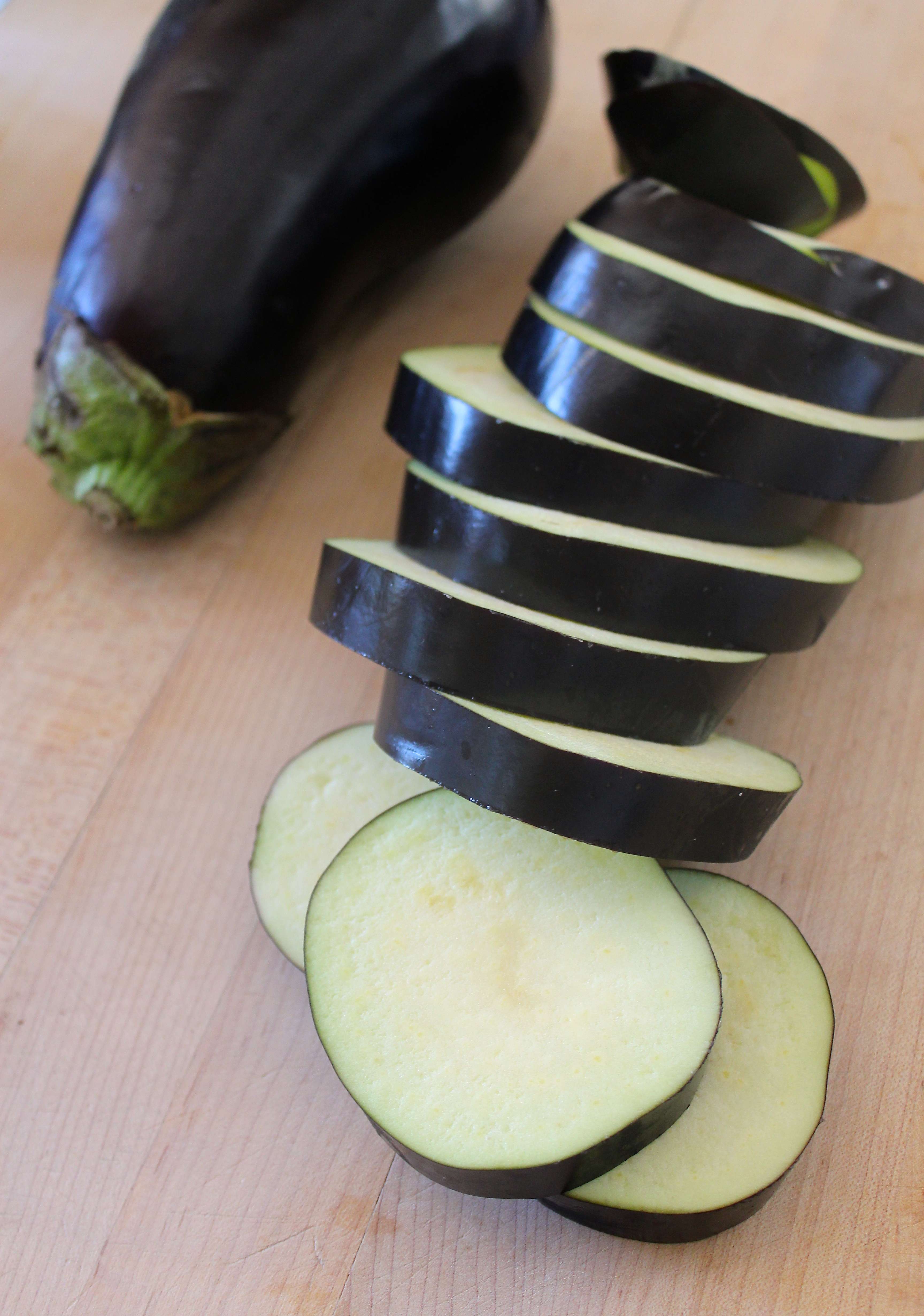 BUT, sneak eggplant into a Caprese salad, and you will never look at it the same way again. There's something about the contrast of the charred eggplant, juicy tomatoes, creamy mozzarella and fresh basil that heightens the flavor of each ingredient, so you really taste each one. Rather than getting lost under a bunch of other grilled veggies, eggplant is the star here. And fished with a generous drizzle of syrupy balsamic vinegar and a sprinkling of sea salt, it's the kind of eggplant recipe you might actually end up raving about.
A few notes… Because this recipe so simple, the key is starting with the best ingredients you can find: firm-ripe summer tomatoes, fresh mozzarella cheese, and good-quality, aged balsamic vinegar for that thick drizzle. For this recipe, I used medium-size tomatoes, but larger beefsteak tomatoes will also work. Since eggplants are a different thickness throughout, the diameter of the tomatoes and the eggplant slices won't be exactly even. I think it's kind of fun (and easier) that way, but you can do your best to arrange the slices of tomato and eggplant by size for a neater presentation.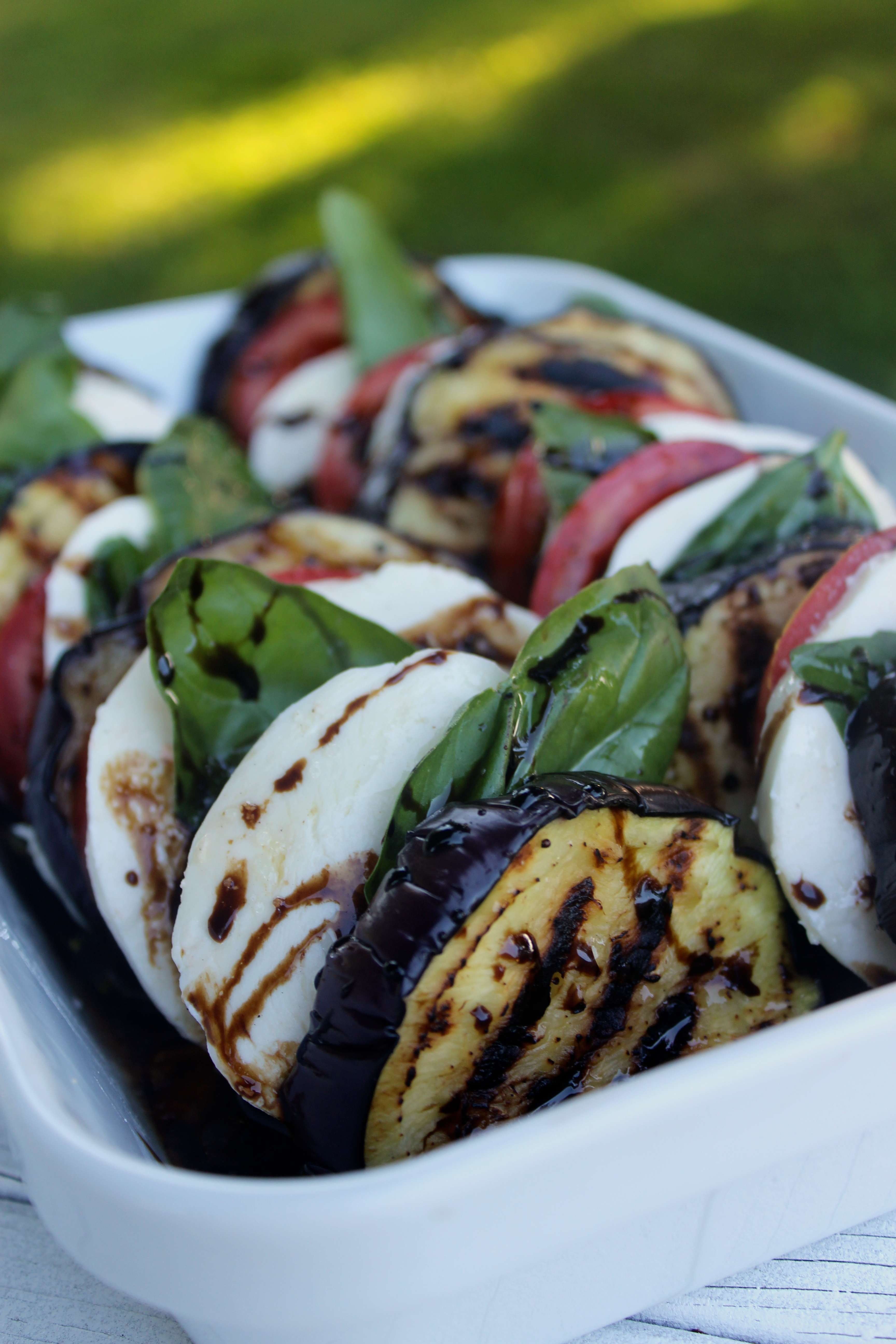 Print Recipe
Eggplant & Tomato Caprese Salad
Ingredients
4

medium tomatoes, sliced ½-inch thick

2

medium eggplants, sliced in ½-inch thick rounds

1

pound

fresh mozzarella, sliced ¼-inch thick

1

bunch fresh basil leaves

Good-quality syrupy balsamic vinegar

Extra virgin olive oil

Kosher salt and freshly ground black pepper

Coarse sea salt
Instructions
Prepare a charcoal grill with hot coals or set a gas grill to medium-high heat.

Brush the eggplant slices generously with olive oil on both sides, sprinkle with salt and pepper, and grill for 3 to 5 minutes on each side, until tender and lightly charred. Set aside and allow to cool slightly.

On a large rectangular platter, layer the tomatoes, mozzarella, eggplant and basil, alternating them and overlapping them slightly. Drizzle generously with vinegar and olive oil and sprinkle with sea salt. Serve at room temperature.

Copyright 2017, Lidey Heuck, All Rights Reserved