This is my homemade, suped-up take on Ben & Jerry's 'Cherry Garcia' ice cream. It's one of my favorite flavors, but every time I buy a pint I wish it had more cherries and chocolate!  The best part of making your own ice cream at home is there's really no limit to how many mix-ins you can add.
I use Luxardo maraschino cherries, which are dark red and more complex in flavor than the bright red ice cream sundae cherries. They're expensive but they make this ice cream so special and delicious. Of course, regular maraschino cherries work great, too. Whichever you use, the nice thing about using cherries in syrup is that they don't freeze into rock hard pieces, as fresh fruit does in ice cream.
Use any dark chocolate you like, and make sure to cut into fairly small pieces for even distribution throughout the ice cream.  OH, and most definitely serve this ice cream with a sprig of fresh mint. The scent is heavenly paired with dark chocolate and cherries.
Want to make this recipe but don't have an ice cream maker? I love this simple, easy-to-use Cuisinart model. Happy Summer, and happy ice cream making!!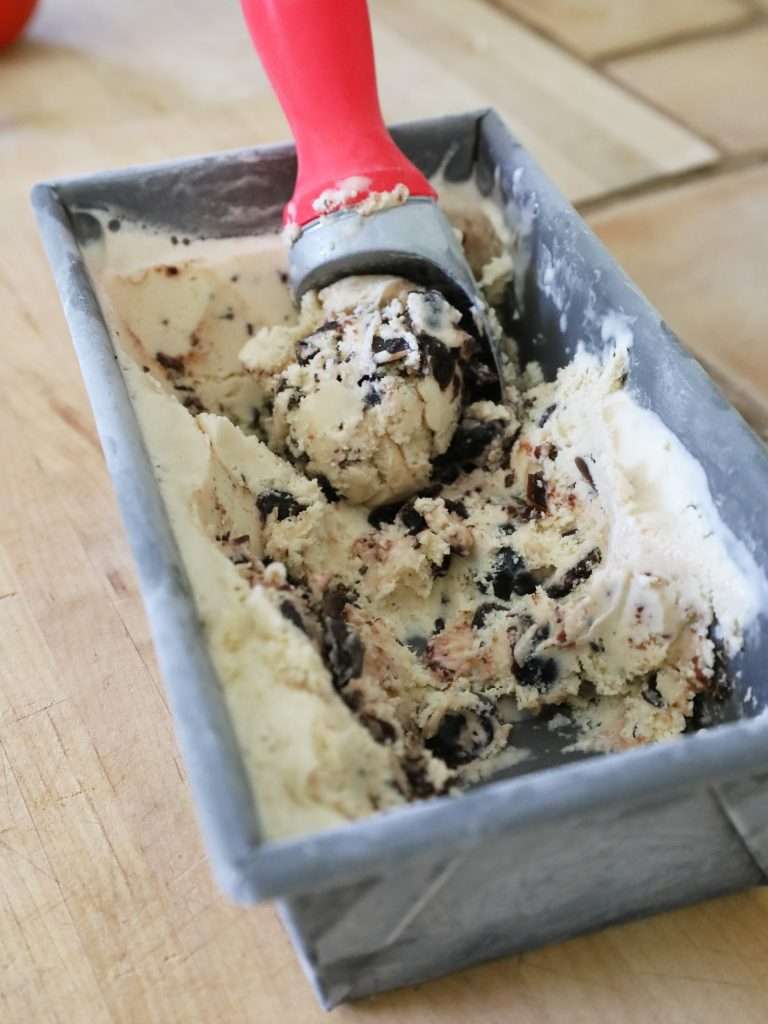 Print Recipe
Dark Chocolate Cherry Ice Cream "Cherry Garcia!"
Ingredients
2

cups

heavy cream

1

cup

whole milk

3/4

cup

granulated sugar

1/4

teaspoon

kosher salt

5

large egg yolks

1/4

teaspoon

vanilla extract

3/4

cup

chopped dark chocolate (about 3.5 ounces)

3/4

cup

maraschino cherries, such as Luxardo, chopped in half
Instructions
In a medium saucepan, combine the heavy cream, milk, sugar, and salt. Bring to a simmer over medium heat, stirring often. Turn off the heat and stir to dissolve any remaining sugar granules.

Place the egg yolks in a small bowl and whisk until smooth. While whisking, add spoonfuls of the hot cream mixture, one at a time, until the mixture is hot to the touch. Gradually add the warmed egg mixture back to the saucepan, whisking constantly.

Turn the heat to medium-low and cook for 3 to 5 minutes, stirring often, until the mixture is just thick enough to coat the back of a wooden spoon. It will be ever-so-slightly thickened, but not thick like pudding. Be careful not to over-cook or the eggs will scramble.

Pour the mixture through a fine mesh-sieve into a large bowl. Add the vanilla extract and stir. Cool until room temperature, then chill in the refrigerator until very cold, at least 2 hours. (You can speed up this process by placing the bowl in an ice bath to cool before refrigerating.)

Freeze the mixture in an ice cream maker according to the manufacturer's directions. When the ice cream is the consistency of soft-serve, add the chocolate and cherries and mix until just combined. Spoon the ice cream into a loaf pan and smooth the surface with a spatula. Cover with a piece of parchment paper and freeze until hard, about 2 hours, before serving.