How's everyone doing on those resolutions? Still going? Bored yet? Depressed by the thought of eating a sad cup of soup for lunch the day back after a long holiday weekend? It doesn't have to be this way!
No matter how healthy a vegetable, salad, or plain piece of chicken might be, it's not doing anyone any good if it's so bland that you end up ordering pizza instead. I'm a big fan of finding ways to make vegetables more interesting and appealing, rather than thinking of them as atonement for really delicious things I actually enjoyed eating.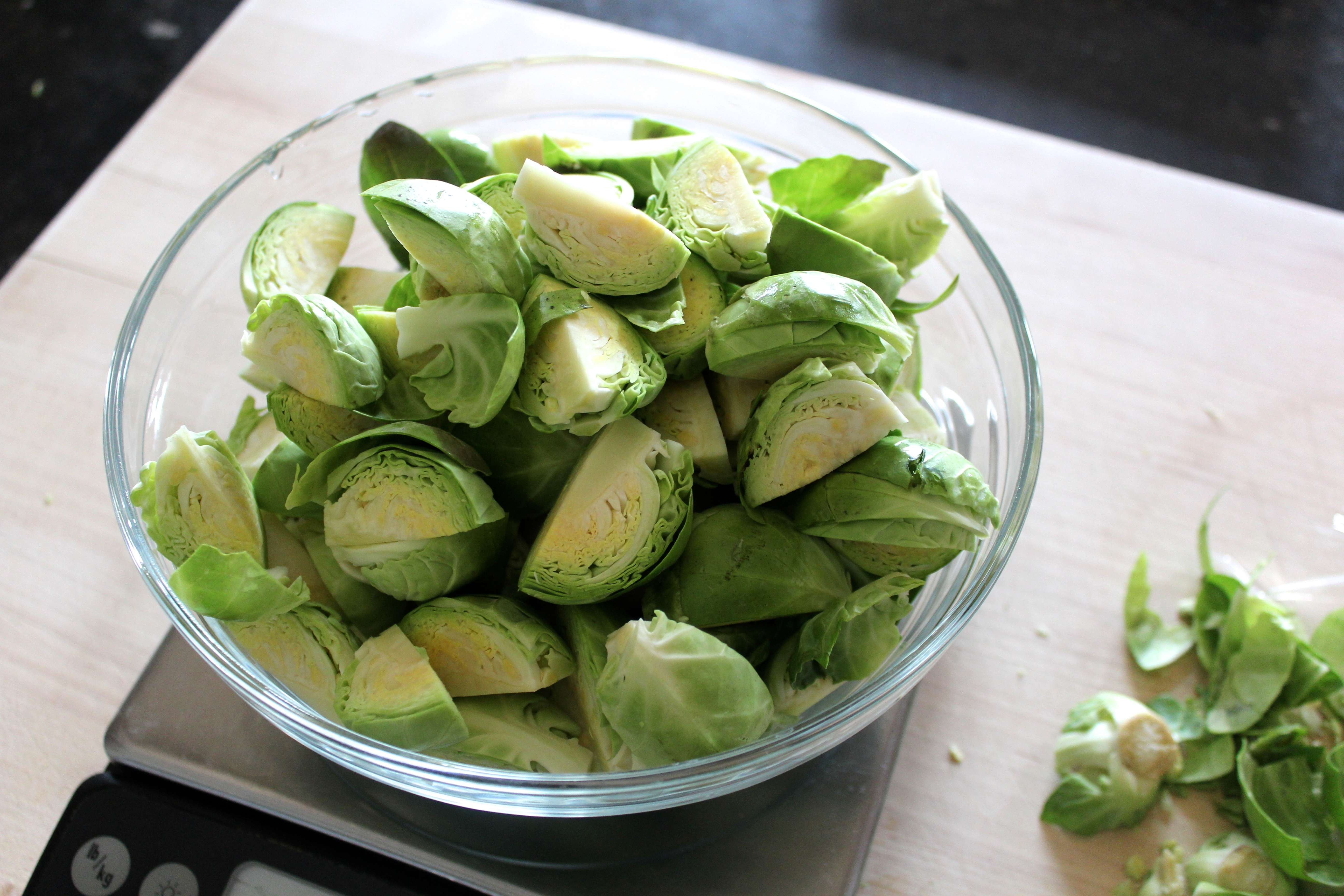 These Crunchy Thai Brussels Sprouts are a great example. While perhaps not the most authentically Thai recipe in the world, they're so flavorful – sweet, sour and a little spicy, thanks to red hot pepper flakes, rice vinegar, and just a teeeny bit of honey. Pan-roasting the Brussels sprouts in sesame oil gives them a crispy edge but leaves a little bit of firmness in the center.  I first experimented with this recipe using crushed, whole dried chili peppers, but found it difficult to find the same kind of chills in different grocery stores, and even more difficult to know how hot the peppers were going to be. All in all, crushed red pepper flakes are much more readily available and consistent in heat, if you want to avoid serving a fiery-hot Brussels sprouts surprise for your guests.
The Brussels sprouts have a great crunch thanks to the peanuts, and the sprinkling of scallions and a squeeze of fresh lime juice at the end give the dish a fresh, crisp finish. I usually make them alongside some quick chili-marinated shrimp and coconut rice, and the whole dinner takes about an hour.  (The Brussels sprouts themselves cook take about fifteen minutes from start to finish.) The beauty of cooking these on the stove rather than roasting them in the oven is that you don't have to wait for the oven to preheat, and the Brussels sprouts cook much more quickly. And most importantly, they're delicious and  the kind of vegetable dish that won't leave you wondering if that old pint of Talenti in the really does have freezer burn…
Crunchy Thai Brussels Sprouts
Ingredients
3 tablespoons toasted sesame oil
1¼ pound Brussels sprouts, trimmed
½ teaspoon kosher salt
1/8 teaspoon crushed red pepper flakes
2 teaspoons honey
1 tablespoon rice vinegar
2 scallions, thinly sliced (white and green parts)
¼ cup roasted, salted peanuts, roughly chopped
juice of half a lime, for serving

Directions
Cut the Brussels sprouts in half through the stem if small, and in quarters if large.
Heat a large (12-inch) sauté pan over medium heat. When the pan is very hot (a drop of water dropped into the pan should sizzle and evaporate) add the sesame oil and swirl carefully to coat the sides and the bottom of the pan. Add the Brussels sprouts, pressing them down with a wooden spoon to form one single layer (some of the sprouts will be sloped up the sides of the pan. Cook for 3 minutes without stirring to allow the Brussels sprouts to develop a char on the bottom. Add the salt, red pepper flakes, and honey, toss, and continue to cook for another 5-8 minutes, tossing often, until the sprouts are caramelized and cooked through.
Add the rice vinegar, immediately turn off the heat, and stir to combine. Transfer the Brussels sprouts to a serving bowl, add the scallions, peanuts, and a squeeze of lime juice, and toss gently. Serve warm or at room temperature.