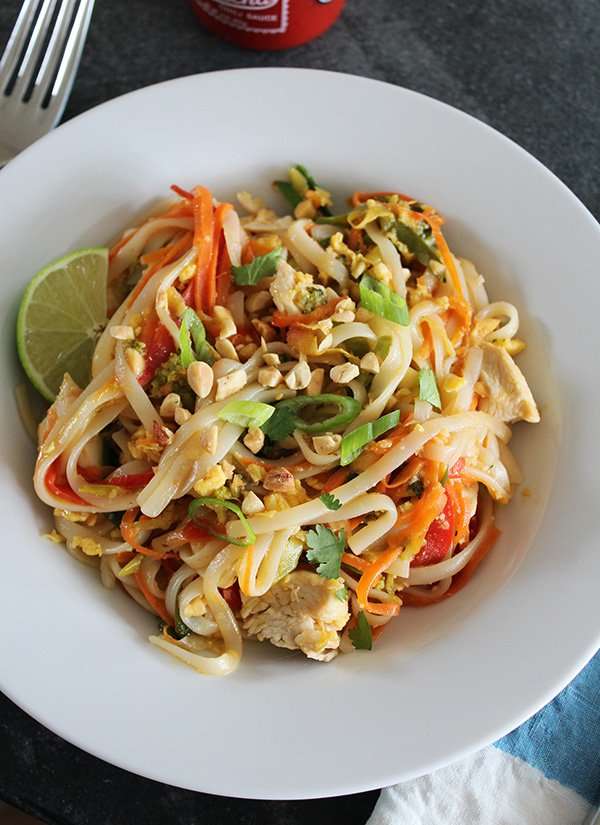 Hi fellow Quarantiners! I hope you're all staying well. I can't believe summer is almost here! I'll have lots of new, summery recipes for you over the next few months, because no matter what rules remain in place in our various states, we can still cook delicious summery food and pretend we're sharing it with ten of our closest friends!
In the meantime, I wanted to share this little back pocket recipe with you. It's become one of my favorite ways to use up odds and ends of leftover vegetables in the fridge AND it comes together very quickly, making it a particularly satisfying dinner after a long day.
I've been missing my favorite Thai restaurant in New York and wanted to try to recreate their Pad Thai. BUT given my limited access to groceries at the moment, I wasn't able to find two of the staple ingredients in a classic Pad Thai – tamarind concentrate and those fresh, crunchy bean sprouts. What I did have was a pantry full of vinegars, sauces and condiments, a bunch of leftover vegetables from the week's recipe testing, and a package of chicken breasts.
So, I made a sauce that was as close to classic sour-spicy-sweet Pad Thai as I could get with the ingredients I had in the pantry, and I julienned all the leftover veggies and threw them in. I have to say, while not traditional, it was pretty d*mn good!
I do want to reiterate that this is not a traditional preparation of Pad Thai, but a simplified version that relies on ingredients you're likely to have on hand.  As someone who is typically willing to go to four different stores looking for ingredients ( I think I like grocery shopping a lot more than the average person!!) the stay at home order for the last two months has forced me to get creative with what I have in the pantry and find ways to make recipes work without having all the ideal ingredients.  That said, if you're interested in learning how traditional Pad Thai is made, here's a great video from Jet Tila that walks you through the dish, step by step.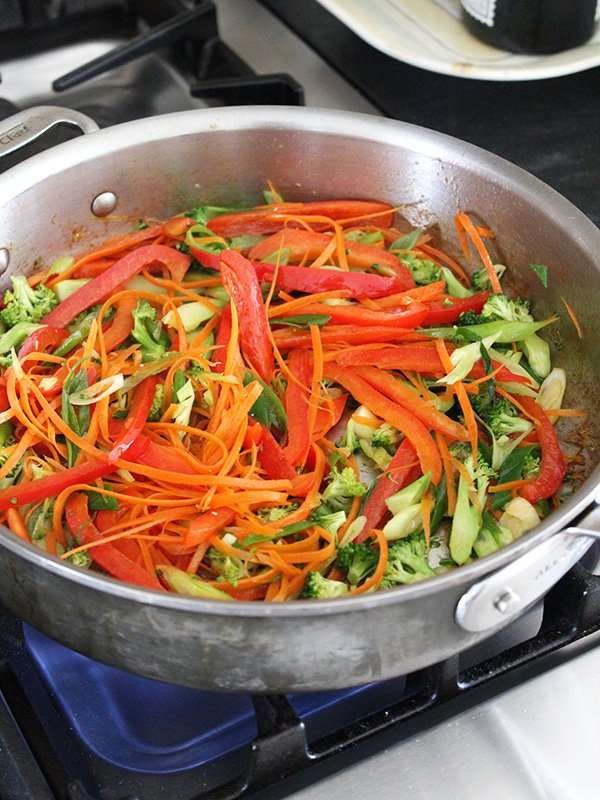 You can use lots of of different vegetables in this recipe. Ideally, you want a mix of colors and textures and an assortment of vegetables that will cook quickly. My favorites are bell pepper, broccoli, snap peas or snow peas, and  carrots. You can use anywhere from 1 to 3 cups vegetables, depending on how veggie or noodle heavy you want your Pad Thai to be. You'll just want to make sure to cut julienne the vegetables (cut into small strips) so they cook evenly.
And while this recipe is great made with shrimp or tofu instead of chicken,  you can also skip the proteins altogether if you're in a pinch. Because of the fish sauce in this recipe, it will not be vegetarian sans shrimp or chicken, but it will still be delicious, especially with all those extra veggies we added.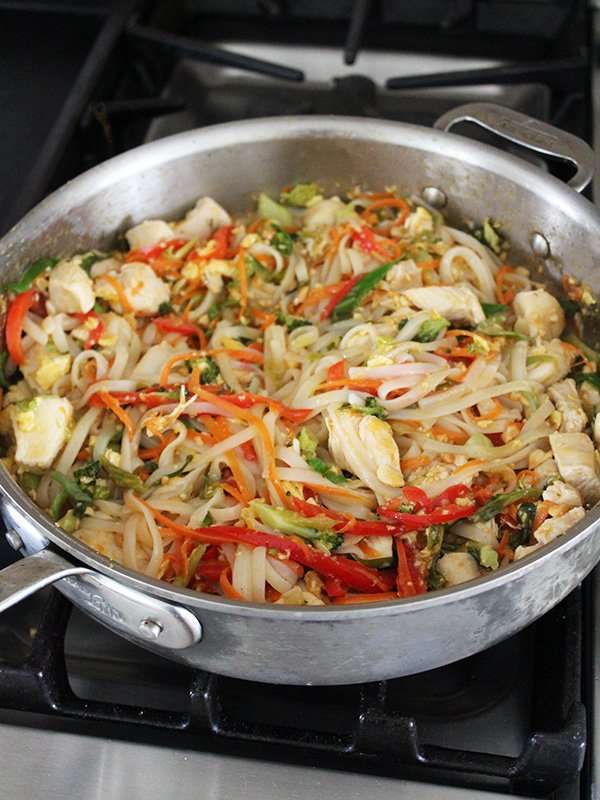 My only other word of advice for this recipe is to have all your ingredients assembled (and make your sauce!) before you begin cooking. Once you get going, the recipe moves pretty quickly, so you want to have everything ready to go into the pan.
I hope this recipe gives you some new inspiration for making the most of the pantry ingredients in your kitchen, and whatever you've got in the crisper. What began as an impromptu dinner has quickly become a go-to weeknight dinner at my place.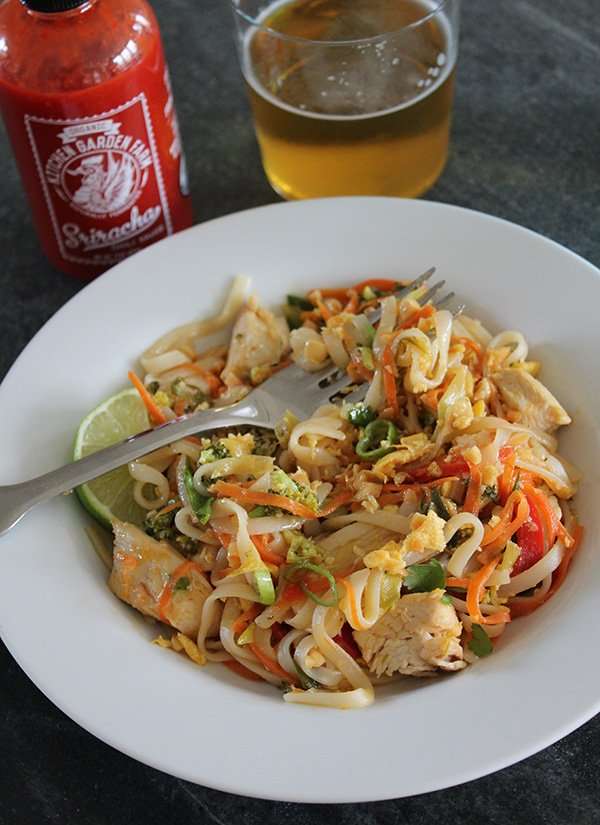 Print Recipe
Clean-Out-The-Fridge Pad Thai
A quarantine-inspired, use-what-you've-got adaptation of the classic Thai noodle dish.
Ingredients
2

tablespoons

fish sauce

2

tablespoons

rice vinegar

2

tablespoons

lime juice

3

tablespoons

honey or brown sugar

2

tablespoons

water

1 to 2

teaspoons

Sriracha, plus more for serving

8

ounces

medium rice noodles, such as Lotus Foods Pad Thai noodles

4

tablespoons

canola, grapeseed or other high-heat oil

2

boneless skinless chicken breasts, cut into ¾-inch pieces (12 ounces)

1 to 3

cups

julienned raw vegetables (such as red bell pepper, carrots, broccoli, snow peas, sugar snap peas, or mushrooms)

4

scallions, thinly sliced on the diagonal (white and green parts), plus more for serving

2

large eggs

1

cup

fresh bean sprouts (optional)

⅓

cup

finely chopped roasted, unsalted peanuts

Lime wedges, for serving
Instructions
Bring a pot of water to boil. Cook rice noodles according to the directions on the package, drain, rinse, and set aside.

Meanwhile, combine the fish sauce, rice vinegar, lime juice, honey, water, and Sriracha in a small bowl and whisk until smooth.  Set aside.  

Heat the oil in a large, deep skillet or wok set over medium-high heat. Pat the chicken pieces dry with a paper towel, season lightly with salt and pepper, and add to the pan. Cook, tossing occasionally, until lightly browned and just cooked through, 3 to 5 minutes. Transfer the chicken to a plate and set aside.

Add the julienned vegetables and the scallions to the pan. Cook, tossing occasionally, until just tender, about 3 minutes.

Turn the heat to medium-low. Push the vegetables to one side of the pan. Add the eggs to the opposite side, and tilting the pan so the eggs don't mix with the vegetables, scramble them with a wooden spoon or fork. Cook until the eggs are set, stirring occasionally, then mix with the vegetables, breaking up any large pieces of egg.

Return the chicken to the pan, along with the cooked noodles, about three-quarters of the sauce, the bean sprouts, and the peanuts. Cook over medium-low heat for a few minutes, tossing, until the sauce is slightly thickened and absorbed by the noodles.  Taste and add more sauce to taste.

Serve hot, topped with thinly sliced scallions and a lime wedge.

Copyright 2020, Lidey Heuck, All Rights Reserved