This super simple Christmas treat might be the first original recipe I ever came up with. I used to make it in college, in our tiny little apartment kitchen. Requiring only four ingredients, one pan, and a microwave, it really doesn't get much simpler than this! I first shared this recipe in 2015 in my column on Delish.com but I really wanted to share it again this year because I think we all could use a recipe for a really simple treat these days.
This recipe is basically kettle corn drizzled with white and milk chocolate, then sprinkled with crushed candy canes and broken into pieces (once it sets) for a fun spin on chocolate bark thats crunchy, chocolatey, and very festive.  The sweet and salty kettle corn adds just enough salt to make this bark addictively good, and quite frankly, you need that hit of salt with all the sugar going on here! There are a lot of good brands of kettle corn out there – you just want to make sure you aren't using one of the low-cal ones that don't have as much as sweet and salty goodness. This is a treat after all!
You can use milk, semisweet, or dark chocolate. I usually go with milk or semisweet because there's something sort of nostalgic about milk chocolate and Christmas to me.  (And honestly, the kid in me will take a Hershey kiss over a piece of fancy dark chocolate any day of the year.)
On that note, this would be a really fun recipe to make with kids! They could help with spreading out the popcorn, whacking the candy canes into tiny pieces with a wooden spoon, and drizzling the chocolate.
The bark will last up to 3 days at room temperature. Just make sure to store it in an airtight container so the popcorn stays crisp. It also makes a great gift packed into cookie tins!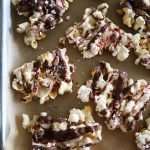 Print Recipe
Chocolate Peppermint Popcorn Bark
Ingredients
8

cups

popped sweet and salty kettle corn, such as Angie's, Trader Joes, or Popcorn Indiana (7-ounce bag)

4

standard-sized peppermint candy canes

8

ounces

good-quality white chocolate, chopped

8

ounces

milk, semisweet, or dark chocolate, chopped (or 1¼ cups chocolate chips)
Instructions
Line a sheet pan with parchment paper. Add the kettle corn and spread it into one even layer.

Place the candy canes in a Ziplock bag and crush them with a wooden spoon or a meat mallet.

Melt the white chocolate in the top of a double boiler set over simmering water, stirring occasionally. (Or, place it in a heat-proof bowl and microwave for intervals of 15 seconds, stirring in between, until melted and smooth.)

Drizzle the white chocolate over the popcorn, make sure to drizzle some over the edges and corners, too. Let set for at least five minutes.

Meanwhile, melt the milk chocolate (just as you did with the white chocolate) and drizzle it in neat lines over the popcorn.

Sprinkle the crushed candy canes over the chocolate, then allow to set until firm, preferably in a cool room, at least one hour. Break into pieces and serve! (The bark will keep in a sealed container at room temperature for up to three days.)

Copyright 2015, Lidey Heuck, All Rights Reserved