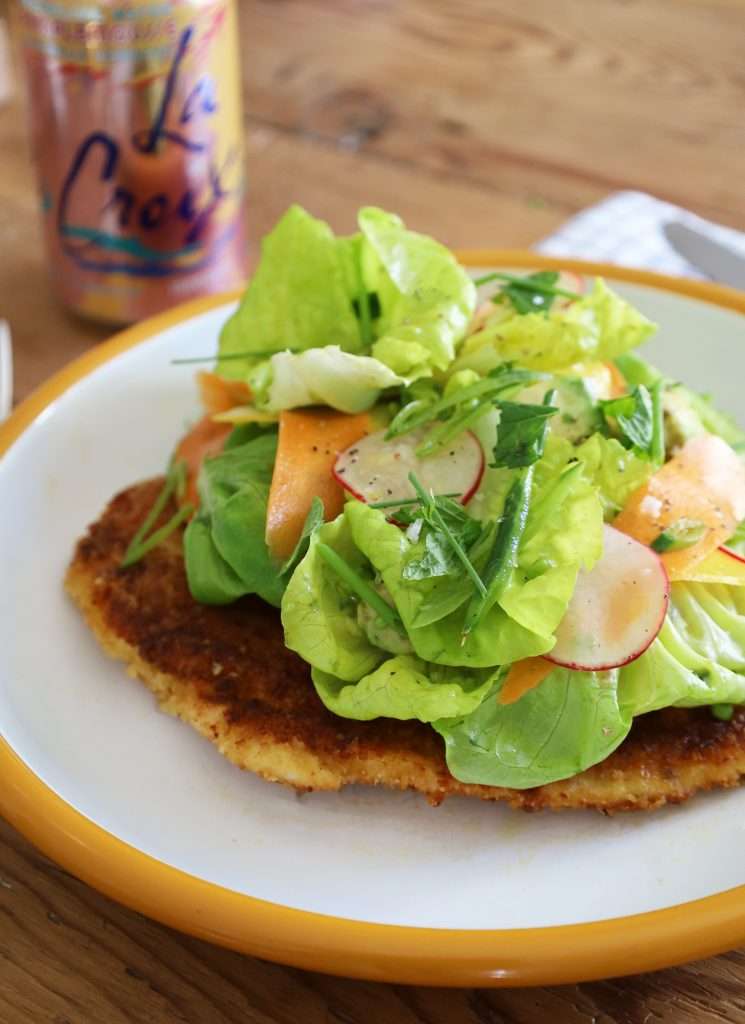 I'm excited to share one of my favorite new dinner recipes with you!!! This Chicken Milanese with Shaved Spring Vegetable Salad is, as the name suggests, springy and light, but with a crispy breaded chicken breast, it still falls into the comfort food category for me. It's a little more "restaurant-y" than most of my other recipes, meaning it's got a few more steps and processes, but I think that's part of what makes this dish feel like such a special dinner.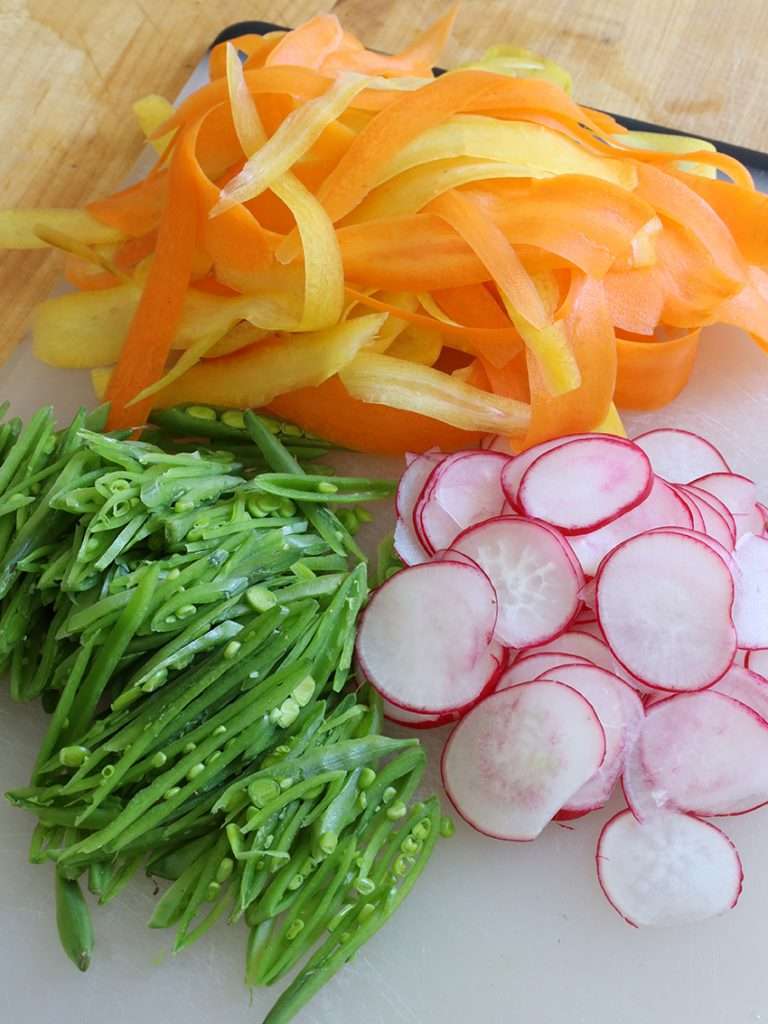 The salad consists of delicate butter or Bibb lettuce, tossed with shaved carrots, thinly sliced radishes, and julienned sugar snap peas. I love taking vegetables that seem sort of ordinary and preparing them in a way that makes them the focal point of the dish. Raw carrots in a salad usually make me think of those bagged salad mixes at the grocery store, but by shaving carrots into long, delicate ribbons, you end up with something that feels really elevated.
Tossed with a bright lemon and cumin vinaigrette, the crunchy veggies and tender butter lettuce are a perfect balance to the breaded chicken beneath.  I also add tons of fresh herbs, and a diced avocado for creaminess. If you wanted, you could add some crumbled feta or goat cheese in place of the avocado.  The idea is just to keep the balance between tart, creamy, and crunchy!
This is a fairly traditional preparation of chicken Milanese, with a few tweaks that I think make it even better. First, I add a tablespoon of Dijon mustard to the beaten eggs used to bread the chicken. The mustard adds a subtle tanginess to the chicken that I LOVE. Second, I use panko – coarse, Japanese-style bread flakes – instead of finely ground breadcrumbs for a really nice crunch in the breading.  Finally, inspired by Ina Garten's classic Parmesan Chicken recipe, I add Parmesan cheese to the breadcrumbs. It's hard to think of something a little Parmesan cheese doesn't make better.
On the subject of balance, I also love the combination of the hot chicken with the cold salad on top. Perfection! My only note here is to make sure you plate the salad right before serving so the lettuce leaves don't wilt!
And while this is definitely the kind of recipe that needs to come together right before serving, there are actually a fair number of steps you can do in advance, like making the salad dressing, washing and drying the lettuce, and prepping the vegetables. (Store prepped veggies in a bowl in the fridge covered with a damp paper towel.) You can also keep the cooked chicken breasts warm in a 200 degree oven for a half hour or so- a great tip if you're concerned about the chicken cooling down too much while you assemble the salad!
I hope you love this recipe! As always, if you make it, leave me a note in the comments and let me know what you think!!
Print Recipe
Chicken Milanese with Shaved Spring Vegetable Salad
Ingredients
4

medium carrots, trimmed and peeled (about 10 ounces)

5

radishes, trimmed, scrubbed, and thinly sliced

1

cup

sugar snap peas (about 4 ounces)

4

boneless skinless chicken breasts (about 8 ounces each)

½

cup

all-purpose flour

2

large eggs

1

tablespoon

Dijon mustard

2

cups

panko (Japanese dried bread flakes)

½

cup

freshly grated Parmesan cheese

Kosher salt and black pepper

Olive oil

2

tablespoons

freshly squeezed lemon juice

⅛

teaspoon

ground cumin

2

heads

butter, Bibb, or Boston lettuce (about 4 ounces each), leaves washed and dried

1

firm-ripe avocado

½

cup

chopped or torn fresh herbs, such as chives, mint, basil or a combination

Flaky sea salt, for serving
Instructions
Using a vegetable peeler, shave the carrots into long strands. (This is easiest if you hold the carrot against your cutting board and peel from the narrow end towards the carrot top.)  Place them in a large bowl, along with the radishes. Thinly slice the sugar snap peas lengthwise and add them to the bowl.

Pat the chicken breasts dry with a paper towel, place them on a large cutting board, and cover them with a sheet of parchment paper. Using a meat mallet or rolling pin, pound the chicken breasts through the paper until they are between ¼-and ½-inch thick throughout. (Be careful not to pound so hard you tear the chicken.)Discard the parchment paper and set the chicken aside.

Place the flour on a rimmed dinner plate or in a large shallow bowl. On a second plate, beat the eggs and mustard with a fork until smooth. On a third plate, combine the panko and Parmesan cheese.Season the chicken with salt and pepper, and then, working one piece at a time, dip the chicken into the flour, shaking off any excess, then into the eggs, and finally, the panko. Place the prepared breasts on a plate until ready to cook.

Heat 3 tablespoons olive oil in a large skillet set over medium heat. When the oil is hot (it should sizzle if you flick a bit of water into the pan) place one chicken breast in the pan, shaking off any excess crumbs. Cook for 2 to 3 minutes on each side, pressing the chicken lightly with a spatula, until golden brown on both sides and cooked through. (You may need to turn the heat to medium-low if the chicken begins browning too quickly.) Transfer to a plate lined with a paper towel and sprinkle with salt.  See note.

Add 2 more tablespoons oil to the pan and repeat the process with the other 3 breasts, adjusting the heat as necessary and adding a tablespoon or two of oil if the pan seems dry at any point.

Meanwhile, in a glass measuring cup, whisk together the lemon juice, 3 tablespoons olive oil, the cumin, ¼teaspoon salt, and ¼ teaspoon pepper.  Add the lettuce leaves to the bowl with the vegetables and set aside.  

When ready to serve, place each chicken breast on a large dinner plate. Drizzle the dressing over the salad and toss gently until well-mixed. Dice the avocado, add it to the salad along with the fresh herbs, and toss again.  Top each chicken breast with a big heap of salad, sprinkle with flaky sea salt and black pepper, and serve immediately.

Note: If you like, you can transfer the cooked chicken breasts to a wire rack set over a sheet pan in a 200-degree oven.  This will keep them hot while you cook the remaining pieces!Copyright 2021, Lidey Heuck, All Rights Reserved.