Bolognese… but make it chicken! In my humble opinion, there is a lot to love about this lighter, easier spin on traditional bolognese.  Classic Bolognese takes hours to make, and while it's worth every minute, I don't always have four hours to stand around a simmering pot of sauce. One day!  And for anyone looking for a healthier but still hearty and satisfying meat sauce (OR anyone avoiding red meat) I got you!
Chicken Bolognese is pretty similar to the classic. It starts with sauteeing vegetables, then browning the meat, and then adding red wine, tomatoes, tomato paste and seasonings and simmering away until the sauce is thick and flavorful. (Thankfully, that takes just thirty minutes!)
There are more vegetables in this sauce than a traditional bolognese-  I find that makes the sauce both heartier and more of a complete meal. You can dice the vegetables into very small pieces or cut them into a larger dice for a chunkier sauce. Just make sure they're tender before you add the chicken.
A quick note on ground chicken. Many stores carry both ground chicken breast and ground dark meat (legs and thighs). The two are not always easily distinguishable at first glance – so make sure to read the label carefully. For this recipe, super lean ground chicken breast isn't going to cut it-  to mimic the rich, meaty flavor of a Bolognese, the extra fat and flavor from dark meat is essential. If your store doesn't carry ground chicken thighs,  you can buy boneless, skinless thighs and grind them in your food processor. (It's actually a really easy trick and one I use to make chicken burgers in the summer.) Or, you can substitute ground turkey.
Finally, did I mention the big dollops of fresh ricotta on top? The ricotta adds a little bit of richness and makes this feel like a special occasion dinner, even if you're having it on a busy weeknight.  If you're feeling ambitious you could make your own (here's the best recipe I know!!)  but Whole Foods and a lot of small specialty markets sell fresh ricotta that will save you a lot of time. It's really worth trying to find fresh ricotta – as opposed to the processed kind – for this recipe.
This recipe is an ideal choice for a dinner party because you can make the sauce ahead of time and then just cook the pasta and make a quick salad before dinner.  In fact, like a lot of sauces, this gets better as it sits and the flavors have time to develop.  If you're really organized, you could even make the sauce a day before you plan to serve it.
I typically double this recipe when I make it – leftovers freeze beautifully and make for a fast and satisfying dinner after a busy day. This sauce + Banza chickpea pasta and a green salad is one of my favorite weeknight dinners. (not sponsored!)
Enjoy and as always, let me know what you think in the comments below!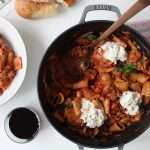 Print Recipe
Chicken Bolognese with Fresh Ricotta
Ingredients
2

tablespoons

olive oil

1

medium yellow onion, small-diced

1

cup

small-diced carrots (about 3 carrots)

¾

cup

small-diced celery (about 2 ribs)

1

tablespoon

minced garlic (about 2 large cloves)

1

pound

ground chicken thighs (see note!)

1

cup

dry red wine, such as Pinot Noir

1

(28-ounce) can crushed tomatoes

1

cup

whole milk

½

cup

fresh basil leaves, chopped, plus more for serving

2

tablespoons

tomato paste

½

teaspoon

dried oregano

¼ -½

teaspoon

red pepper flakes, to taste

Kosher salt and freshly ground black pepper

¼

cup

grated Parmesan cheese, plus more for serving

1

cup

fresh ricotta cheese

1

pound

pasta, such as rigatoni, pappardelle, or orecchiette
Instructions
Heat the olive oil in a medium-sized Dutch oven or other heavy-bottomed pot. Add the onions, carrots, and celery and cook over medium-low heat, stirring occasionally, for 8 to 10 minutes, until tender. Add the garlic and cook for 30 more seconds, until fragrant.

Add the chicken and cook, stirring occasionally and breaking up the meat with a wooden spoon, for 3 to 5 minutes, until browned.

Add the wine and cook until the liquid is reduced by about half. Add the tomatoes, milk, basil, tomato paste, oregano, crushed red pepper flakes, 2 teaspoons salt, and ½ teaspoon black pepper and bring to a boil. Lower the heat and simmer uncovered for 25-30 minutes, stirring occasionally, until thickened.

Meanwhile, bring a large pot of salted water to a boil. Add the pasta and cook according to the directions on the package. Drain and add to the sauce, along with the Parmesan. Mix well.

Place the ricotta in a small bowl. Add ½ teaspoon salt and ¼ teaspoon black pepper and mix until smooth. Spoon dollops of ricotta on top of the pasta and garnish with chopped basil. Serve with Parmesan and red pepper flakes on the side.

Note: To mimic the rich, meaty flavor of a classic Bolognese, the extra fat and flavor from dark meat chicken is essential. Look for the words 'leg/thigh meat' on the package and avoid anything sold as '100% breast meat' or simply 'ground chicken' - those will be too lean for this recipe. If your store doesn't carry ground thighs, you can buy boneless, skinless chicken thighs and grind them in your food processor. (It's easier than it sounds!)Copyright 2020, Lidey Heuck, All Rights Reserved