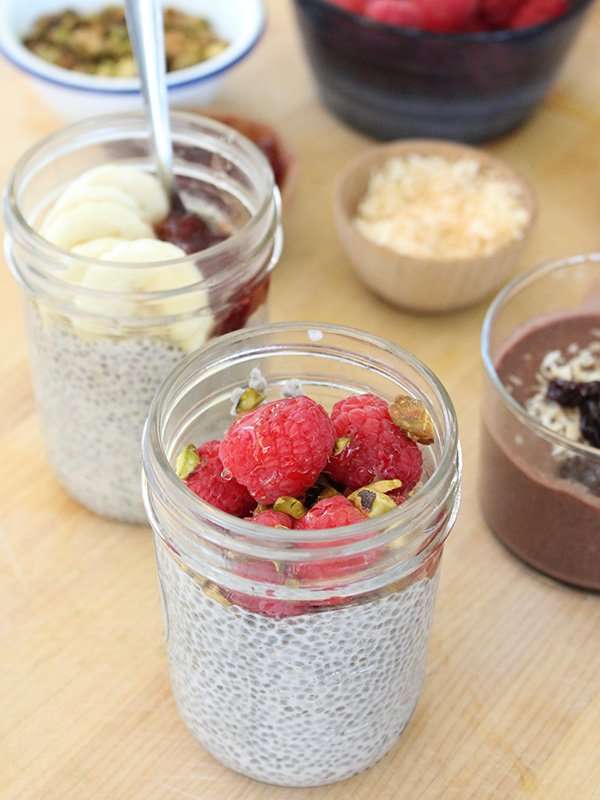 About a month ago (but who's counting) I did a little chia pudding tutorial on my Instagram stories, and the number of responses/requests for the recipe blew me away.  I was surprised because chia pudding is one of the easiest things to make on the planet, and I often don't use a recipe at all.  I can't remember when I began making chia pudding, but I realized that if you haven't made it at home before, it probably seems like a bit of an odd thing. You put the seeds in the milk, and then what?? Well, that's what's so great about chia pudding – that's pretty much it!
Chia seeds (the same ones used in good old Chia Pets!)  expand when soaked in liquid – in just two hours, they thicken into a delicious pudding – no cooking required. You can add any flavorings you want -spices, different kinds of milks, sweeteners, and of course, toppings – for a great grab-and-go breakfast or healthy treat.  The seeds themselves are an excellent source of fiber, protein and Omega-3 fatty acids, and are often included on 'superfood' lists.
I'm not a big meal prepper, but I do like to make a batch of chia puddings to keep in the fridge all week. It's one of my favorite summertime breakfasts, when it's way too hot out for my beloved oatmeal.
Today I'm sharing 3 different recipes for chia pudding. Many of the ingredients you need for all three of these versions are staples you probably already have on hand, and there's plenty of room for substitutions based on your preferences (and what's in the pantry.)
A note on milk: You can use virtually any milk to make chia pudding. Dairy milk, nut milk, oat milk – whatever you've got will work as long as you follow the proportions in the recipe. Because I make chia pudding as a healthy breakfast or treat, I tend to stick to low-fat dairy milk or an 'alternative' milk like almond or oat. (If you're using a non-dairy milk- make sure to go for a plain, unsweetened variety so the milk doesn't compete with the flavors in the pudding.)
Up first is Maple Vanilla Chia Pudding. This is the most basic recipe and the one I make the most often. It's a great base for a variety of toppings – fresh fruit, jams, chopped nuts, seeds, granola- the list goes on. It also requires the fewest ingredients – meaning if you've got milk and chia seeds, you're halfway there. If you prefer, you could use honey or agave to sweeten this pudding.
The second recipe is for Peanut Butter Banana Chia Pudding. I call this one the "crowd pleaser."  The PB and banana combo is a classic, and the creamy texture of both mashed banana and peanut butter works really in chia pudding.  I also love this pudding because it's ready to go- no toppings necessary. (Though a big spoonful of raspberry or strawberry jam doesn't hurt.) Almond butter would also work well here.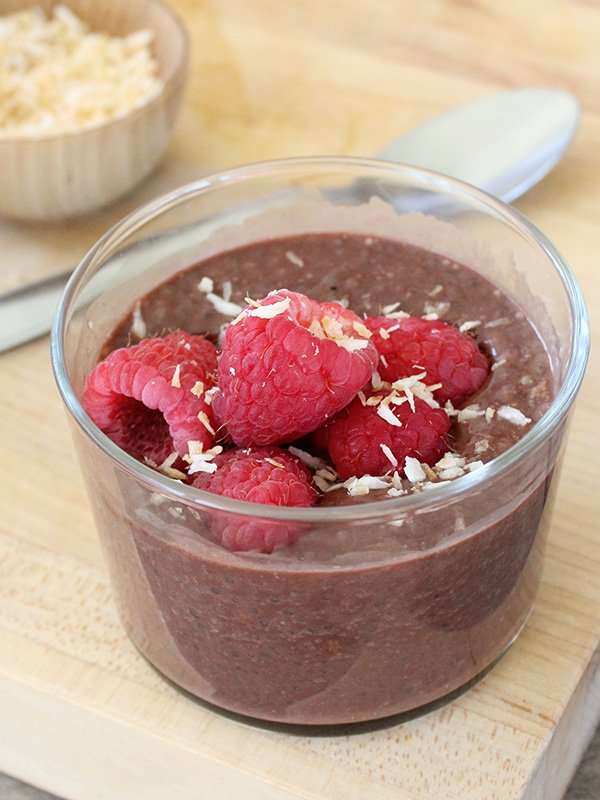 Last but not least we've got Chocolate Coconut Chia Pudding. While the first two recipes are ones I make for breakfast, this chia pudding falls more firmly into the dessert category. Made with canned coconut milk and cocoa powder, it's a little bit richer than the first two, and I make it with fewer chia seeds, which gives the pudding a consistency that's not unlike traditional chocolate pudding.  (I made this one for a friend who can't eat dairy and she said she it was 'just like SnackPack, but better!) I'll take it.
Also, because this is one is meant to be a treat or dessert, it makes a little bit less than the other two chia puddings.
Some final tips for making chia pudding:
While you can make chia pudding in any container, I like to make individual servings in these 8-ounce glass jars. No fussing with plastic wrap, and the puddings are easy to stack in the fridge / grab on the way out the door in the morning.
Make sure to give the chia puddings a second, thorough stir after they've chilled for half an hour or so.  This prevents the seeds from clumping or separating, which leads to lumpy pudding. (see above.)
 Chia pudding continues to thicken as it sits in the fridge. If you're planning on making a big batch of these to keep on hand all week, you may need to add a splash of milk to thin out the puddings as the week goes on.
And that's it!! Let me know in the comments which version you tried, and what toppings you used – the toppings are always my favorite part!!
(As an Amazon Associate I earn from qualifying purchases. BUT, please know I only ever link to products I use and love!)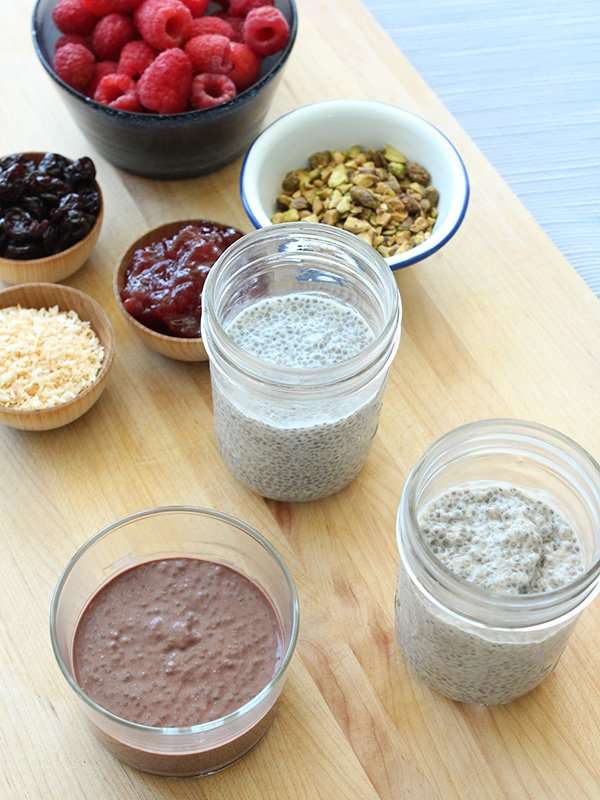 Maple Vanilla Chia Pudding
Ingredients
2

cups

milk (almond, oat, or low-fat dairy), plus more as needed

1 to 2

tablespoons

maple syrup

1

teaspoon

vanilla extract

¼

teaspoon

kosher salt

½

cup

chia seeds, divided
Instructions
In a large glass measuring cup, whisk together the milk, maple syrup, vanilla, and salt. Divide the mixture evenly between 4 (8-ounce) glass jars, ramekins, or small drinking glasses.

Add 2 tablespoons chia seeds to each jar and mix well with a fork. Cover and place the jars in the refrigerator for 30 minutes to 1 hour. Stir each pudding again (this prevents separation) then chill for at least 1 more hour or overnight.

Top with fresh fruit, nuts, seeds, or jam, and serve!

Note: Chia pudding keeps for up to 5 days in the refrigerator. The pudding will continue to thicken as it sits. If you prefer a slightly thinner pudding, add a splash of milk and stir before serving. Copyright 2020, Lidey Heuck, All Rights Reserved
Peanut Butter and Banana Chia Pudding
Ingredients
1

medium-sized ripe banana

2

tablespoons

creamy peanut butter

2

cups

milk (almond, oat, or low-fat dairy), plus more as needed

1

tablespoon

honey

½

teaspoon

vanilla extract

¼

teaspoon

ground cinnamon

¼

teaspoon

kosher salt

6

tablespoons

chia seeds, divided
Instructions
Place the banana in a large glass measuring cup and mash with a fork until smooth. Add the peanut butter and mix vigorously until combined. Add the milk, honey, vanilla, cinnamon, and salt and whisk well, making sure to scrape the bottom and sides and the measuring cup.

Divide the mixture evenly between 4 (8-ounce) glass jars, ramekins, or small drinking glasses. Add 1½ tablespoons chia seeds to each jar and mix well with a fork.

Cover and place the jars in the refrigerator for 30 minutes to 1 hour. Stir each pudding again (this prevents separation) then chill for at least 1 more hour or overnight.

Top with honey and jam if desired and serve!

Note: Chia pudding keeps for up to 5 days in the refrigerator. The pudding will continue to thicken as it sits. If you prefer a slightly thinner pudding, add a splash of milk and stir before serving.Copyright 2020, Lidey Heuck, All Rights Reserved
Chocolate Coconut Chia Pudding
Ingredients
1

(13.5-ounce) can

light coconut milk

4

teaspoons

cocoa powder

2

tablespoons

maple syrup

½

teaspoon

vanilla extract

¼

teaspoon

kosher salt

4

tablespoons

chia seeds, divided
Instructions
In a large glass measuring cup, whisk together the coconut milk, cocoa powder, maple syrup, vanilla, and salt.

Divide the mixture evenly between 4 (8-ounce) glass jars, ramekins, or small drinking glasses. Add 1 tablespoon chia seeds to each jar and mix well with a fork.

Cover and place the jars in the refrigerator for 30 minutes to 1 hour. Stir each pudding again (this prevents separation) then chill for at least 1 more hour or overnight.

Top with raspberries, toasted coconut, mini chocolate chips -whatever your heart desires- and serve!

Note: This recipe makes a slightly thinner pudding than the previous two recipes- the texture is closer to that of a traditional chocolate pudding. The puddings will keep for up to 3 days in the refrigerator. Copyright 2020, Lidey Heuck, All Rights Reserved