It's time to drag that grill outside, dust it off, and fire it up. That's right – grilling season is back!!  And what better way to kick of summer grilling than with this delicious Buttermilk Grilled Chicken ?! This recipe is a riff on Shake Shack's fried chicken sandwiches, the recipe for which Ina Garten included in her book, Cook Like a Pro.  I was working for Ina at that time and I remember wondering if the flavorful buttermilk marinade would also be good on grilled chicken. Turns out, it's beyond good- it's absolutely delicious!  I played around with a few of the ingredients in the marinade but this recipe is very much inspired by that Shack Shack recipe.
You'll be amazed at how much the chicken absorbs the flavors in the marinade- it has a nice kick from the cayenne and a light smokiness from the paprika.  And not only that, but the buttermilk tenderizes the meat, so even lean boneless skinless breasts are incredibly juicy and moist when they come off the grill.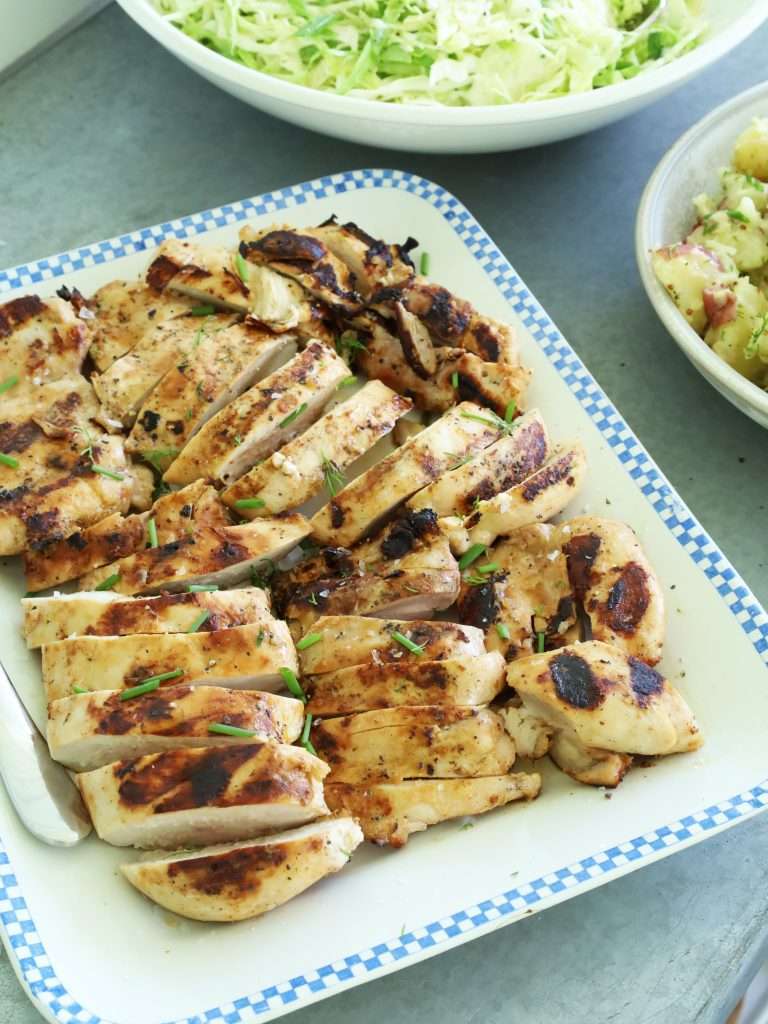 I recommend marinating the chicken for 8 hours, or overnight. I know that's a long time, but it really does make a big difference. It only takes about ten minutes to make the marinade and pop the chicken in, so I do it in the morning or the night before and let everything chill until it's time to grill.
For this recipe – and all chicken recipes of mine, for that matter – I call  for "small" breasts and thighs.  These come from smaller, more humanely raised birds and are not only easier to cook evenly, but are much tastier. As a general guideline,  look for packages of chicken with 2 breasts per 1.5-ish pounds, or 4 to 6 thighs per 1.5-ish pounds.  Organic chickens are typically your best bet, but you might also have luck with some supermarket brands marked free-range.
Whether you serve this chicken as is, with your favorite sauce, or slice it up and serve it on aa salad, I know you're going to love it. If you try the recipe let me know in the comments below!
Happy Grilling !!! And happy al-fresco dining season, too! xox
Print Recipe
Buttermilk Grilled Chicken
Ingredients
2

cups

buttermilk, well-shaken

1

tablespoon

Dijon mustard

½

teaspoon

ground sweet or smoked paprika

¼

teaspoon

ground cayenne pepper

Kosher salt and freshly ground black pepper

3

garlic cloves, flattened with the side of a knife

1

large shallot, thickly sliced

3

pounds small boneless skinless chicken breasts and/or thighs

Chopped fresh chives, parsley, or scallions, for serving

Coarse sea salt, for serving
Instructions
In a large bowl, whisk together the buttermilk, mustard, paprika, cayenne, 2 teaspoons salt, and ½ teaspoon black pepper. Add the garlic and shallot. Pat the chicken dry with paper towels, then add it to the bowl and toss lightly to coat with the marinade. Cover and refrigerate for at least 8 hours and up to 24 hours.

When ready to grill, brush the grill grates lightly with olive oil. Prepare a charcoal fire with one layer of coals or for a gas grill, turn the burners to high, close the lid and heat for 10 minutes, then lower the burners to medium-high. (You can also use a grill pan on the stove over medium-high heat.)

Lift the chicken pieces from the marinade, place them on a large, flat plate, and sprinkle generously with salt and pepper.  Grill for 7 to 8 minutes on each side, until charred and cooked through. (Keep the grill lid closed so it retains more heat!)

Transfer the chicken to a serving platter, rest for at least 10 minutes, then slice into strips if desired. Brush any juices that have accumulated on the platter onto the breasts, sprinkle with fresh herbs and sea salt, and serve.

Notes: While I've tested the cooking instructions in this recipe several times, every grill is different.  The best way to test whether your chicken is cooked is to use an internal thermometer (chicken should be cooked to 165 degrees F) or just to cut into one piece.

For this recipe, look for small chicken breasts and thighs. They will be more tender and will cook more evenly.

RECIPE UPDATED IN MAY 2023**