Growing up, my brothers and I usually made breakfast in bed for my mom on Mother's Day. (I'm sure my Dad helped, too, in the early years.) It was either sunny-side up eggs with toast and crispy bacon, or Bisquick pancakes with crispy bacon. And maybe a banana, still in its peel, or canned Mandarin orange slices, if she was really lucky.
I remember carefully walking up the stairs, carrying the big tray, plates sliding around with every step. My mom was always very enthusiastic, happily eating as we watched with delight, but now that I'm older,  I've realized that my mom was being a really good sport – because she's anything but a breakfast-in-bed kind of girl.
Even when we're eating leftover pizza, or Thanksgiving leftovers, she likes to set the table, light some candles, and eat together around the table.  Dinner at the coffee table in front of a movie? Only once in a very blue moon. The older I get, and the rarer family dinners become since my family is spread out across the country, the more appreciate her love of being together at the table. And while I won't be in Pittsburgh this Mother's Day,  if I were, I would definitely be serving up breakfast at the table.
And speaking of breakfast….
These are simple and classic buttermilk pancakes with one slight twist: I add cornmeal to the batter for a little bit of texture in each bite and a subtle savory cornbread flavor.
The rhubarb compote is the perfect tart counterbalance to maple syrup, of course, the perfect way to dress these pancakes up for spring.
My one important note on the compote is that it will be best – and prettiest- with bright pink rhubarb stalks. Rhubarb that is more green than pink is not only less sweet, but will give you a greenish compote. If you can't find pink rhubarb, you might want to try substituting strawberries and going for a strawberry compote instead.
Of course, these pancakes are equally delicious at the table or under the covers, whether you're a mom, making them for a mom, or are just in the mood for a special Spring breakfast!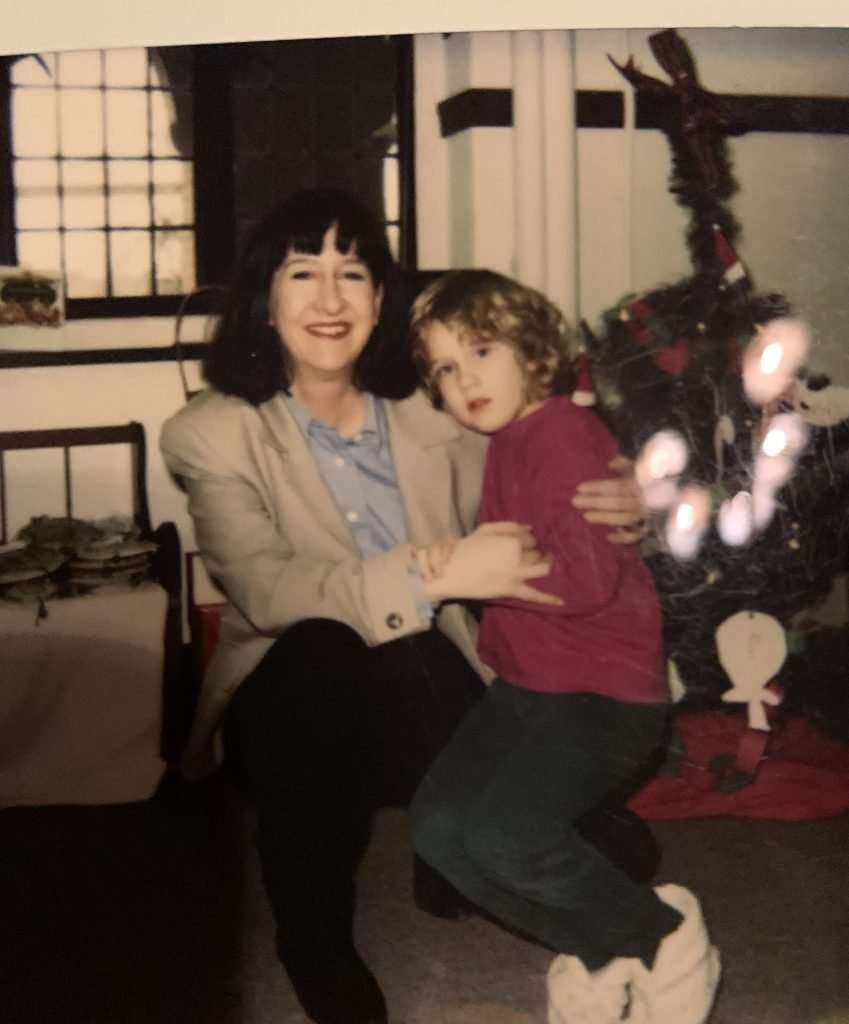 Print Recipe
Buttermilk Cornmeal Pancakes with Rhubarb Compote
Ingredients
For the rhubarb compote:
1

pound

pink rhubarb stalks, 1/2-inch diced

1/2

cup

granulated sugar

2

tablespoons

freshly squeezed orange juice

1/4

teaspoon

vanilla extract
For the pancakes:
1½

cups

all-purpose flour 

1/2

cup

medium-grind cornmeal

2

teaspoons

baking powder

1/2

teaspoon

baking soda

1

teaspoon

kosher salt

1½

cups

buttermilk, shaken

3

tablespoons

granulated sugar 

2

tablespoons

melted unsalted butter, plus more for frying

2

large

eggs, beaten

1

teaspoon

vanilla extract

Maple syrup, for serving
Instructions
First, make the compote: In a large saucepan, combine the rhubarb, sugar, and orange juice. Bring to a boil over medium heat, then lower the heat and simmer for 10 to 12 minutes, stirring often, until the rhubarb has softened (but some chunks still remain) and the liquid in the pan has reduced. Off the heat, stir in the vanilla. Transfer to a heatproof container and cool completely before using.

Turn the oven to 200 degrees and place an ovenproof dish or platter in the oven.

In a large bowl, whisk together the flour, cornmeal, baking powder, baking soda, and salt. In a separate, medium bowl, combine the eggs, buttermilk, sugar, butter, and vanilla, and whisk until smooth.

Add the wet ingredients to the dry ingredients, and mix until just combined. It's okay if there are a few small lumps in the batter.

On a cast-iron griddle or in a 12-inch skillet, heat 1/2 tablespoon butter over medium heat.  Scoop 1/3 cup pancake batter onto one side of the skillet and spread lightly into an even circle with the bottom of the measuring cup. Scoop another 1/3 cup of batter onto the other side of the pan to form another pancake. Cook for about 2 minutes, until bubbles form on the pancakes and the bottoms are golden brown, lowering the heat if the pancakes begin browning too quickly.

Flip the pancakes and cook for another minute. Transfer them to the platter in the oven and repeat this process with the remaining batter, adding more butter to the pan as needed. Serve the pancakes warm, with maple syrup and the rhubarb compote.