Did you ever notice that no matter what else you serve at a party, if you put out any kind of warm, melty cheese, it will be devoured in about thirty seconds? This Baked Goat Cheese with Balsamic Glazed Figs is no exception. It's a serious crowd pleaser and a lighter alternative to baked Brie or Camembert. And with fresh rosemary, dried figs, chopped pistachios and a generous drizzle of honey, it's the perfect festive appetizer for a holiday spread.
I love fresh figs, but with their short season they can be hard to find. Dried figs, plumped up with balsamic vinegar, honey and fresh orange juice, are just as sweet and delicious.  I spoon them onto warm goat cheese flavored with rosemary and chili flakes for a spread that's savory, sweet, and a little spicy. If you can find Mike's Hot Honey or another spicy honey, it's especially good drizzled over the goat cheese just before serving. 
Serve this right from the oven (on a hotpad!) with plain crackers or crusty baguette slices. Then take a step back and watch it disappear before your eyes. In fact, you might as well make two while you're at it! I'm making these for a Christmas brunch this weekend and am planning on doing exactly that.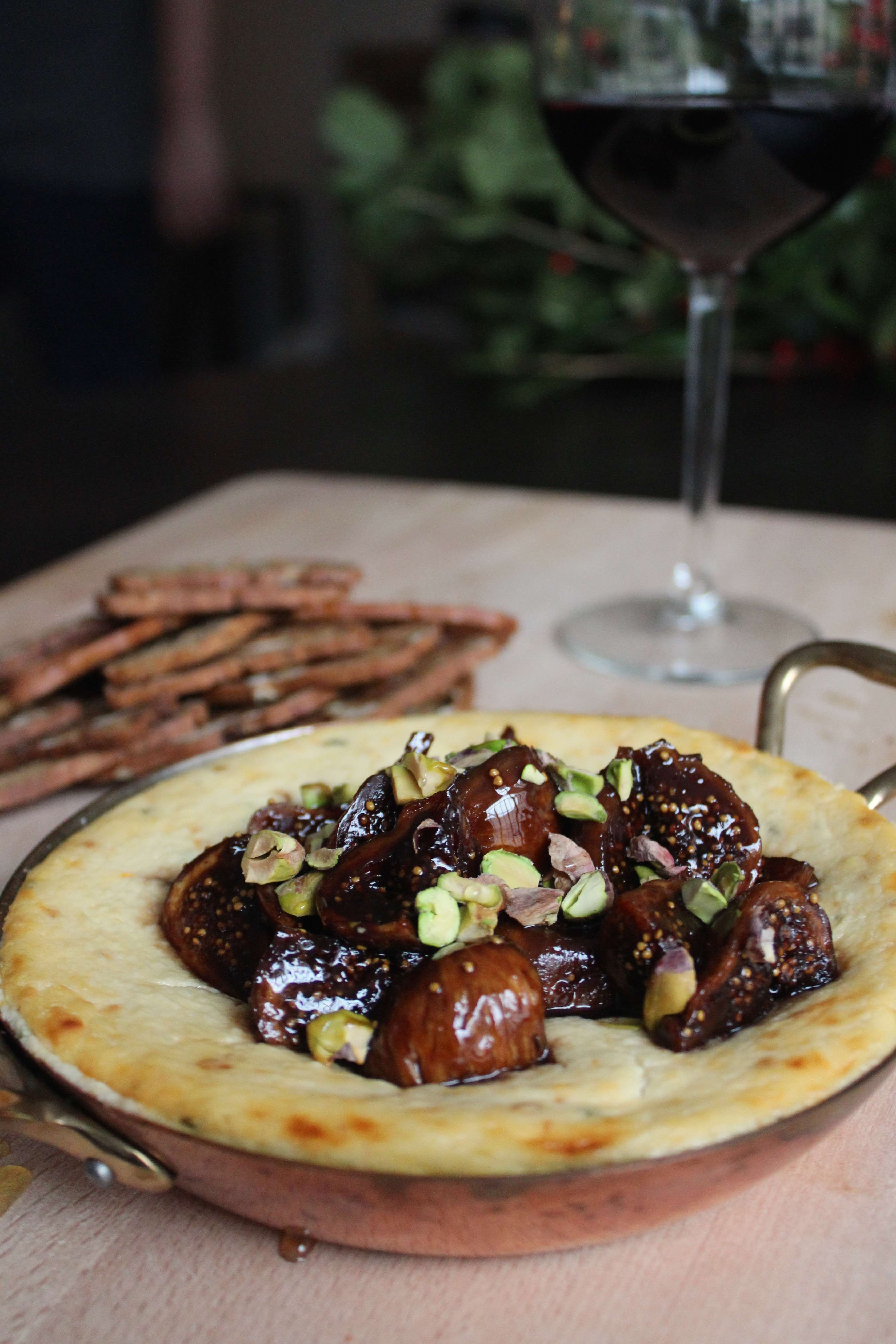 Print Recipe
Baked Goat Cheese with Balsamic Glazed Figs
Ingredients
10

ounces

plain creamy goat cheese, softened at room temperature for 30 minutes

2

ounces

cream cheese, at room temperature

1

teaspoon

finely chopped fresh rosemary

¼

teaspoon

crushed red pepper flakes

½

teaspoon

kosher salt

1

cup

dried figs

1

tablespoon

honey, plus more for serving

1

tablespoon

balsamic vinegar

3

tablespoons

freshly squeezed orange juice

1

tablespoon

shelled roasted and salted pistachios, roughly chopped
Instructions
Preheat the oven to 400 degrees.

In the bowl of a stand mixer fitted with the paddle attachment (or in a large bowl using a hand mixer) combine the goat cheese, cream cheese, rosemary, red pepper flakes, and salt. Beat for 2 minutes on medium-high speed, until smooth and lightly whipped.

Transfer to a small (7- or 8-inch diameter) ovenproof skillet or shallow baking dish. Bake for 25 to 30 minutes until puffed and lightly browed around the edges.

Meanwhile, remove the hard stems from the figs and cut them into quarters. Combine the figs, honey, vinegar, and orange juice in a small saucepan. (The figs should fit snugly in one layer.) Bring to a boil, then reduce the heat to low and simmer until the liquid has reduced to a thick glaze, about 8 to 10 minutes.

Carefully spoon the figs and any remaining liquid onto the center of the goat cheese.  Sprinkle the pistachios over the figs, drizzle the cheese generously with honey, and serve hot directly from the baking dish with pita chips or thin slices of baguette.

Copyright 2017, Lidey Heuck, All Rights Reserved