American as apple pie….with cheddar cheese. Yes, you read that right! This is not your same-old apple crisp recipe, but one that's got a special and storied secret ingredient.
We all know apples and cheddar are delicious as a snack or on a cheese plate,  but I am also far from the first person to pair them in a dessert.  In fact, apple pie served with a slice of cheddar cheese on top has long been an American tradition in parts of the Northeast. (For a bit of history, read this article. ) My dad even grew up with the saying, "Apple pie without the cheese is like a hug without the squeeze."  Isn't that the cutest?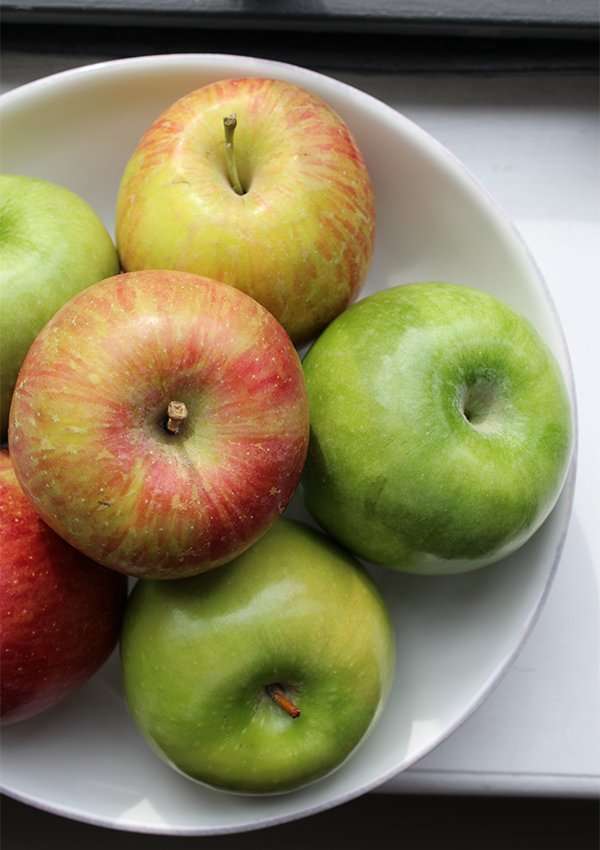 Now, there are also a lot of people who are not on board with the whole pie and cheese thing. I get it- apple pie with a piece of cheese does sound pretty weird, but I wonder how many of these skeptics have actually tried the combination. Which brings me to this recipe. My All-American Apple Crisp is a "starter" version of the old cheese and pie combo. The cheddar flavor is subtle – adding a slightly nutty element to the crumble topping, but it's by no means overwhelming. Think of this recipe as a totally classic version of apple crisp, with a slight twist.
Why crisp instead of pie? Crisps are infinitely easier to make, and I love how nicely the cheddar gets incorporated into the crumble mixture.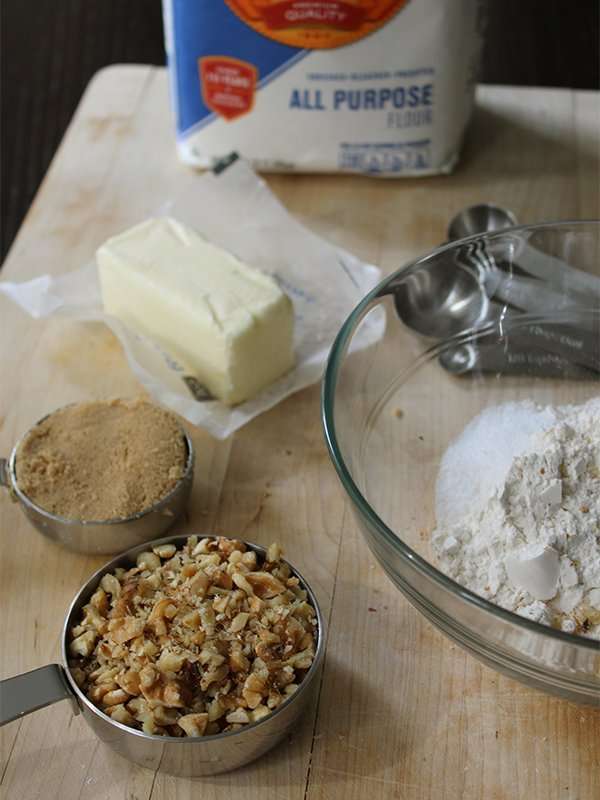 The type of cheddar you use in the recipe is really up to you. If you want a more prominent cheddar flavor, go with sharp or extra-sharp. If you want just a hint of cheddar, mild works great, too.  And what about white vs. yellow cheddar? I once had an argument about this with my friend Simon, who claims that yellow cheddar is – excuse the pun – "cheesy" and, more brutally, "not real cheddar."
I disagree. To me, yellow cheddar is comforting and familiar. Spying a piece of yellow cheddar on a plate of otherwise unidentifiable cheeses is like spotting an old friend at a party full of strangers. It's just nice to know that whoever else is at the party, you've got a friend in the room.
You can use whichever cheddar you prefer, here but I really like the rich, golden-orange hue yellow cheddar adds to the crumble topping.
Finally, while cheddar may typically be served with apple pie in lieu of ice cream, you just can't have apple crisp with out a scoop of melting vanilla ice cream on top. That to me, would be like a hug without a squeeze.
I would love to know your thoughts on the whole apple pie and cheese debate! And no matter how you feel, I hope you will give this recipe a try. It is really, truly, the only apple crisp I make!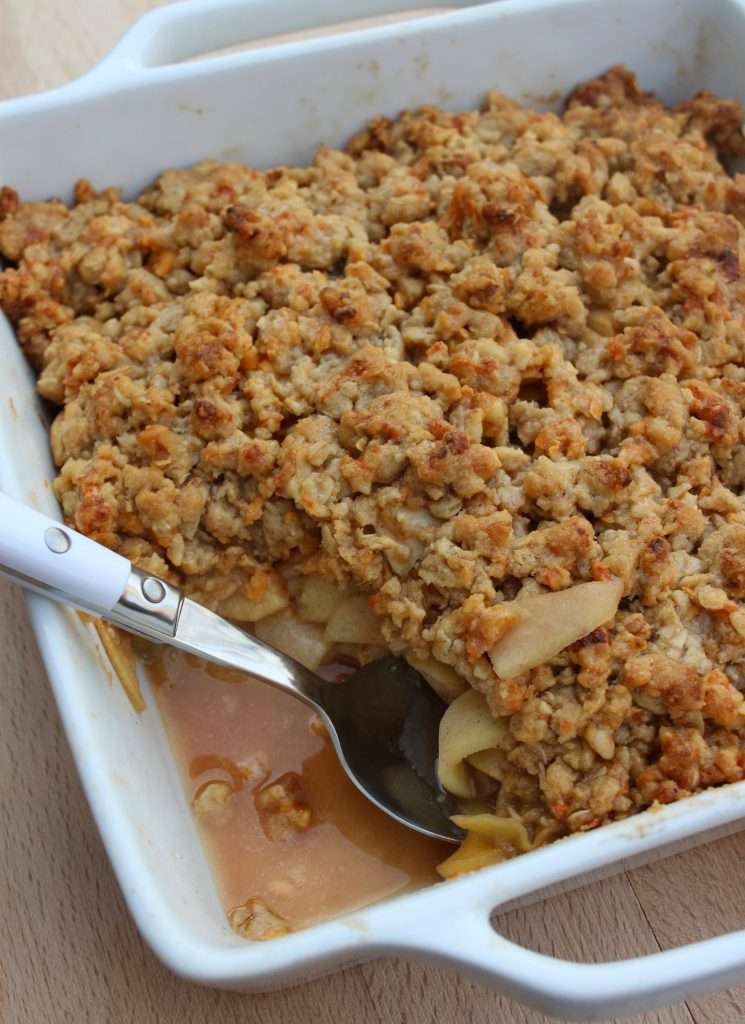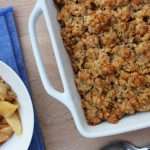 Print Recipe
Apple & Cheddar Crisp
Ingredients
1

stick (8 tablespoons) unsalted butter, at room temperature

¾

cup

all-purpose flour

¾

teaspoon

kosher salt

¾

cup

light brown sugar, divided

½

cup

old fashioned oats

½

cup

chopped walnuts

1

cup

shredded sharp cheddar cheese, lightly packed

1½

pounds

Granny Smith apples (3 to 4 apples)

1½

pounds

crisp, sweet apples, such as Fuji or Honeycrisp (3 to 4 apples)

3

tablespoons

freshly squeezed lemon juice (1 lemon)

1

tablespoon

cornstarch

1

teaspoon

ground cinnamon

vanilla ice cream, for serving
Instructions
Preheat the oven to 350 degrees.

In a medium bowl, combine the butter, flour, ½ cup of the brown sugar, the oats, walnuts, and salt. Using a wooden spoon (or clean hands), mix until well combined. Gently fold in the cheddar cheese, then set aside.

Peel, core, and thinly slice all the apples and place them in a large bowl. In a small bowl, whisk together the lemon juice and the cornstarch until completely smooth. Add this mixture to the apples, along with cinnamon and the remaining ¼ cup sugar. Toss well.  Transfer the apples to a 9x9-inch square baking dish and spread into an even layer. Crumble the topping mixture evenly on top, covering the entire surface of the apples.

Bake for 40 to 50 minutes until bubbling and golden brown on top. Cool for 10 minutes, then serve with scoops of vanilla ice cream.

Copyright 2019, Lidey Heuck, All Rights Reserved